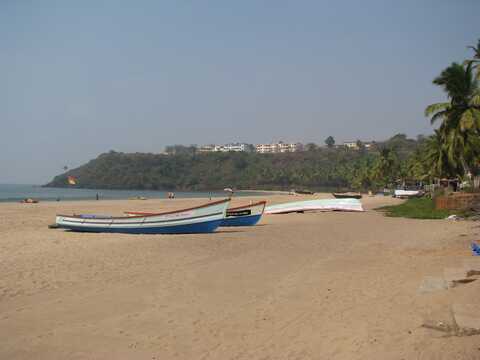 For holidays in Goa, a stay in sunny Bogmalo Beach gives you the best of everything - for a start, you're right next to the cleanest, calmest beach in the province, fringed with tropical greenery. Bogmalo is brilliantly located, being a mere five minute drive from Dabolim Airport, and 7 kilometres away from Goa's largest and most vibrant city, Vasco Da Gama. With our deals on Bogmalo holidays, this tropical enclave is a mere twelve hours flight away!
View destination on a map
Bogmalo Weather
Feeling hot, hot, hot! Goa is never cold, and temperatures range from 20° Celsius in winter to summer highs above 30s° Celsius! Pack your suntan lotion but not your woolly socks! Bogmalo, like all of the coastline, is not stagnantly hot either because during the day, warm breezes meandering in from the Arabian Sea temper the ever-present sunshine. If it's a tan you want, Bogmalo Beach is the place to be!
Landscape
You really wouldn't know that Bogmalo is a few minutes' drive to Dabolim airport and the city of Vasco Da Gama, because it's essentially a flat, peaceful beach, not to mention the cleanest and least crowded in all Goa. The waters are so clean and clear round here that swimming is perfectly safe. Towering palm trees, gorgeous sunsets and the continuous flapping of the waves make Bogmalo a paradise you won't want to leave! If you want to experience all of what Ga has on offer, take the short trip to nearby Arossim Beach to the south.
Things To Do on Bogmalo Holidays
Bogmalo is surrounded not only by the airport and great cities, but shops and markets which sell everything from hand-crafted Kashmiri delights to hi-tech electrical wares. There's even a sport's club, right off the beach! You're never stuck for some grub either - the finest Goan cuisine and beverages are on offer 24/7 in the many eateries and bars nearby. But Bogmalo, while surrounded by luxuries, retains it's secluded splendour, where you can eat out at the Oberois Manor that juts out over the crashing waves, spot the islets that pepper the immediate coast, or even go fishing!
Culture
Before it's newfound niche as a tourist resort, Bogmalo was a sleepy fishing village, and it has kept it's local vibe admirably, as evidenced by the many seafood shops and fisheries. Why not also explore the centuries worth of shipwrecks that dot the beach? But above all, be sure to check out the Naval Aviation Museum for some insight into the long history of the Indian Navy and armed forces.
Nightlife
At night, the bars and restaurants in Bogmalo come alive, but if you want to enjoy the sunset (and you will), try some of the canopies and shacks out on the beach. You might want to amble around to take in the many delights of the coastline, it's quite safe. And at the end of your day, you're lullaby is the gentle crashing of the waves on the shoreline. What could be better, or more relaxing?
Book a Bogmalo Holiday now!
The flat sands and calm of Bogmalo await - and here at On The Beach we have the best deals in holidays to Bogmalo and a choice of Bogmalo hotels to combine for your own customised holiday! Booking is simple, easy and fast!