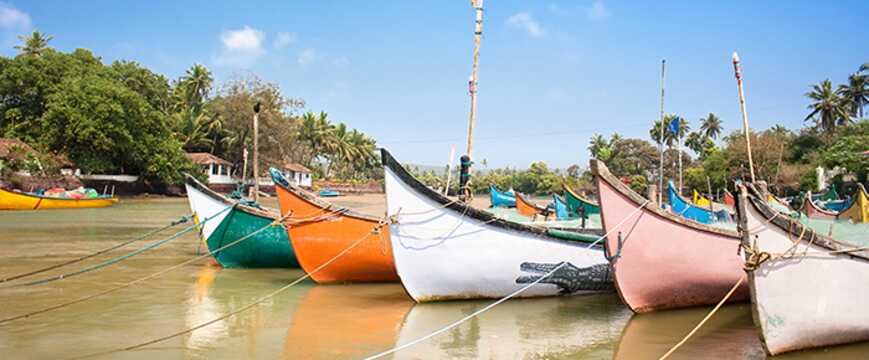 Here at On the Beach we're going gaga about holidays to Baga! This trendy beach town combines one of Goa's finest seafronts with amazing nightlife and entertainment. Though Baga is one of Goa's most popular resorts, it nevertheless retains it's unspoiled beach and serene village life in the face of world interest. And booking your Goa holidays with us means getting there in a mere twelve hours!
View destination on a map
Baga Weather
Expect heat - the temperature in Goa is never frigid, but neither is it oppressive, thanks to the warm winds of the Arabian Briny. But even at Christmas there are night-time temperatures of 20° Celsius, and at the high point in May, it's a sweltering 35° Celsius! In high summer, Goa is closed off to tourism due to it's annual monsoon, but from late September to May, Baga's charms are at your command!
Landscape
Dotted with towering palms and white sands, Baga is the ultimate beach paradise, renowned as one of the most beautiful beaches in a land that has no shortage of them. Take a trip up to the estuary at Baga Creek where the river meets the tide, or scale the hilltop for breathtaking views of the endless coastline at the Baga Retreat House. The beaches of Calangute and Candolim are just a short trip south from Baga Beach should you want a change in scenery.
Things To Do on Baga Holidays
There are many flea markets in Goa, but perhaps the newest and most lively is the one that takes place here every Saturday, lasting well into the night. During the day, you can go on daily speedboat runs on the coast to spot dolphins, or inland up the Mandovi River to catch sight of the crocs, and more of Goa's amazing wildlife. Shops abound here, with finely hand-wrought jewellery and gems you've never seen!
Culture
The remains of centuries of Baga's history can be viewed in the Chor Baim Rock, the final resting place for ancient cannons and shipwrecks. Local places of worship, such as St Anne's Chapel and the inland temples, testify to Goa's wonderfully varied heritage. You can explore all of Goa from here, including it's main cities, with their centuries of Hindi and Portuguese history. Or you can just stay here and sample some of the local delights: curried Gollxeo fish, succulent oysters and huge tiger prawns!
Nightlife
Goa's most vibrant beach by day, it's at night that Baga truly springs to life. The tandoori terraces, bars and restaurants are open all night, and Baga hotels are among the most opulent - yet inexpensive - in all Goa!
You'll be taken by the hotchpotch of European, Indian and world cultures here, and watersports are available day and night. Because of it's popularity, the food and drink in Baga is very cheap and the hospitality without equal. There are also plenty of shacks and beach-huts from which to watch the golden sunsets.
Book a Baga Holiday now!
So why wait? Book now - you won't believe how easy it is to book a customised holiday at Baga Beach with our booking system! Baga holidays provide you with an unforgettable foray to an Indian paradise with golden days and great nights, and On The Beach has unbelievable deals on flights and accommodation to get you here in no time!