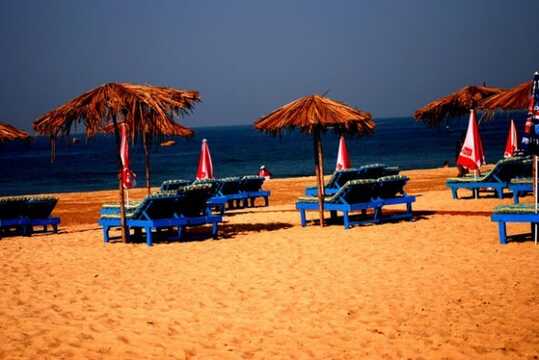 If you're going on holidays to Goa, where better to stay than Arpora? This tranquil resort in the north is the best of both worlds: calm but well-connected to the bustle of nearby beaches and cities, the hamlet joins with its fellows, Baga and Nagoa, to make up a vibrant village on the banks of the Baga River. Flights to Goa are only twelve hours long, and then you can explore Arpora, Goa's most surprising riverside village!
View destination on a map
Arpora Weather
Arpora holidays mean sun, sun, sun! You'll find that, apart from the monsoon season from June to September, the weather is sublime, from 20° Celsius in the winter to a zenith of 33° Celsius in May. Best to bring your suntan lotion and light clothes with you, because with so many beaches around, you will soon be tempted to tan!
Landscape
Bordering Baga Beach and skirting the beautiful Baga River, Arpora mixes rural calm with exciting villas and tavernas, and isn't far from the busy Northern Coast. You're never far from the silver sands of the coastline here, so why not indulge yourself with the relaxing Indian head massage for which the beach is famed? You could also hike around the river and surrounding lakes to take in the coconut groves and emerald hills that enclose Arpora.
Things To Do on Arpora Holidays
Arpora has been home to some of Goa's most celebrated alumni, and is crammed full of manor houses and educational establishments that were once home to India's intellectual elite - you'll be astonished at just how many of the India's past movers and shakers hailed from here. There are plenty of shops and ancient villas sprinkled around the area also.
Culture
Arpora reflects Goa's Hindi-Christian influences and both religions often come together in spectacular style - January's tintto, or the Feast of St Sebastian is a solemn festival attended by all of Arpora, no matter what their denomination. There are myriad convents and religious houses here, including that of the ascetic Canossa Daughters of Charity and the seventeenth-century Church in Nagoa, where the Feast of the Holy Trinity is commemorated with zeal for two weeks every November, at which all manner of Goan and European dishes may be sampled.
Nightlife
It won't take you long to discover that the intersecting Baga River is packed with as many bars, restaurants and clubs as would become a small city. Far from contrasting with the agricultural locale, these chic watering-holes provide excellent views of the stunning landscape and river, which have to be seen to be believed. As far from urban life as Arpora is, you'll never be stuck for something to do here. Arpora is also close to Anjuna, which hosts a world-famous Wednesday flea market - unmissable!
Book a Arpora Holiday now!
So, why wait - book now! On The Beach has great deals on flights to Goa and plenty of accommodation! You won't believe how easy it is to book your customised holiday with our live booking system - so don't delay, get your Goa holiday today!