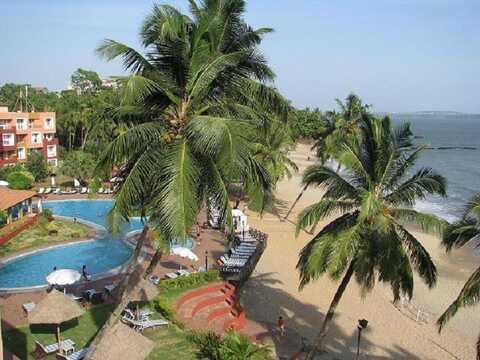 Read more about Vainguinim
Your Goa holidays would not be complete without a visit to Vainguinim Beach, for the best of both worlds. Vainguinim holidays mean plenty relaxation far from the madding crowd in a quiet alcove, but with the bonus of being a mere twenty minute drive from the airport, and five minutes from the capital Panjim, and all the vibrancy of city life that affords. If you want to hear more about this exotic destination, read on!
View destination on a map
Vainguinim Weather
Expect a tan! Vainguinim temperatures are permanently high, generally in the mid to late 20s° Celsius, rising to a May zenith in the mid 30s° Celsius. Forget about summer trips though - the monsoon season lasts from June to September, but this means there's very little rain through the rest of the year. If it is a beach holiday you want, Vainguinim is ideal.
Landscape
Holidays in Vainguinim entail looking out from a canopy of towering palm trees over the outlying Mormugao Bay, in all it's light-sanded glory and onto the endless azure of the Arabian Sea where the waters are clear and clean enough to go for a dip. For some stunning sunsets you can amble a couple of miles north to the busier beach at Miramar, or five minutes eastward to Dona Paula.
Things To Do on Vainguinim Holidays
You'll never be stuck for amusements here. Reis Magos Church and the Dr Salim Ali Bird Sanctuary are the closest attractions, the latter housing more exotic wildlife than you could shake a feather at. If you don't feel like moving, relax!
There's watersports including polo, plenty of exquisite seafood huts and taverns, all selling gourmand cuisine at affordable prices. Being so close to Panjim, you can take a stroll up the main streets, stopping off for a look at shops and galleries galore.
Culture
Vainguinim has been home in it's time to Hindi monks, Jesuits in the 16th century and hippies in the 20th, and they've all left their mark. Hotels in Vainguinim range from the palatial to family-run affairs along the beach. You can also view the ornate Raj Bhawan's Cabo Chapel, which is said to house the remains of Dona Paula herself, the would-be bride who killed herself when her marriage plans were thwarted.
For a less sombre experience, get on one of the many buses to Panjim, which contains some of Goa's finest architecture and galleries, and you can visit the markets, churches and temples here to your heart's content.
Nightlife
The nightlife here is brilliant! Although this beach is rather sequestered, a bus or car will take you to Panjim's main beach a couple of miles away. Take a short trip into the heart of the capital with it's myriad casinos, all-night clubs and tavernas filled with travellers from all walks of life.
Closer to home, hippy shacks dot the coastline, and there's no better way to end a perfect day than to watch the huge sunset in the clear sky in a beach shack playing local music or your own favourite tunes on a stereo system.
Book a Vainguinim Holiday now!
On The Beach makes it easy to create your own customised holiday in Goa, allowing you to combine flights and accommodation with ease. There are amazing deals available right now, so don't hesitate!