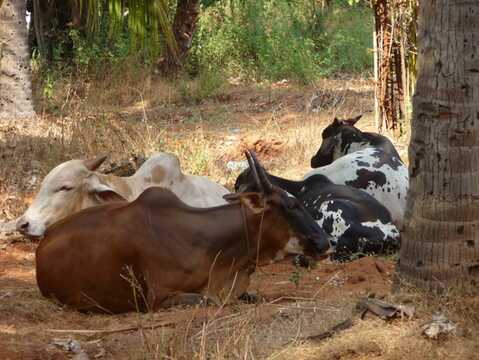 Read more about Calangute
Calangute - where to start? The Beach, of course! Called the Queen of Beaches, this is the most popular of all Goa's sunny seafronts, and one of Goa's largest and most famed beaches. Your Goa holidays simply aren't complete without a visit to Calangute. But Calangute also boasts enough sights, shops, and sports to keep you constantly breathless - and with On The Beach, your holidays in Calangute are just a twelve-hour flight away!
View destination on a map
Calangute Weather
Calangute is one example of the unchanging Goan climate - unchangingly good, that is! Apart from the monsoon season from June to September, when Goa is closed off to tourism, the temperature stats are astronomical, from 20° Celsius in the winter lull to roughly 35° Celsius in May - so get bathing and expect a tan. Better bring lots of sun cream, though!
Landscape
The name Calangute literally comes from the Konkani for Land of Fishermen, and you will see plenty of local villagers angling here on the clear blue coastline. But it's the large beach that has justly made Calangute so famous, and this is it's main feature - white sands, palms and coconut trees keep watch over the sultry coastline. Amble up to the turquoise hillocks at Dongorpur or down to the nearby Agarvaddo saltpans for amazing sunset views. The long pristine sands of Candolim Beach are just a short distance from Calangute.
Things To Do on Calangute Holidays
An astounding amount of shops and markets flank the long road that connects the town with the beach, selling wares from electrical goods to Himalayan jewellery - everything, literally, under the sun! Or just stay on the beach for the watersports: parasailing, gliding, canoeing or surfing, you can do anything here! The food is first class, with vegetarian, seafood and European dishes to tuck into. There are plenty of first-class Hotels in Calangute next to the beach, making your stay as peaceful as you want.
Culture
Calangute, discovered to the West by the Portuguese, has no shortage of renaissance chapels - why not visit the Church of St Alex, whose white dome has graced the landscape for centuries. More recently, Calangute was re-discovered by itinerant hippies in the 1960s, and it's popularity has never looked back. For artwork from this time to the present, a must-see is the Kerkar Art Gallery, with it's sculptures, murals and weekly Indian Music Nights.
Nightlife
Being a first-class tourist resort, there are no shortage of restaurants, bars and seaside shacks in Calangute from which to watch the sun go down - try Tito's, near Baga Beach, for a late night of music and fun. For some of the hippy joints that dot the beaches for a more chilled atmosphere, such as Petes, with it's all-night openings and a friendly, reggae-filled cadence.
Book a Calangute Holiday now!
But hang on, why are you reading this when you could be seeing for yourself? On The Beach should be your first choice not only for flights to Calangute and accommodation which can be easily combined for a great deal! And our online booking system is nearly as easy as being on holiday too, so don't delay!