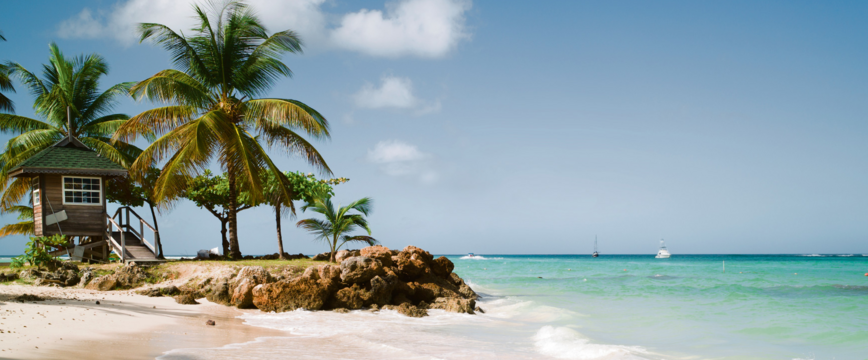 Read more about Trinidad And Tobago
If you have truly had enough of the cold, wind and rain though, you might be thinking it's time to take a holiday, and On The Beach can certainly suggest the right place to go. The Republic of Trinidad and Tobago lies northeast of Venezuala in the southern area of the Caribbean known as the Lesser Antilles. The country consists of two main islands with quite distinct atmospheres providing a truly varied holiday experience. Trinidad is much larger than Tobago, but both are equally delightful, and provide ample bars and restaurants, fantastic views and enjoyable activities. If you're looking to forget the drizzle and grey weather, an experience of the bustle and colour of Trinidad and Tobago will be the perfect tonic!
View destination on a map
Trinidad And Tobago Weather
As a Caribbean island, you can expect your visit to Trinidad and Tobago to provide you with only the very finest weather whatever time you choose to visit. During the summer months of July and August, when temperatures are at their peak, you can expect an average of 30° Celsius a day with around 12 hours of sunshine, so pack that sunscreen! If you're planning to visit at another time though you can expect plenty of warmth and sunshine as the temperature averages between 22 and 26° Celsius outside of the summer months.
Landscape
Everyone expects a Caribbean holiday to provide a wonderful landscape, and Trinidad and Tobago will not leave you disappointed. From the capital of Trinidad, Port-of-Spain, and it's markets, harbours and mountains looming behind it, to the swamps in central Trinidad which are home to exotic plants and species, every sight will dazzle. The beaches, of course, are in a league of their own. The small island of Tobago boasts beautiful sands, water and reefs the likes of which have to be seen to be believed, while the forests and villages will provide ample exploratory entertainment to keep you busy and inspire you each and every day.
Things To Do on Trinidad And Tobago Holidays
One of Trinidad and Tobago's most wonderful aspects is its array of attractions and activities, which will enthral any visitor. You'll want to visit Port-of-Spain, Trinidad's celebrated capital, to experience a colourful and memorable slice of Caribbean life. Filled with bustling restaurants and bars offering the very best in culinary delights, music and entertainment, as well as markets and shows, a visit to Trinidad's Port-of-Spain will open your eyes to another world!
After the party, you might want to enjoy a more serene atmosphere. At this point you should catch the ferry or light aircraft to Tobago, which is noticeably more laid back. With empty beaches, stunning coral reefs to explore and warm blue seas, Tobago is the perfect compliment to the bustle and excitement of Trinidad, ensuring your Caribbean holiday ticks every box.
Culture
Trinidad and Tobago has a hugely riveting past; Christopher Columbus first encountered the island of Trinidad in 1498. He saw Tobago too, but did not land there. Over the hundreds of years that followed the island endured colonisation and invasions by the British and French. In 1976 it severed its relationship with the British and finally become part of the Commonwealth of Nations as a republic.
Trinidad and Tobago has a bustling cultural calendar that will have you dancing and singing in no time. In August they commemorate the annual Emancipation Day, a hugely important event that celebrates the end of slavery. Expect a huge party as bars and restaurants turn up the music and the entertainment carries on well into the night!
A lot of Trinidad and Tobago's festivals are religious in nature, including Eid at the end of Ramadan, Corpus Christi and Divali, which all take place on variable dates so make sure to check before you head out. Whatever your faith, joining in is completely encouraged, so don't be shy about participating in this multi-ethnic, multi-faith nation's celebrations.
Nightlife
Nobody knows how to enjoy a party like they do here, so prepare for a night that you will not possibly forget! Your hotel will have a programme of evening entertainment, but whether staying in Trinidad or Tobago you can expect the neighbouring bars and restaurants to provide music, dance and more than a little Caribbean hospitality! It's all about cocktails, calypso music and enjoying yourself, so make sure to join in the fun!
Book a Trinidad And Tobago Holiday now!
With a wealth of activities, more bars and restaurants than you could wish for and beautiful scenery, wildlife and plants, it's hard to think of anything that Trinidad and Tobago is lacking in. To find out what you're missing out on, the only option is to go visit; so if great food, relaxation and hospitality are top of your holiday agenda than Trinidad and Tobago will be your ideal Caribbean holiday!
Book your dream holiday in Trinidad and Tobago with On The Beach now using our live booking system, which allows you to combine flights and hotels into your very own customised break in the Caribbean!