If you're having trouble deciding between a history-packed city break or some downtime by the beach, then Malta might be the answer you've been looking for. With open-air museums, charming harbourside towns and over 200km of coastline, this Mediterranean gem has more than a few tricks up its sleeve. Plus, with temperatures staying toasty even in autumn and winter, there's no time like the present! Beachfront lounging and dancing after dark – why choose when you can have it all?
Take your pick from a menu of beaches
From soft golden sands to rocky coves, the Maltese coastline has plenty of places to top up your tan. Golden Bay is one of the most popular beaches in Malta, famed for its warm, inviting sands and shallow waters which are ideal for the younger swimmers in the family. Mellieha Bay in the North of Malta is another firm favourite for families, as it's the largest beach in the region, making it a great spot to set up camp for the day. db Seabank Resort + Spa is the perfect hotel to explore the beaches of Mellieha, or whilst db San Antonio Hotel + Spa offers a great location and an array of family-friendly facilities. Qawra Palace is also a great pick for your beach break, set directly along the Qawra seafront with shops, bars and restaurants located closeby.
Prefer something a little more off-the-beaten-track? Why not step into paradise (literally) at Paradise Bay – a natural cove overlooking the rugged landscape, or grab your snorkel and explore the crystal-clear waters of St Peter's Pool – a natural pool-shaped bay with a rocky coast at the tip of Fort Delimara. If you really want something to remember Malta by, though, then it has to be the Blue Lagoon. Located just a boat ride away, this vibrant turquoise seascape looks as though it's been plucked straight from the Caribbean. You can try your hand at snorkelling or hop in a kayak, but with waters as brilliantly blue as these, you'll probably just want to admire the view!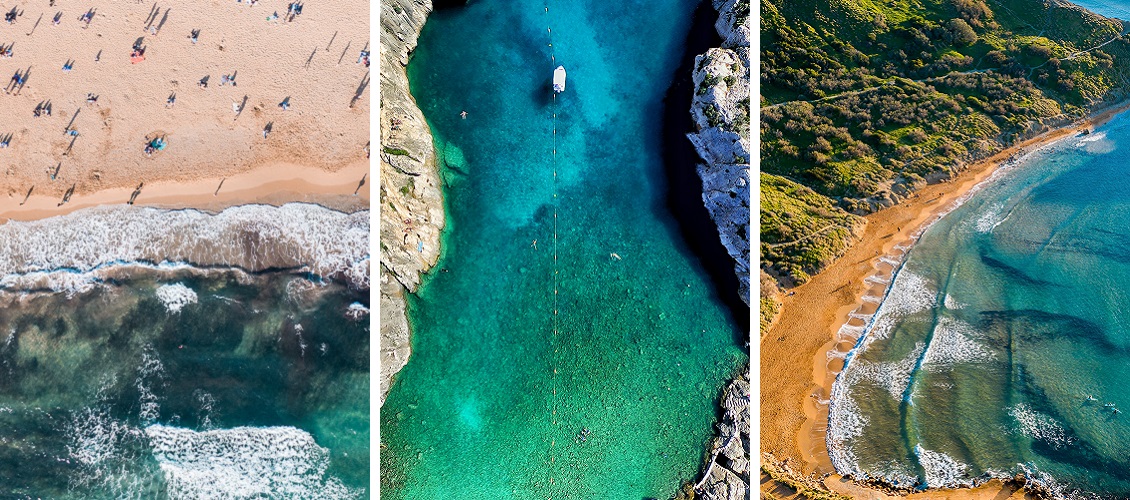 Lose yourself in the history of the city
Malta is bursting with intricate cityscapes and traditional architecture, so if you fancy soaking up some history as well as sunshine, keep these lively spots on your radar:
The Three Cities – These history-steeped neighbourhoods need no introduction, but we'll give them one anyway. Vittoriosa, Senglea and Cospicua make up this iconic site, each with centuries of stories to tell. Whether you fancy exploring the forts and museums or simply weaving between charming streets, these cities are a true taste of traditional life in Malta. For a tour like never before, take the Rolling Geeks – eco-friendly self-driving cars with pre-programmed GPS which will take you on a talking tour of The Three Cities in as little as two and a half hours. All you need to do is sit back and take it all in!
Valletta – Despite its petite size, Malta's capital is packed with over 400 years of history, from the walled fortress that hugs the coast, to its array of museums and maze-like streets lined with restaurants, shops and galleries. Valetta is home to some of the most iconic attractions in Malta, including the impressive St John's Co-Cathedral which features the only signed Caravaggio painting in the world, the stunning Upper Barrakka Gardens, and The Saluting Battery – a historical landmark overlooking the Grand Harbour, where a cannon is fired twice every day.
Mdina – Nestled on a hilltop in central Malta, this small, medieval city boasts a history that traces back over 4000 years. With centuries-old buildings framing the streets, many say that this cultural gem looks as though it's been frozen in time – so much so, that it served as the set for a number of Game of Thrones episodes. It's also known as the 'Silent City', thanks to the thick, ancient walls that surround it, and the strict vehicle restrictions – so you can enjoy the buzz of the city without the noisy traffic!
Sliema – This cosmopolitan city is the commercial capital of Malta, packed with shops, fine restaurants and high-end hotels. If you prefer swanky cafes and glitzy shopping centres over ancient architecture, then this is the place for you.
St Julian's – Technically speaking, this is a seaside town, but it's still one of the most popular spots in Malta. Think seafront promenades, colourful street art and charming restaurants serving paper-thin pizzas and indulgent pasta dishes. Plus, this town is the go-to place for late-night partying, with a colourful night scene often compared to the likes of Ibiza or Mykonos.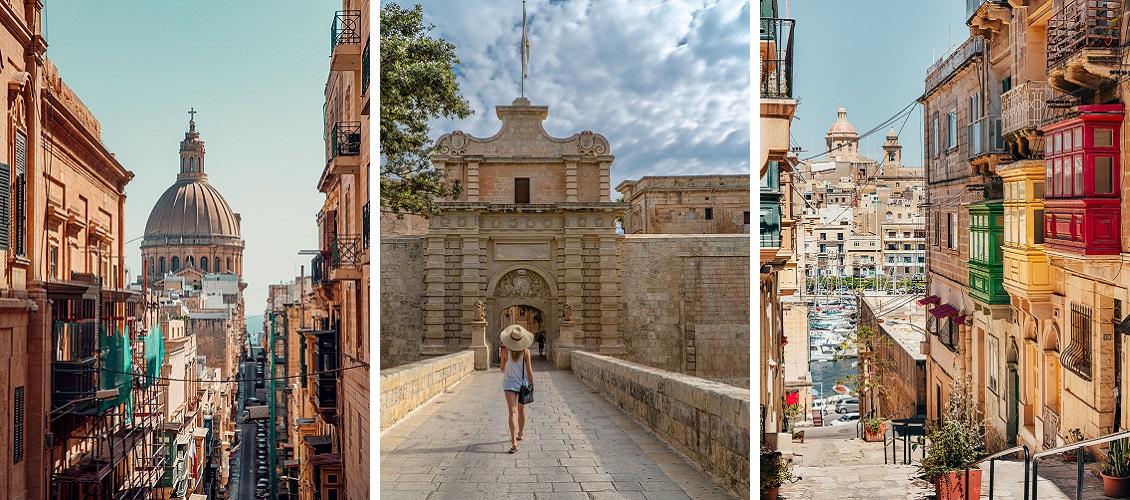 Fill your itinerary with fun activities
When in Malta, a boat trip to its sister islands – Gozo and Comino Islands is a must. These cruises start from the mainland and stop off at Crystal Lagoon and the popular Blue Lagoon for swimming and snorkelling, before finally heading to Gozo Island where you can explore the historical sites or simply sit back and take it all in. Even in mainland Malta you'll find plenty of snorkelling and diving sites, thanks to the rustic caves and crystal-clear waters that surround the islands; there's just as much to explore underwater as there is on land! Don't forget to tick the Shipwreck of HMS Maori off your list in Valletta – a popular dive site dating back to 1945, with most of the shipwreck still intact.
Despite its size, this Mediterranean archipelago is packed with attractions to suit everyone, from the Tarxien Temples with their limestone structures dating back to 3150 BC, to the iconic Popeye Village – a film set turned entertainment park in Mellieħa for family days out, and the Esplora Interactive Science Centre which always goes down a treat with the kids. If you're eager to explore as much of the islands as possible, then why not opt for a hike where you can admire the view from above, or enjoy a bike ride through some of the region's most breathtaking landscapes?
Dance the night away
The fun definitely doesn't stop after sunset in Malta. Paceville in St Julian's is a popular party hotspot, packed with colourful clubs and dynamic dancefloors. Here you'll find Sky Club – a giant indoor nightclub which hosts regular events that you won't want to miss, and Club Havana – home to six bars, two dancefloors and a never-ending playlist of R&B and hip hop beats to keep you dancing well into the early hours. Another huge perk of partying in Malta is the impressive year-round climate. With light nights and warm temperatures even later in the year, you don't need to travel in summer to make the most of open-air clubs like Gianpula Village in Rabat, and rooftop bars like Lounge 360 in Sliema.
Fancy exploring these Mediterranean islands for yourself this autumn? Check out our Malta holidays.