Malta is a seamless blend of old and new – UNESCO World Heritage sites sit alongside modern clean-cut architecture and hundred-year-old cellar bars lurk underneath chic cocktail bars. The mix of relaxed social drinks with lively, atmospheric hotspots keeps thousands of travellers flocking to its shores every year. We've teamed up with the Malta Tourist Board to highlight the best social venues to grab a drink. So whether you're out for a romantic few drinks or hitting the town with friends Malta has you covered. Here are some of our favourites from the trail below!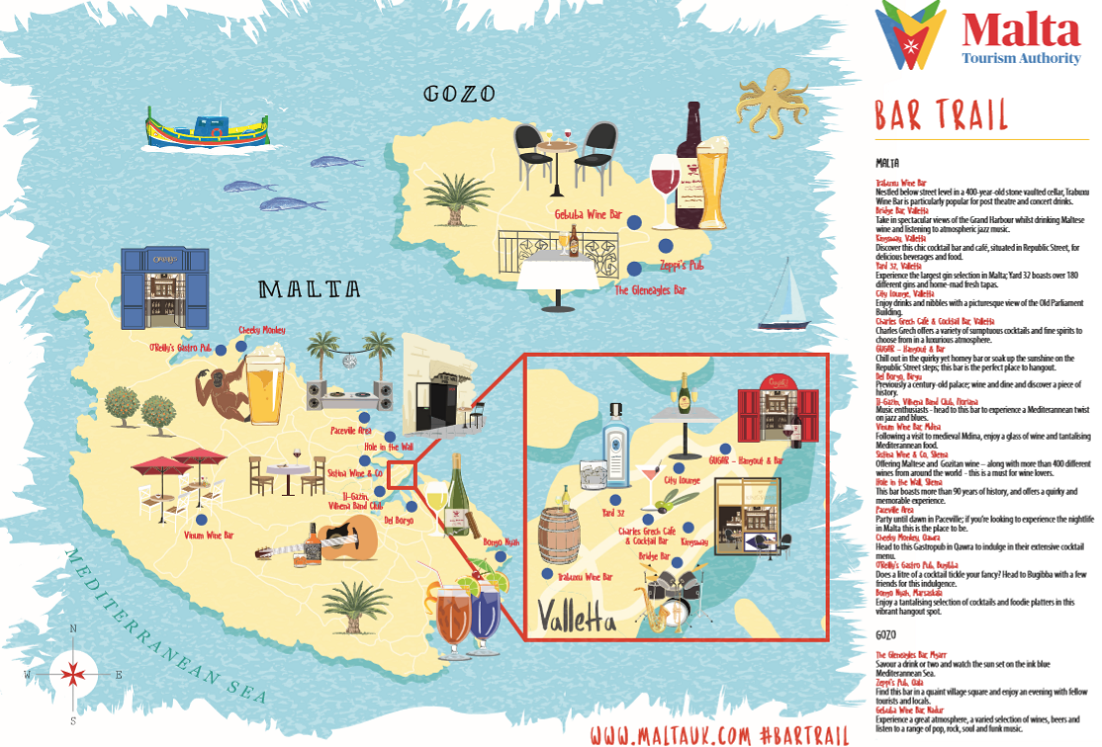 Cozy Wine Bars
Famous for its local wines, Malta is not short of a wine bar or two and deciding on our favourite was no mean feat. Sistina Wine & Co offer a staggering 400+ wines from all over the world including some incredible local wine and to-die-for meat and cheese platters to accompany. But stealing our top spot (and our hearts) is Trabuxu Wine Bar. Located below ground in a 400 year old stone-vaulted cellar, this cozy wine bar is a wine and cheese lover's dream.
For a glimpse into Mata's gastronomy click here!
A Gin Palace?
As Malta's first and arguably best gin bar, Yard 32 is home to over 240 gins, 38 tonic waters and 50 tapas dishes. From well-known fine gins such as Monkey 47, to the limited edition and very exclusive Tanqueray Bloomsbury, to gins made with lobster (yes, really!), one thing is for sure – it's going to take a while to work your way through this collection.
https://www.instagram.com/p/Bg1XTLGhUFC/?taken-by=yard.32
Music is also important!
Music plays a vital part in the makings of a good bar and be it live or background music, getting the right style to match a venue is a challenge. The Gebuba Wina Bar in Gozo is a great place to grab a beer and listen to some rock, soul and funk but our favourite had to be Bridge Bar in Valetta. Sprawling across the bridge and making its way both up and down the steps either side, the Bridge Bar is a stunning open-air bar with atmospheric jazz and top-notch Maltese wine.
https://www.instagram.com/p/BnKBT1QH2pI/?tagged=bridgebar
Cocktails anyone?
Malta seems to love a good cocktail serving everything from high-end experimental numbers containing the weird and wonderful to huge jugs for one. O'Reillys Gastropub is home to enormous litre-sized cocktails while Cheeky Monkey Gastropub in Qawra serves up great food with a huge cocktail list (and a three hour happy hour every day!). Our favourite though, has to be Bongo Nyah – the perfect place to go with friends for a relaxed drink and a bite to eat – and don't forget the tequila!
https://www.instagram.com/p/BirBvCtga-A/?tagged=bongonyah
Ready to go out-out?
So we've cheated a little here. Unable to decide on one bar in particular we think it's only right to point you in the direction of Paceville. Affectionately nicknamed Partyville, this area of Malta is the place to go for the best night out. Densely populated with bars and clubs catering to all tastes, it is impossible not to find something for you. So dance the night away under the neon lights and we'll see you by the pool tomorrow!
Feeling thirsty? Check out our Malta holidays here!