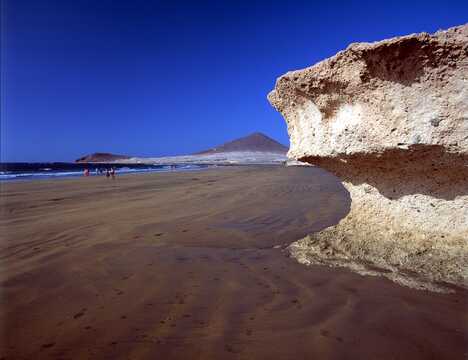 Read more about El Medano
Be sure to visit the secluded bay of El Medano, near the southern tip of this beautiful island. El Medano holidays will see you enjoying all the trappings of a vacation in the Canaries: gorgeous beaches, plenty of eateries and watering holes serving tasty Canarian tucker, brilliant watersports and windsailing, and all just four hours flight away from the UK! Book your El Medano holidays with On The Beach and enjoy Tenerife without the tension!
View destination on a map
El Medano Weather
Holidays to El Medano should include some of the world-class windsailing the area affords - this seafront is buffeted daily by warm winds, courtesy of the Atlantic. This helps to stave of the ever-present heat; temperatures here average around 15° Celsius in December, reaching the high 20s° Celsius by the summer peak.
Landscape
El Medano and La Tejita's blue-flag sandbeaches are the longest in the island, with soft white sands and rocks abutting clear warm waters, and the bay is completed with the Red Mountain at it's end, testament to the area's volcanic origins. Climb this or traverse the many biking paths leading inland for a gorgeous evening stroll and view of the Oceanic landscape.
Culture
There are multicoloured stalls around the seafront selling all manner of exotic wares of a higher and trendier quality than your average tourist bazaar - Saturdays are the main market days. Or visit in February for the island's Carnival season, and in the last 2 weeks of August for the spectacular folk music festival.
Adventure
There's a small shrine near the bay to the seventeenth century saint, Hermano Pedro incorporating some of the area's religious life. More secular pursuits can be found at the nearby children's parks and even a skating park nearby, or a jaunt into the city of Playa De Las Americas. The town of El Medano itself is perfect for basing yourself, with all amenities from dentists to supermarkets.
Nightlife
There are many bars around El Medano, both on the beach and inland, every kind of hostelry from English pubs to Tenerifian tavernas. The cuisine in these revolves mainly around the island's speciality, seafood, with more upmarket international restaurants in the town proper. And there's always Los Cristianos and Las Americas for some of the isle's infamous clubs and party life!
Book a El Medano Holiday now!
On The Beach is first choice for all the best deals on your El Medano holidays and accommodation in this paradisiacal coast! Don't delay - book today for some amazing deals!