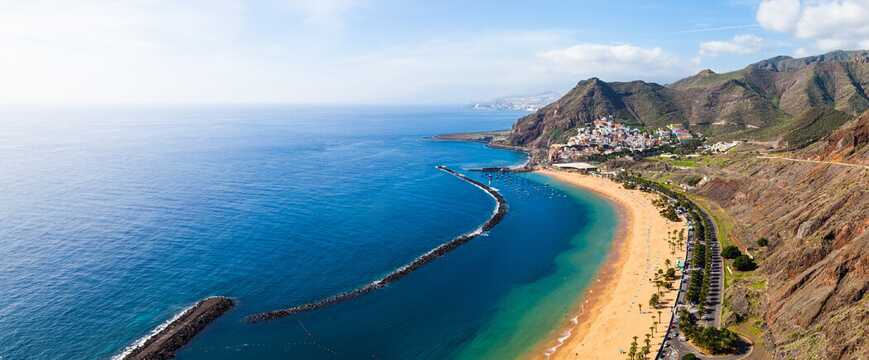 Read more about Costa Del Silencio
When thinking of Tenerife, many automatically conjure up images of gorgeous beaches, great watersports and a never-ending nightlife. Why? Because it's true! Tenerife holidays are among the finest in the world for all of the above - so a safe haven far from the madding crowd is in order!
And where better than Costa Del Silencio, the picturesque beachfront tucked away at the south of the island? Costa Del Silencio holidays offer all the highlights of a family holiday coupled with the impenetrable calm of the southern coast - all just four hours flight away from the UK!
View destination on a map
Costa Del Silencio Weather
Better pack your Factor 30 - the weather here is permanently gorgeous, with summer highs of 30° Celsius, compared with clement winter lulls around 15° Celsius. Perfect for either a frazzled summer club jaunt, or for those dreaming of a Christmas holiday around the pool!
Landscape
Holidays in Costa Del Silencio find you ensconced in a beautifully forlorn landscape, where green foliage meets the clear blue of the surrounding sea and the soft dark sands and pebbles of surrounding beaches and yacht-strewn harbours along the miles of coastline. For a great view, head out to the Las Galletas harbour and fishing village and take in the fishing boats and ferries rippling their way out to sea.
Culture
There are always festivals to enjoy on holidays in Tenerife, from February's manic street parades and salsa bands to December's more sombre religious festivals, it has been said that nowhere outside Rio is more dedicated to public celebration than in Tenerife. If you'd rather have a quieter time, then traipse down to the morning seafood markets at Las Galletas for some authentic Canarian cuisine.
Adventure
Your holidays to Costa Del Silencio could have you on any number of exciting trips, to the highest summit in Spain, the snow-capped Mount Teide, through the stunning mountain foliage of the Oratavo valley, or on jaunts to the island's great cities, Las Americas and Santa Cruz. Or simply chilling by the beach with your family, sunbathing or snorkelling!
Nightlife
Costa Del Silencio holidays primarily mean some well-earned rest and relaxation, with less nightlife outside the hotels than you would expect from Tenerife. However, there's still a glut of bars and restaurants not too far away, both Canarian and international, and those wanting to party hard can jump the regular buses to head into nearby Playa de las Americas and Los Cristianos, for some merrymaking, music and dance in all-night clubs and pubs!
Book a Costa Del Silencio Holiday now!
Costa Del Silencio holidays mean lazing by the beach of your dreams, on the holiday of your dreams - and with On The Beach, you can get there with the deal of your dreams! We have the best deals on flights and Costa Del Silencio accommodation, but don't delay - there are great deals online now!