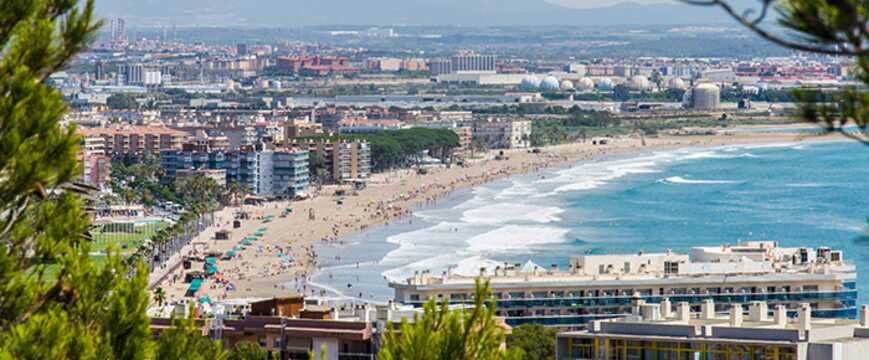 Read more about La Pineda
Lying to the north east of Salou on Spain's Costa Dorada, the charming resort of La Pineda is the ideal choice for people with smaller children considering holidays to Spain. The entire resort is exceedingly child-friendly, with many safe places for them to enjoy the beautiful weather and just as many places to relax for mum and dad.
Lined with beachfront cafes and restaurants, La Pineda's golden, sloping beaches offer some of the safest stretches of the Costa Dorada beaches, and is within a convenient distance of the exciting Aquopolis waterpark so the fun is never far away. Enjoying delightful weather much of the year round, La Pineda holidays are consistently popular with families and singles seeking a perfect sandy getaway. Just two hours away from most UK airports, La Pineda is a breath of fresh, relaxing air for the whole family.
View destination on a map
La Pineda Weather
La Pineda offers a typical Mediterranean climate, with ranging from 28° Celsius, with highs of around 32° Celsius. This dry, sunny climate also makes watersports especially attractive for people on holidays in La Pineda, with average summer water temperatures averaging around 23&de; Celsius.
Landscape
Whilst the surrounding area is quite mountainous, much of the resort itself slopes gently toward the beach, making walking with children easy and carefree. The typically sandy, golden beaches are what define La Pineda holidays.
Things To Do on La Pineda Holidays
La Pineda offers some of the safest stretches of beach in the entire Costa Dorada. In addition to paddling in the warm, blue waters off the clean, sandy beaches, youngsters and adults alike will enjoy the thrills and excitement of the nearby Aquopolis waterpark.
Culture
La Pineda offers a predominantly modern and tourist-friendly experience, offering some of the best facilities in the Costa Dorada. Charming and friendly, the locals will really make you feel welcome!
Nightlife
More subdued than nearby Salou, much of La Pineda's nightlife consists of small restaurants, cafes and bars that offer a chance to take it easy over sangria after a hard day's sunbathing on holidays to La Pineda. Many of the most popular nightspots offer great views of the beach, and are conveniently located nearby to the many hotel and holiday apartment complexes.
Book a La Pineda Holiday now!
La Pineda is the perfect choice for a family getaway, offering a slice of sun-kissed Spanish hospitality within easy reach of the UK. On the Beach have outstanding deals on hotels and flights, so grab your sunscreen and water wings and head off on your holidays to La Pineda with On The Beach!