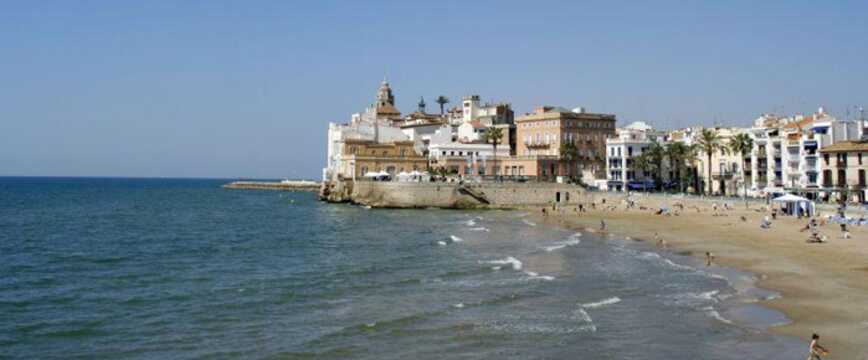 If you're a bit of a culture vulture, a trip to the fabulously bohemian Sitges is a must for any holiday to Spain. Described as Barcelona's little sister, Sitges is a notoriously cosmopolitan destination and features much of its original Mediterranean history, with cobbled streets, a plethora of museums and a three-kilometre promenade, Sitges offers a taste of the artistic and cultural heritage of Spain with a dash of outrageous nightlife!
If you're looking for a taste of the decadent mixed with rich cultural variety, Sitges holidays will satisfy on every level. In addition to richly historical architecture, Sitges also features many quaint beaches in nearby Saint Sebastian, as well as the museums and churches of the Modernist artistic movement. Only 20 minutes from Barcelona, an easy two-hour flight from the UK, Sitges offers a raucous alternative to Barcelona!
Sitges remains a classical Spanish destination, and retains much of its cultural heritage and atmosphere, with many fiestas such as the annual Sitges Film Festival. Sitges offers a uniquely cultural experience for people considering holidays to Spain.
Sitges sits in a coastal basin, surrounded by gentle rolling hills sloping down to the clean, golden beaches and clear blue waters of the Mediterranean. In other words, Sitges holidays are ideal if you want to spend the days relaxing on the beach soaking up the sun!
Sitges holidays offer a wild and decadent nightlife scene, and is an incredibly popular destination for clubbers from all over Spain and other European countries. Sitges welcomes visitors, with a friendly and lively party atmosphere. If dancing until sunrise is your idea of a great time, you'll find countless bars and clubs to party until dawn.
View destination on a map
Sitges Weather
The climate in Sitges is typical of the region, with temperatures routinely reaching 32&de; Celsius in August, so take your holidays to Sitges in late spring or early autumn if you don't like stifling heat and humid nights.
Things To Do on Sitges Holidays
Sitges is an art enthusiast's paradise, with many historical and cultural attractions such as Maricel Palace built by Miquel Utrillo and decorated by sculptor Pere Jou. The former residence of artist Santiago Rusinol is now a museum, showcasing many rare archeological treasures and fine examples of Modernist ironwork.
Book a Sitges Holiday now!
If Barcelona seems too tame, take a walk on the wild side with a holiday in Sitges! Combining classic Spanish culture with flamboyant, decadent nightlife, Sitges is a truly memorable destination. On The Beach have some great deals on flights and accommodation, so why not see how much you could save on a visit to this unforgettable city!