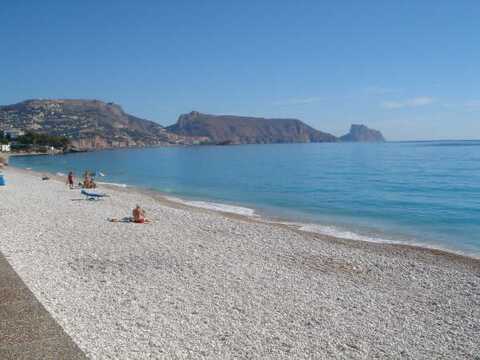 If you're going on holidays to Spain, be sure to make the white sands of the Costa Blanca top of your itinerary, and specifically the beautiful, beach-laden village of Altea! Costa Blanca holidays are first for guaranteed sun, sea and sights, and Altea has it all - a reputation as one of Spain's most gorgeous seaside towns, a rich history stretching back into time immemorial, tons to see and do - not to mention being situated next to the busy resort of Benidorm - what more could you want?
Of course - the beach! There are over three miles of white-gold pebbled beachfront to explore here, and being 30 miles from Alicante Airport, it's a mere three hours travel from boarding the plane to your Altea holidays!
View destination on a map
Altea Weather
Sun worshippers, rejoice! Altea holidays are blessed by the same Mediterranean temperatures for which Alicante is famed - with astronomical highs of up to 40° Celsius in July and August, to respectable January temps around the 15° Celsius mark. Whether you're chilling by the pool or on that azure beach, be sure to slap on the sun cream!
Landscape
Altea's main beach is the golden Playa la Roda, from where you can hike up to the neighbouring Cap Negret Beach with it's distinctive black shingled coves, or down to the palm-strewn Playa de Cap Blanch, perfect for walks into the neighbouring seaside towns. For some jaw-dropping coastal panoramas, scale the grassy Sierra de Bernia mountains. The Church also affords brilliant views of the entire town from it's towers.
Things To Do on Altea Holidays
Once you get here, you can promenade over the cobbled pavements of the Old Town to the blue-white spired church of Virgin del Consuelo in the Plaza, or amble past the pristine whitewashed houses to the Arts Centre. For the sports enthusiast there's also a host of watersports on offer for people on Altea holidays, both on the beach and at the Nautical Centre and the Greenwich Marina. Surf time!
Culture
Altea is home to festivals all year round, many of an historical bent from the massive San Pedro Festival on June 24th to re-enactments of medieval Moorish battles in late August. Tuesdays here see the opening of the biggest street market to be found in the entire Costa Blanca, selling everything from African rugs to exotic spices and gems. Don't worry if you're a late riser - the daily market doesn't open until 5:30pm.
Nightlife
Altea is first and foremost a seaside resort, and this means plenty of bars, restaurants and pubs! You can eat out at the local tavernas serving fresh seafood and tapas, or at top restaurants where international cuisine is the order of the day. Enjoy a quiet drink by the beachfront pubs, or in the town's classy champagne bars such as La Mascarada. Party lovers on holidays to Altea, be sure to head into Benidorm for some all-night clubs!
Book a Altea Holiday now!
On The Beach is your first choice for cheap Altea holidays with a gigantic range of hotels and direct flights. Our booking system is simple and fast, meaning that you're only a few clicks away from the holiday of your dreams. Don't delay, there are amazing deals on offer right now!