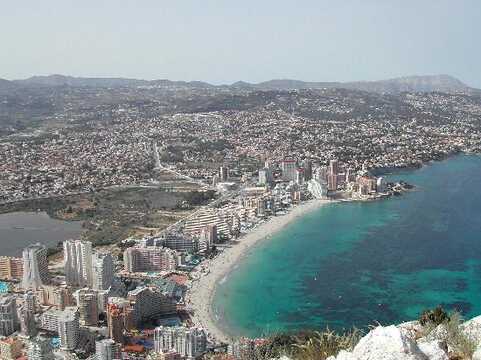 Spain holidays are all about sun, sea, sand and culture. Well, that's what you'll find in the charming Mediterranean resort of Calpe, in the north of the sapphire shores of the Costa Blanca. This is one of the region's most distinctive areas, with golden beaches situated between the huge Rock of Ifach on the shoreline and the majestic Sierra Bernia mountains rising behind.
Calpe is home to some of the most beautiful beaches in Costa Blanca including Playa de la Fossa o Levante which has a blue flag certification and a number of small cafes where you can stop for a bite to eat. The Paeso Infanta Cristina Promenade also offers some amazing scenery and a number of restaurants and bars to enjoy.
If you fancy an active holiday, Calpe can definitely provide everything you need. Get involved in some of the watersports at the beach including windsurfing and kiting. We'd also recommend a visit to the Natural Park of Penyal d'Ifac, where you can enjoy a slow ascent to the top and take in the breathtaking views.
Holidays to Calpa are also great for exciting evening entertainment and nightlife. There are a great selection of bars along Calle La Nina, open until the early hours, while Benidorm is just a short journey away if you want to travel a little further away.
Calpe boasts all the usual mod cons you'd expect from your Costa Blanca holidays, bars, hotels, gorgeous beaches with the added treat of being home to more ruins and museums than anywhere else on the White Coast.
View destination on a map
Calpe Weather
Bring out the sun cream! Calpe holidays are well known for temperatures that rise to astronomical highs above 30° Celsius in July and August, and the thermometer rarely dips below 10° Celsius even in the heart of winter. The skies here are perma-clear, too - so even if you're just lolling by the pool, make sure you don't get a bright-red tan!
Landscape
Calpe has miles of golden beaches, affording you ample opportunity for swimming, surfing, or sunbathing. The huge Gibraltar-esque Ifach Rock is the most distinguishing landmark here, and you can scale this monolith through an inner tunnel for some of the most spectacular coastal views in the Costa Blanca. The more peripatetic can traverse the grassy Sierra Bernia hills for sunset picnics amongst the pines.
Things To Do on Calpe Holidays
There's no shortage of things to do on Calpe holidays. Check out the Roman salting factory on the beach, and at the Ifach Rock you'll come across the Natural Park with it's protected flora and fauna. The Old Town houses two churches, the gothic Old Church dating from the 1400s, no less! Turn around, and you're already at the Archaeological Museum, housing Iberian relics. For the kids, a trip into nearby Benidorm might be in order for waterslides at Aqualandia or forages through the huge Terra Mitica Theme Park.
Culture
Calpe's summer fiestas, San Juan on 24th June, Virgen del Carmen on 16th July and August's feast of Virgen de las Nieves, are all replete with fireworks and fun on the streets! Don't worry if you miss these on your holidays to Calpe, there are plenty of fiestas here all year round, and the Saturday Flea Market sells more exotic wares than you've ever seen. While you're out and about, sample some of the many paellas in the restaurants, and Calpe's very own peppered fish stew, Llauna de Calpe. Magnifico!
Nightlife
Calpe holidays offer an extraordinarily varied nightlife, with jazz bars adjacent to English pubs and beach shacks in nearby Javea. Whatever you're tastes, from football to folk music, Calpe has it all! Remember, you're only 15 minutes outside Benidorm if you feel like an all-night karaoke or clubbing session, and only 2 minutes away from the beaches if you just want to sit, sip a Margarita and chill out while the sun sets over the Mediterranean!
Book a Calpe Holiday now!
Check out our huge choice of flights and hotels, your perfect Calpe holidays are just a few clicks away with On The Beach. Last minute offers may be our speciality, but don't delay - there are fantastic deals getting snapped up right now!