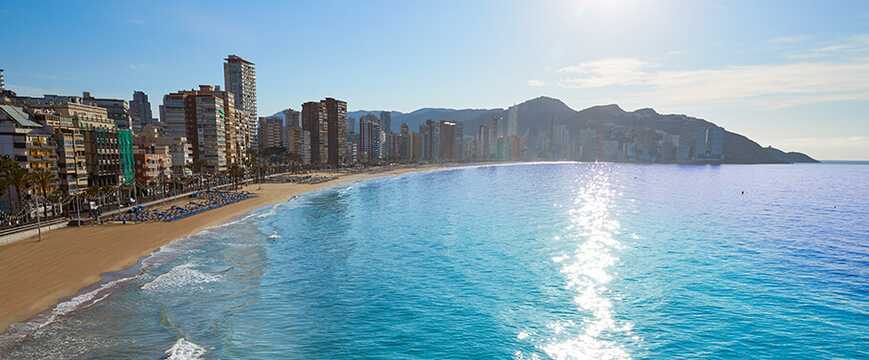 To most of us, Spain holidays mean basking by the sea and enjoying glorious weather, with plenty of amenities and lots to do. And where do you get all this and more? The Costa Blanca, of course! To the north of Spain's unsullied White Coast you'll find the seaside village of Javea, which above all Alicante's resorts, has retained it's provincial character in the face of a burgeoning tourist industry.
It's no wonder holidays to Javea have become popular - aside from the Mediterranean climate, there all those sports, bars, museums, hikes we could go on. Book your Costa Blanca holidays with On The Beach today and you're just a two hour flight and 40 minute drive away from your Javea holidays, not to mention the beach and sunshine!
View destination on a map
Javea Weather
Javea has New Year temperatures averaging around 13° Celsius, with summers of over 30° Celsius! Don't be fooled by the time of year, blue skies mean sun rays, so whether you're chilling by the hotel pool or out on the beach swimming or jet-skiing, slap on the sun cream to stay safe on your Javea holidays!
Landscape
Javea is essentially split into three areas: the blue-flag beaches and shingled coves making up the coastline, the port with it's yachts and ships heading off into the Med, and the village itself. The beaches range from the secluded pebble coves of La Granadella to the touristy hubbub of El Arenal. For a panorama of all this, visit the old lighthouse of Cabo de Nao, particularly good for sunset views due to it's isolated position.
Things To Do on Javea Holidays
Be sure to check out the Old Town, over a mile inland. Here you'll find the Museum of Soler Blasco, housing artefacts from centuries of maritime history, as well as St Bartholomew's Church, it's stone structures and tower dating from the 13th century. Why not also take the kids to nearby Montgo Natural Park, nestling in the overhead mountains, to check out some exotic mammals such as badgers and gineta.
Culture
The Fogueres de Sant Joan is the main festival here, held in June and replete with fireworks, flower displays and fun on the streets. You'll certainly come across a fiesta in Javea, as there's at least one a month, all featuring huge paellas and floral arrangements giving vent to that Alicante need to do nothing by halves! There's also a huge market in the town every Thursday, so get up early for bargain rugs, clothes, and jewellery to take home and remind you of your holidays in Javea!
Nightlife
After a heavy day sunning yourself or playing golf you'll want to relax, and boy, are Javea holidays good for relaxing! You can take in live folk music over some tapas and a sangria in the tavernas by the coast, or head into town for everything from cocktail bars to English pubs. Nightclubs such as La Hacienada and Achill offer a high tempo party atmosphere just like you'd find in Benidorm and are open into the wee hours.
Book a Javea Holiday now!
Your Costa Blanca holidays won't be complete without sampling some of the real Mediterranean culture which Javea offers! A flight to Javea's pastoral plains and beaches is five minutes away with On The Beach - but don't delay, there are amazing offers right now!