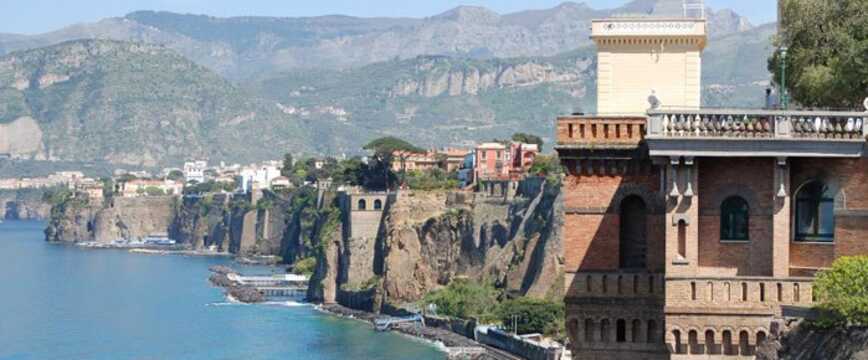 For those of you in need of a quiet, relaxing cultural week or two away on holiday in Italy head to the Amalfi coast, in particular the beautiful little town of Sorrento. With many hotels overlooking the picturesque Bay of Naples and Mount Vesuvius, day trips to Pompeii and Herculaneum, as well as a stretch of breathtaking sea cliffs, Sorrento just might be the perfect holiday destination for you, your friends or your family. And with flights landing in Naples from destinations up and down the country on a regular basis, On the Beach is proud to offer you the widest choice of holidays at the cheapest prices, so book your Neapolitan escape today.
Things to do
Sorrento is full of things to do to keep your whole party entertained. For the brave amongst you, why not try the Amalfi Drive? The road linking Sorrento with neighbouring Amalfi winds through the picturesque Mediterranean cliff tops, although it is not advised for those who suffer from nerves when behind the wheel! For those of you looking for a snippet of Italian culture, then a number of churches, some dating back as far as the 14th Century, are open for general public viewing.
The attraction of holidays in Sorrento's to the famous is also something which is evident within the town, with many off the cobbled streets lined with high quality shops and boutiques. The area also offers a number of festivals throughout the year which you may like to book your holiday to coincide with. So for a break in this renowned Italian seaside town.
Culture
Sorrento was originally under the occupation of the Greeks, mainly under the reign of King Reparo. However by the 4th Century the area was under Roman rule, and quickly established itself as a popular tourist destination for rich Romans, its sea views attracting visitors as they still do today. After a number of invasions and occupations, most notably at the hands of the Byzantines, Sorrento eventually suffered from its coastal location as pirates began to frequent the area. The fortifications built to defend the town at that time are still visible today.
More recently, Sorrento became an extremely popular tourist town from the 18th Century onwards, attracting Italians as well as holiday makers from overseas.
View destination on a map
Sorrento Weather
Sorrento is perfect for those of you eager for a slice of sunshine, without having to apply bottle after bottle of sun cream! It's Mediterranean climate means that temperatures are in their twenties from May to September, and reach around 30 degrees in July and August. However it is worth noting that although July and August have the warmest weather, they are also inevitably the most popular for tourists.
A holiday to Sorrento in a less popular month would allow you to see a perhaps more authentic side of the town, and might also find you the cheapest deals! Have a look at On The Beaches last minute deals to see what you can find!