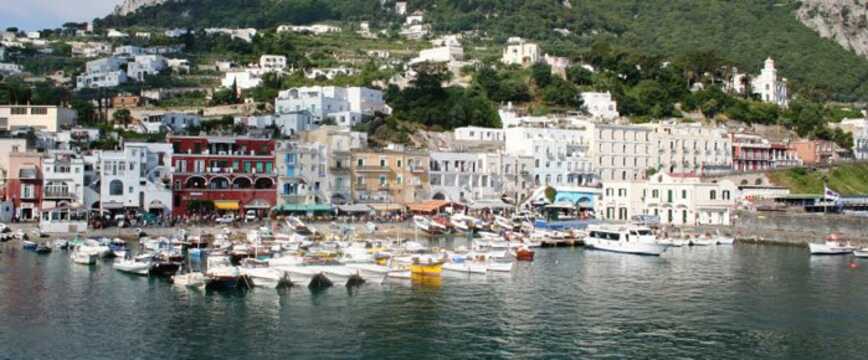 Situated on the south of Italy's Mediterranean coast, Capri is a beautiful island rich in culture and picturesque views. A renowned beauty spot since the Romans dominated Europe; holidays to Capri are famed for memories of blue seas, breathtaking scenery and fine local cuisine. The island is particularly noted for its attraction to celebrities, with its central plaza frequented by paparazzi on the lookout for silver screen and football stars. For the cheapest holidays to Italy; book today with On the Beach.
One reason Capri continues to bring in tourists all year round is it's abundance of culture and history. The beautiful Monastery Certosa di San Giacomo is the ideal place to start your trip and one of the island's biggest attractions. Enjoy the magnificent views from Punta Tragera or climb to the top of Mount Solaro where you can see the peak of Mount Vesuvius. For something a little more relaxed, take some time to go on a wooden boat tour of the Blue Grotto Sea Caves where you will be transported from complete darkness into a sparkling cave, lit by blue light.
As there's so much to do during the daytime, you may be wondering what there is to do during the evening. Piazzetta is a wonderful square which features the magnificent town hall and quirky pavement cafes where you can enjoy a coffee or cocktail depending on what you prefer.
If you want to travel a little further afield and explore your new surroundings, take a bus to Anacapri, which is slightly smaller and quieter than Capri Town and perfect for those looking to enjoy a slower paced holiday. You can also take the ferry to Italy's southern coast and explore the Amalfi and Positano regions.
View destination on a map
Capri Weather
Capri is similar to most Mediterranean towns in that the peak summer months of July and August provide the warmest weather, although these are the busiest times to visit. High season does officially begin in May, and lasts until September, so it is often advised to visit in either of these months as well as June, when the weather is still pleasant but the numbers of tourists (and the prices!) have fallen. These are often great times to pick up last minute deals or bargain breaks, as holiday makers return to school and work.
Things To Do on Capri Holidays
No trip to Capri is complete without a trip to the grotta azzurra, or the Blue Grotto. This sea cave boasts an unrivalled phenomenon in that the water seems to be lit from below by a vibrant blue light. Capri is also home to twelve majestic Roman villas, perhaps most notably Villa Jovis, the second highest point of the island on the peak of Mt. Tiberio.
Aside from the island's natural beauty, the central piazzetta is lined with expensive boutiques and shops, although the area does extremely well in preserving its architectural history. Boat trips offers alternative tours of the island, as well as day trips to nearby towns and resorts, such as Naples.
Culture
Capri's growth into the tourist spot it is today began with the Romans. Occupation under both Augustus and Tiberius left a lasting footprint on the island, with Tiberius ruling the rest of the Empire from this very place. The technological advancement of the Romans also greatly enhanced the island's development, with ports, modern water and drainage systems and a number of famous villas left behind in the process. In the Middle Ages, the island appointed San Costanzo as its leader in order to stave off Saracen invasion, and came under the rule of Naples.
More recently, Capri endured a brief stint under French occupation in 1806, although was retained by Naples relatively quickly. The island has since become a haven for artists, the breathtaking panoramas proving inspirational for many painters and poets.
Book a Capri Holiday now!
With On The Beach, our price match guarantees your holiday will cost you as little as possible. Combine this with our array of handpicked hotels and resorts, and you are left with the perfect holiday destination! So whatever your holidaying needs, On The Beach will have the break to Capri for you. Book your holiday to Capri today!