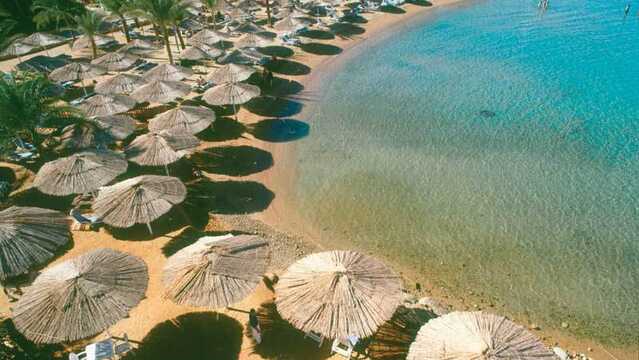 Read more about Om El Sid
Holidays to Om el Sid Hill in the Red Sea Riviera's stunning peninsular landscape could find you diving, snorkelling or windsurfing in one of the world's premier beachfronts, the jaw-droppingly beautiful resort of Sharm el Sheikh in the Sinai Peninsula. There's more things to experience on holidays to Om el Sid than you can shake a stick at including desert safaris through the mountains, ancient buildings and exotic wildlife, plus great nightlife. Whether you are coming on holidays to Om el Sid for a romantic break away or bringing your family, there's enough to keep you entertained from morning till night!
Six hours' flight away and a short drive from the airport will see you comfortably ensconced in your hotel, looking out at clear skies, clearer water and of course, the beach.
Ramadan
Please be aware that the Islamic holy month of Ramadan will take place between 12/04/2021 - 11/05/2021. During this time, many cafes and restaurants will close during the day, restrictions on alcohol sales may be in place, and hotel dining for non-Muslim guests may take place in private rooms. Playing music, dancing, and eating in public areas may also be restricted during this time.
View destination on a map
Om El Sid Weather
You can forget all about the rain when on holidays to Om el Sid. Even in the dead of winter temperatures hover around 22° Celsius, with the summer apex reaching above 40° Celsius. If you fancy a chilled out Christmas lazing by the pool or getting tanned on the palm-strewn beach, grab your sunblock on and book a holiday in Om el Sid!
Landscape
Om el Sid hill is essentially a plateau rising gracefully above the translucent blue of the surrounding gulf, on the southern tip of over thirty miles of uninterrupted beachfront. You can go for walks round the yachts and fishing boats of the harbour, some of which recall a time when fishing, not tourism, was the main source of sustenance here. Take a hike by jeep or camel up to Mount Sinai for panoramic mountainside views and a trip to the ancient monastery of St Catherine there, the world's oldest open church.
Things To Do on Om El Sid Holidays
Sharm el Sheikh is packed with entertainments within and without; you've got Fun Land Theme Parks and a desert ice rink for the kids, the huge nature reserves of Tiran Island and Ras Mohammed National Park and even a museum dedicated to the history of diving! Talking of diving, that's the main reason many come here! On el Sid is among the world's finest diving destinations, so say hello to the rays, dolphins, and turtles and explore the giant reefs offshore. Of course no trip to this area would be complete without visiting the beaches and reefs of the acclaimed Sharks Bay, which is just a short trip away by car.
Culture
Sharm el Sheikh has a host of great festivals from the Coptic New Year to camel racing in April and May, plus July's fishing competition, in which you can even compete. There are also lots of stalls in the bazaar willing to endow you with a souvenir or two, just remember to haggle the price down! You can sample some of the delights of Egypt in the Old Town where you'll find all manner of kebabs and coffee shops awaiting you.
Nightlife
Om el Sid holidays offer you a quiet time on the southern tip of Sharm el Sheikh, but your right next to the clubs of Naama Bay and the international cuisine and English pubs in Sharm proper. There's no need to travel here to have a good time. Try the casino for some blackjack and craps, the Bus Stop and Pascha for some raving to the sounds of international DJs, or the beach, for a quiet drink on the golden sands at sunset.
Book a Om El Sid Holiday now!
Om el Sid Hill holidays mean the break of your life in the place of your dreams, and the deal of your dreams is right here at On The Beach! Don't delay - there are some fantastic offers online now, book your holidays today and before you know it you'll be On The Beach!