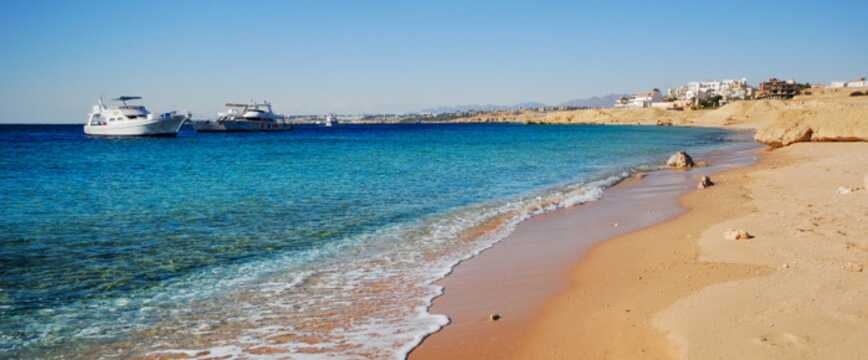 Read more about Naama Bay
The place to go on your Egypt holidays, Naama Bay is the finest seafront in the Sinai peninsula, offering great snorkelling and diving opportunities amongst thousands of sea creatures, exploring underwater reefs. But Naama holidays aren't just a diver's paradise - they are anyone's, with palm-strewn golden sands, cloudless skies, and tons to see and do.
Book yourself a great Naama Bay holiday deal with On The Beach. Just a few hours' flight and you can discover the Egyptians' take on heaven!
Ramadan
Please be aware that the Islamic holy month of Ramadan will take place between 12/04/2021 - 11/05/2021. During this time, many cafes and restaurants will close during the day, restrictions on alcohol sales may be in place, and hotel dining for non-Muslim guests may take place in private rooms. Playing music, dancing, and eating in public areas may also be restricted during this time.
View destination on a map
Naama Bay Weather
One of the world's driest places, Na'ama Bay's warm New Year temperatures average around 20° Celsius, heating up to over 40° Celsius in the summer! Whether you're strolling through the sand-baked streets of Sharm or lolling by the pool, be sure to pack your sunscreen on holidays to Na'ama Bay!
Landscape
You can stroll down the beautiful paved promenade that stretches along the entire bay, with great coastal views of the clear gulf waters from its small pier; or traipse inland, astride a camel or by jeep, into the surrounding Sinai Mountains for a true panorama of the desert. There are other delights you'll come across on the coast, such as the El Fanar lighthouse jutting out if the rocky promontory, and you can cruise out to Tiran Island, strewn with exotic plant life, for a trip to the isolated diving centres here, reputedly some of the finest in the world.
Things To Do on Naama Bay Holidays
Naama is the beating heart of Sharm el Sheikh, and from it's warm waters you can discover this historic city for yourself - it's great wildlife at the Ras Mohammed Park, it's marine life on a cruise in a glass-bottomed boat, it's Diving Museum and a Fun Land Theme Park for the kids. One area of interest for theologians and hikers alike is the legendary Mount Sinai, famed for it's biblical history and home to St Catherine's, the world's oldest church, housing esoteric religious texts unseen anywhere outside Rome.
Culture
Saint Catherine's Monastery and Mount Sinai are very popular destinations with huge religious and cultural significance, just a three-hour drive from Na'ama Bay. Mount Sinai is said to be the place where Moses received the Ten Commandments. The mountain is also home to the sixth century Greek Orthodox Monastery of St Catherine. Climbing the mountain is the main objective for most visitors, but the monastery's treasures are well worth taking your time to admire.
There's a great market in the Old Town at Sharm el Sheikh selling everything under the sun; don't be afraid to barter! There are more festivals in Sharm than most places, but April and May take the prize for their camel racing festivals. The local food is great too; you'll find an amazing abundance of shish kebabs and seafood of course, with Egyptian vegetable stews and salads for vegetarians.
Families
Sharm El Sheikh is very much a family-orientated resort, and Na'ama Bay is no exception. Most Na'ama Bay hotels have swimming pools, playgrounds, tennis courts, plenty of sports facilities, gyms, scuba diving centres, fantastic entertainment programmes and kids' clubs, so even if you don't want to leave your hotel there'll be plenty to keep the whole family entertained. Horse riding, camel riding and desert safaris are also popular choices for family day trips.
Adventure
Na'ama Bay, indeed the Sinai Peninsula as a whole, is a paradise for scuba divers and marine life enthusiasts. The waters around Sharm El Sheikh and Na'ama Bay are clear and calm for most of the year. Coral reefs and marine life provide an amazing experience for divers. Other great water sports include windsurfing, parasailing, boating and sea kayaking.
Ras Mohammed Marine National Park, at the tip of Sinai, southwest of Na'ama Bay, is considered one of the best places to dive in the world. Another superb diving area, the Strait of Tiran is only a few kilometres north of Na'ama Bay. Its main attractions are four stunning coral reefs, which are perfect for snorkelling and scuba diving. Inland attractions around Na'ama Bay include swish casinos, fantastic golf courses and indulgent spas.
Na'ama Bay's striking Bedouin handicraft stands will delight shoppers. The main Na'ama Bay shopping appeals are jewellery and semi-precious stones , followed by the goods on offer in the Old Market, including spices, perfumes, leather shoes and bags, and Bedouin embroidery. Egyptian cotton bed linen and beach towels are often bargain buys.
Nightlife
On Na'ama Bay holidays, the city of Sharm is effectively at your command, and it definitely has plenty of nightlife! There are discos, nightclubs, and even casinos frequented by the great and the good. You don't even have to travel - the world famous Pascha nightclub, Na'ama Bay's biggest, is right on the bay itself. If you do fancy a change of scenery, head to nearby Sharks Bay or even Ras Um Sid.
Who goes to Naama Bay?
Couples, families and friends. Scuba divers, beach lovers, sun worshippers.
Book a Naama Bay Holiday now!
The beauty and charm of Sharm El Sheikh awaits - and there's nowhere better to explore the Red Sea Riviera's great reefs and mountains from than Na'ama Bay! On The Beach has the best deals on all Na'ama Bay holidays and accommodation, all just a click away!