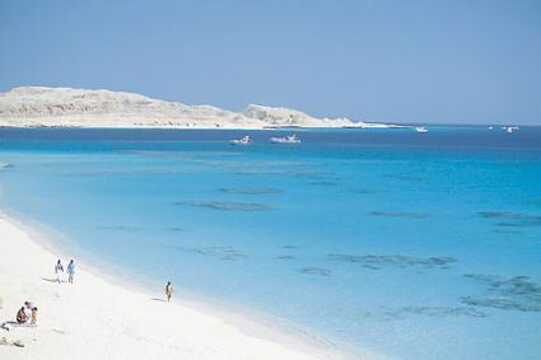 Read more about Nosrani Bay
Nosrani Bay holidays will find you discovering this world-famous beach situated on the Gulf of Aqaba for yourself: diving through the massive corals with their moray eels, turtles, dolphins and rays, exploring the hub of the Sinai peninsula, Sharm El Sheikh, and even safaris, camel rides and hikes to Mount Sinai!
On The Beach has all the best deals for getting to this gorgeous, golden-silted haven, and your accommodation at a wide array of Nosrani Bay hotels. Choose Nosrani Bay for truly memorable Egypt holidays whether you are coming for a relaxing break as a couple of bringing your whole family.
Ramadan
Please be aware that the Islamic holy month of Ramadan will take place between 12/04/2021 - 11/05/2021. During this time, many cafes and restaurants will close during the day, restrictions on alcohol sales may be in place, and hotel dining for non-Muslim guests may take place in private rooms. Playing music, dancing, and eating in public areas may also be restricted during this time.
View destination on a map
Nosrani Bay Weather
The temperature here in Nosrani Bay testifies to its place as a favourite for tourists no matter what the season. Celebrate Christmases on holidays in Nosrani Bay and enjoy temperatures around the 20°Celsius mark with a margarita by the hotel pool, or Nosrani Bay holidays in the summer, which is generally around 40° Celsius. Cloudless skies all year round make suntan lotion a prerequisite, but you'll be gently buffeted by the warm peninsular winds, staving off at least some of the heat.
Landscape
The peninsular landscape here is unparalleled for it's serene beauty; Ras Nosrani itself consisting of acres and acres of white sands across the translucent gulf waters. This is a relatively newly discovered beach, which adds to the appeal of Nosrani Bay holidays. It's perfectly situated for a trip to the foliage-covered Tiran Island across the water, one of Egypt's premier diving resorts.
Things To Do on Nosrani Bay Holidays
Diving through the huge reefs and corals among giant turtles to the sunken treasures at Sharm, this quieter beach is perfect for diving and snorkelling, but there's much more to do on your Nosrani Bay holidays. From hikes to the world's oldest open church, St Catherine's in Mount Sinai, with it's ancient library second only to the Vatican, to spotting leopards and gazelles bounding their way across the Ras Mohammed National Wildlife Reserve and taking the kids to the Fun Land Theme Park, you'll never have time to laze by the pool if you want to experience everything here!
Culture
Undeniably, the Egyptians know how to sell; you'll find that out in Sharm! You could spend hours wondering through it's myriad markets and bazaars selling jewellery, clothes and carpets, along with the usual shops and retail outlets selling souvenirs. Hone your haggling skills! There is a most unusual festival on holidays to Nosrani Bay with camel racing every April and May: you'll be astonished at how quickly these hoofed, humped creatures can move! The angling festival in July is also good fun, because tourists can compete to catch the biggest fish.
Nightlife
Nosrani Bay has it all: great English pubs, nightclubs open until sun-up, top-tier international cuisine and cosy local eateries. Take a romantic stroll through Ras Nosrani Bay at sunset or a tour of the city of Sharm with it's clubs and casinos. The Bus Stop nightclub here is the city's most distinctive hangout for ravers and couples alike. Don't forget that you also have nearby Nabq Bay and Naama Bay to explore at night!
Book a Nosrani Bay Holiday now!
If golden sands, towering palms and no rain is your idea of a good holiday, then make Nosrani Bay your destination! On The Beach is the place to get the best deals on all your Nosrani Bay holidays, but don't delay - there are great deals getting snapped up now!