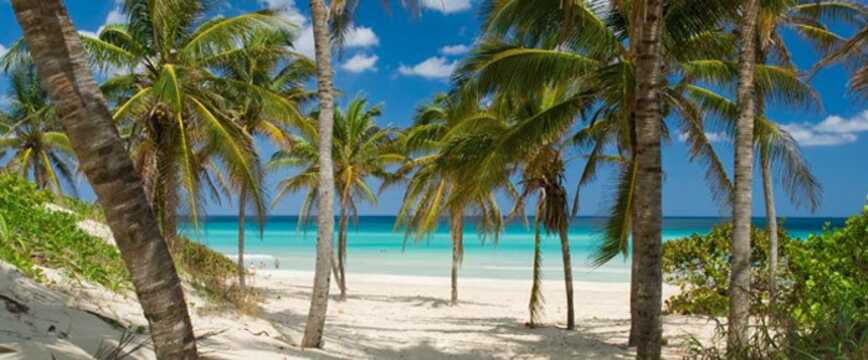 Read more about Cayo Coco
Located on the beautiful Jardines del Rey archipelago, Cayo Coco is a paradisiacal island nestled just off of Cuba's north coast. Boasting some of the most beautiful beaches in the Caribbean and a huge choice of beachfront all-inclusive resorts, Cayo Coco is the perfect place to enjoy a chilled out break in the sun.BeachesOffering a whopping 22km of pristine white-sand beaches along its northern coastline, there's no shortage of sand for you to claim as your own. And with most hotels situated right on the beach, you'll never be far from the shore during your visit.Food & DrinkWith influences of native Taino, Spanish, and African flavours, Cuban cuisine is a culinary delight. Indulge in Cuban classics like arroz con pollo (spicy rice with spicy chicken), Cuban sandwiches (thick Cuban bread stuffed to the brim with every type of filling you could dream of), ropa vieja (shredded beef with onions, peppers, and tomato sauce served over rice), as well as plenty of delightful international cuisine at your resort. For those feeling a bit parched, enjoy a tasty mojito, refreshing daiquiri, Café Cubano (Cuban espresso), or a can of Jupiña, a sweet pineapple soda.CultureLike other islands of the Caribbean, the people of Cuba offers a perfectly laid-back approach to day-to-day life. Enjoy calm days on the beach while you bathe in the hot Caribbean sun before dancing the night away Cuban style- salsa, rumba, or mambo, anyone?NightlifeBe sure to take a trip over to Cayo Coco's premier nightspot, the Jabali Cave. As the name suggests, this nightspot is located within a cave, promising a uniquely Cuban experience where you can enjoy an evening of music and dancing with your nearest and dearest.Important InformationFlight Time: 10.5 hoursTime Difference: -5hrsCurrency: Cuban PesoOfficial Language: SpanishVaccinationsPlease check with your healthcare provider for all up to date vaccination advice before booking your holiday.Visa and Entry InformationPassport Requirements: All passports must have 6 months validity from the return date of travel, two clear pages inside, and a valid return ticket.Visa Requirements: Visitors are required to obtain a Cuban Tourist Card prior to travel, which can be purchased from the Cuban embassy in London or online in advance. If you're a dual national, you should contact the Cuban Embassy for advice on entry requirements before you travel.Departure Tax: Please be aware that Cuba has a departure tax of 25 Cuban Pesos (approx. £20) payable upon departure. Please check with your airline if this cost is included in the cost of your ticket.Important Information: Visitors must show proof of valid travel insurance upon entry, which must not have been issued from an American company. Credit cards and debit cards issued from an American country are also not accepted within Cuba.
View destination on a map
Cayo Coco Weather
Wonderfully warm regardless of what the calendar says, there's rarely a dull moment in Cuba. Expect plenty of sunshine and temperatures well into the high 20s no matter the time of year. Between June and November, there is an increased chance of showers and high wind but these typically pass just as quickly as they arrive!
Things To Do on Cayo Coco Holidays
Havana oh na-naIconic Havana is only an hour away from Cayo Coco by airplane, so be sure to treat yourselves to a day out exploring Cuba's capital city, truly a city lost in time, during your stay. Scuba Dooba DooHome to one of the world's largest coral reefs, you just have to catch a boat out to the reef and discover an underwater wonderland. Whether you're a fan of the humble snorkel or a fully-fledged diving expert, the reefs of Cayo Coco are a beautiful sight not to be missed while you have the chance.