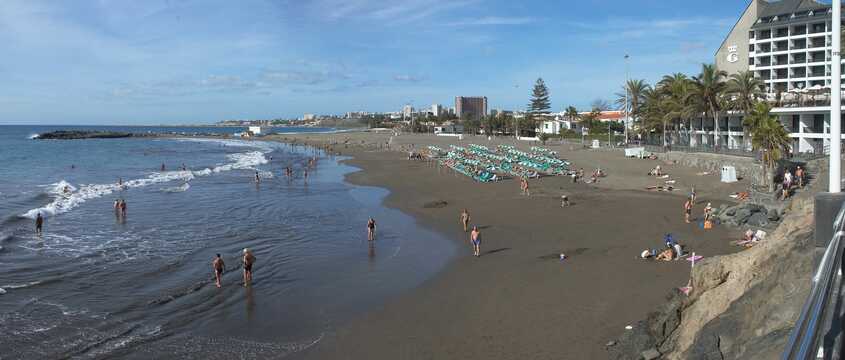 Read more about San Agustin
The first thing you notice about Playa de San Agustin is that the sand is considerably darker here than at other resort areas on Gran Canaria. The volcanic origin of this sand gives the beach its deeper caramel colour, that is as different from the other resorts on the island in just as many ways as the town of San Agustin itself differs. Having fought a successful struggle against over development, San Agustin is a paragon of original Canary Island charm, where you can enjoy all forms of traditional and cultural entertainment unique to the area. The bustling resort of Playa del Ingles is less than an hour's stroll down the pedestrian promenade overlooking the Atlantic.
The beach is a truly spectacular stretch of sand. Actually there are three separate beaches that are all 100% authentic and natural with some of the most crystal clear waters to be found anywhere in the Canaries. They are not anywhere near as packed as the beaches elsewhere on Gran Canaria and offer optimal spots for relaxation and topping up your tan!
Even though the town is laid back, there are some fantastic attractions in the old town of San Agustin. By far the favourite is Sioux City, a Wild West-themed park featuring exciting shootouts, cattle runs, knife throwers, can can girls in the saloons and the authentic Old West set where Clint Eastwood's spaghetti westerns were filmed. If you're still in the mood for some action, you can head over to the go kart track and get some motorised jollies or head to the Melia Tamarindos casino for some action.
After an exciting bout of challenging Lady Luck at the casino, you might want to retreat to the opulent new Marinasol Aparthotel to savour delightful Canarian and international cuisine, palatial, spacious suites, a phenomenal pool and whirlpool area where you can rest in the shade of palm trees in a hammock, and best of all, one of the island's finest indoor spas which includes exotic body treatments, expert massages, a beauty room and an aromatherapy steam bath and ice cabin.
As specialists in holidays to San Agustin, On The Beach offer a huge choice of hotels with great deals on the spectacular Dunas Don Gregory or the stylish IFA Beach Hotel to name but a couple. Our wide range of hotels are available to book as self-catering, half board or all inclusive basis.
Your cheap holiday to San Agustin is only a few clicks away. Just think, you could be jetting off to the sun in a few days! To get started use our live online booking tool to select your Gran Canaria flights and choice of accommodation. As Gran Canaria is so popular it is in your best interest to book today for the best choice and prices!
View destination on a map