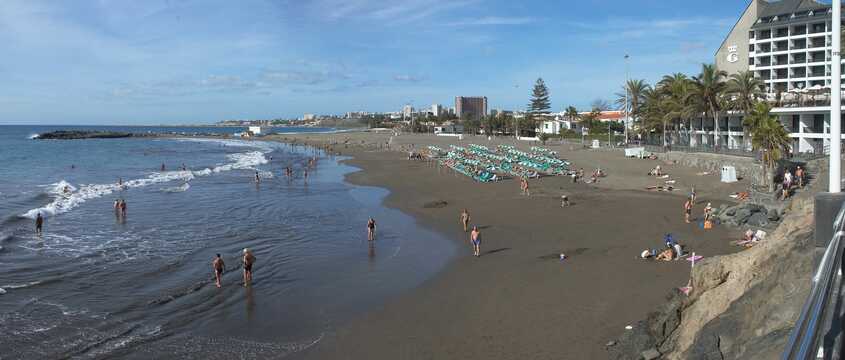 Read more about San Agustin
The peaceful neighbour of the famous Playa del Ingles, San Agustin is a charming town on the south coast of Gran Canaria. Restaurants, bars and shops can be found throughout the town, offering a taste of the local life. Playa de San Agustin is the centre of attention, where you can relax the day away in the Canarian sunshine. If you're seeking a place near to the action but set in tranquillity, San Agustin is an excellent choice for you.BeachesA placid beach around 670m in length, Playa de San Agustin is the centre of attention in this quaint Canarian town. Find a spot on a sun lounger and unwind, this is the perfect beach for a relaxing getaway to Gran Canaria. If it's a bustling ambience you're after, Playa del Ingles is only a short ride away, attracting plenty of tourists all year round.Food & DrinkA selection of fantastic restaurants and bars are located in San Agustin. If you fancy international food head over to Loopy's pizzeria or the Greek Taverna by the shopping centre. For classic, fresh seafood, the Restaurante el Captain is situated perfectly on the beachfront, serving delightful cuisine by the sea. If you're a lover of authenticity, the Monte Rojo is a family run restaurant serving local dishes with a warm and welcoming atmosphere, a must-visit in San Agustin.CultureA laid-back atmosphere with friendly locals, San Agustin is a traditional Gran Canarian town which seems to have escaped the bustle of tourism. Fresh fish, Canarian potatoes, sun, sea and sand. Enjoy the simple delights of the island without going out of town.NightlifeMost of the town's bars are found in the shopping complex, such as the Gramaphone Bar and Bar Semaforo. If you want to spend your evening exploring buzzing nightlife, next door to San Agustin you can find lively Playa del Ingles which is filled with bars and clubs, great for a night on the tiles.Important InformationFlight Time: 4hr 40mTime Difference: GMTCurrency: EuroOfficial Language: Spanish
View destination on a map
San Agustin Weather
As a winter sun destination, Gran Canaria's temperature reaches highs of 22°C in the summer months and lows of only 10°C in the winter months. The highest temperatures fall between May and November and between May and August is the period with minimum to no rainfall – a perfect time to visit the island.
Things To Do on San Agustin Holidays
Diving Centre Nautico Learn how to scuba dive with the Diving Centre Nautico, welcoming divers of all abilities. The instructors will teach you everything you need to know in the comfort of the hotel pool. Once you're ready, get ready to explore the Atlantic Ocean with guided diving in numerous diving sites, an amazing adventure which will leave you with memories to last a lifetime. Spa DayTreat yourself to a serene day at Thalasso Gloria San Agustin Spa. Let off some steam in the Sauna, experience a Turkish bath, unwind with a massage or simply chill out in the relaxation area. If you love the water, there is a large hydro massage pool, a fitness pool and two dynamic pools for you to dip into.Canarias Bike MobilityTour through the centre of the island on a recumbent bicycle. With its base located in San Agustin, the Canarias Bike Mobility company offers bicycle and tricycle rentals to tour through the mountains and villages and finally reach the Pico del Pozo de las Nieves, the highest point on the island. Observe the beautiful nature and the untouched areas of the island, a great way to see the real Gran Canaria.Playa de las BurrasOnly a coastal walk away from the Playa San Augustin, Playa de las Burras is a locals' beach, usually filled with families enjoying a day out in the sun. Apart from the picturesque walk and the lovely beach, why not try windsurfing or kitesurfing at one of the surfing schools found on the beachfront.