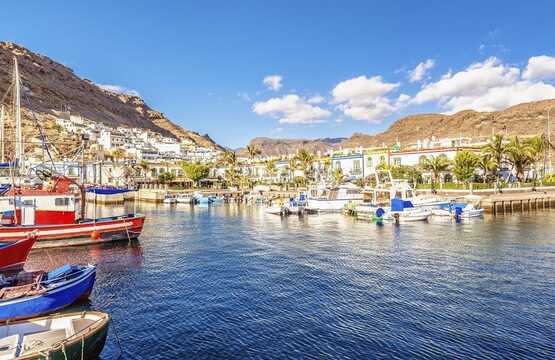 Read more about Puerto De Mogan
Nestled in the southwest of Gran Canaria, Puerto de Mogán is a pretty fishing village that combines Canarian tradition with beach holiday bliss. This resort is small but perfectly formed, offering everything from authentic tapas to scuba diving. Affectionately known as Little Venice in the Canary Islands, the bridges, harbour and crescent-shaped cove of this seaside town would be a stunning backdrop for your holiday snaps. BeachesPuerto de Mogán's only beach is Playa de Mogán. What this town lacks in quantity, it definitely makes up for in quality. This sandy beach has calm, clear water protected by rocky breakwaters. Here you will find sun beds and parasols for hire, as well as a sprinkling of restaurants, bars and shops. If you want to explore, consider renting a car and heading along the coast to Playa Taurito, a volcanic beach with a nearby waterpark – the drive takes about half an hour and offers stunning mountain and sea views.Food & DrinkThe beachfront promenade of Puerto de Mogán is brimming with tapas and seafood restaurants. Enjoy the island's excellent weather by dining outside on attractive terrazas. For a special occasion or a holiday treat, reserve a table at Los Guayos and sample their carefully-curated taster menus inspired by local cuisine. For a more affordable option, try the waterside Casito Mediterraneo – we recommend the seabass with a glass of white wine!CultureLife in Puerto de Mogán is all about the water. With origins as a small fishing village, this up-and-coming tourist resort is a great place to enjoy the fruits of the sea. Catering well to holidaymakers whilst retaining its local charm, Puerto de Mogán is a perfect example of how the laid-back Canarian culture has adapted to welcome beach lovers from all over the world.NightlifeAs the sun sets over Puerto de Mogán, sitting outside on a restaurant terrace is the best place to be. Much quieter than Maspalomas or Playa del Ingles, the nightlife scene in this harbour town is all about making friends and making memories – though a tipple or two is definitely on the cards after a meal.Important InformationFlight Time: 4.5hrsTime Difference: NoneCurrency: EuroOfficial Language: SpanishVaccinationsPlease check with your healthcare provider for all up to date vaccination advice before booking your holiday.VisaBritish Passport holders don't need a visa to visit Puerto de Mogán. Holders of other passports are advised to check with their national embassy for any visa requirements.
View destination on a map
Puerto de Mogan Weather
Gran Canaria's climate makes it a popular year-round destination. Puerto de Mogán is situated in the south of the island, which has more favourable weather conditions than the north. Temperatures here remain at a fairly constant average of 23°C, with the hottest weather between May-September. Water temperatures are a refreshing 20°C on average.
Things To Do on Puerto de Mogan Holidays
Yellow SubmarineSee the sea from a new perspective as you submerge into the Atlantic Ocean. Submarine Adventure tours embark from the harbour's breakwater, and take you on a unique trip around Puerto de Mogan's marine landscape. Look through the port holes for turtles, cuttlefish and more – you never know what you might spot.Sunset PointTo the west of Playa de Mogán, across a shingle stretch of the harbour, there is a section of the rugged coastline called Sunset Point. As the name suggests, this is the ideal place to watch the sun go down. Consisting of a flat shelf of rock that's wide enough for several visitors, this natural outcrop is a must-see, as long as you're careful along the water's edge. Take a blanket to sit on and a picnic while you watch the luminous Canarian sunset – just make sure you take any litter back with you.What a View Ascend the steps to Puerto de Mogán's Mirador – or sight-seeing platform – for panoramic views over the town, harbour, beach and sea. Make sure you take plenty of water and snacks so you can enjoy the climb as much as the destination – you'll pass through pretty, Canarian streets on the way up. This spot is a local gem, and on really clear days you might even be able to spot dolphins and whales in the Atlantic Ocean.Vibrant MarketEvery Friday, the market of Puerto de Mogán fills the streets around the Plaza del Sol with stalls selling food, clothes, jewellery, trinkets and souvenirs. Wander through the marketplace and get a glimpse of everyday life in this Canary Island harbour. This is a great place to pick up a locally-made gift or a unique holiday keepsake.