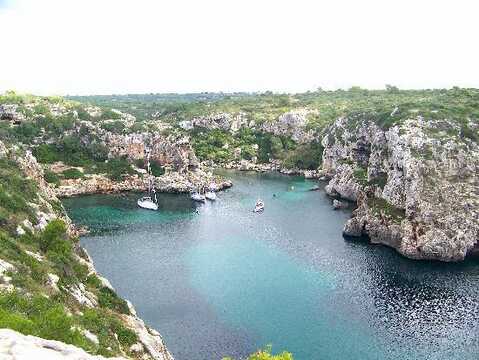 Read more about Santo Tomas
If sun, sea and plenty of fun is your idea of an ideal holiday, you should consider going on holidays to Santo Tomas. Located inside the municipality of es Migjorn Gran, and only a few kilometres away from the bustling towns of Son Bou and Ciutadella, Santo Tomas is an up and coming holiday destination, but is still small enough to retain its noticeable Spanish charm, making it a must for those who love Spanish culture.
For the family, Santo Tomas holidays have everything; a long golden beach with pedal boats and water sports, a good commercial district, and nearby locations offering plenty of historical sights. With an array of lively bars and restaurants too, it's also ideal for couples and young people looking to discover to relax and have fun somewhere new, so if you're looking for a hidden gem, then Menorca holidays in Santo Tomas is certainly a good choice.
View destination on a map
Santo Tomas Weather
Arguably the most enjoyable part of a holiday in Menorca is just taking time out for yourself to relax in the sun, and in the summer there is certainly no shortage of that! During the peak months of July and August, the sun can be out for an impressive 10 hours per day, peaking at around 30° Celsius in the daytime, and 23 or 24 in the evening. Santo Tomas can receive strong winds from the south, so care should be taken when swimming in the sea with kids during this time, though these winds will be more evident in the winter months, making the sea choppier.
For a less scorching break, you might want to consider visiting Santo Tomas in April or May. During these times the temperature peaks at about 24° Celsius, with around 8 hours of sun, ensuring a sunny holiday in a much cooler climate.
Landscape
Rest assured that Santo Tomas has one of the most spectacular landscapes in all of Menorca; its biggest attraction is its beach, with its golden sands and portions of jagged rock. Because it is a massive 3 kilometres long, it is never very crowded, and so is an ideal location for morning and evening strolls. Running parallel to this gorgeous beach is the promenade, which offers a wonderfully clean and tranquil walkway to spend your evening strolling along, with plenty of diversions, including play parks for kids. Whilst walking the promenade, you can admire the rolling mountains, which are topped with rows of trees as well as other exotic fauna including Cacti.
You'll want to spend plenty of time exploring town too though, as Santo Tomas is not overtly developed, and features an array of restaurants and homes houses in charming whitewashed buildings. For a picture-perfect holiday, Santo Tomas has everything you could hope for.
Things To Do on Santo Tomas Holidays
There are so many things to see and do on holidays in Santo Tomas; after a day out at the impressive beach, you'll love strolling along the promenade, which is located just behind it. Running the length of the town, the promenade houses several playgrounds, which will provide lots of entertainment and fun for kids. For shopping, Santo Tomas has two commercial districts, with an array of supermarkets, so food, drink and gifts will never be in short supply!
For a serene picnic, Santo Tomas also has a small wooded area which is extremely popular with locals as well as visitors. Not only does this area feature an equestrian centre where you'll be able ride horses, but a path that will lead you on a 40 minute journey to the neighbouring resort of Son Bou, which is well worth a visit.
Culture
Santo Tomas is a young town in the municipality of Es Migjorn Gran, which is the newest of all the municipalities on the island, being founded in the 18th Century. It has an interesting past, having only been officially recognised as a municipality in its own right in 1989, after it was given independence from Es Mercedal, the nearest district. About 20% of the countryside in the area, including some in Santo Tomas, has been marked by the government of the Balearic Islands as being an area of special scientific and environmental interest, so further commercial development of Santo Tomas will be carefully considered.
Because the town only has such a small population, bigger cultural events will be found in better known towns like Son Bou and Cala Galdana, though that's not to say the municipality as a whole doesn't offer an impressive selection of activities. Neighbouring districts Es Migjorn Gran and es Mercadal offer markets that take place every Wednesday and Sunday throughout the year respectively. They run from around 8am until 1pm, so make sure you're in time to avoid disappointment.
You'll be in luck if you're heading to Santo Tomas during the summer too, as you'll be able to catch the annual Fiesta De Sant Cristofol in es Migjorn Gran. This festival celebrates the Patron saint of the town, and features a parade through town with blessings of the local's cars by the village priest! In Es Mercedal meanwhile, July recognises the towns celebration of Sant Marti, which features equestrian shows, parades and music.
Nightlife
Santo Tomas has a registered population of just 59 people so, as you might expect, nightlife is a little less rowdy than bigger nearby towns such as Ciutadella! In recognition of this, your hotel will provide plenty of entertainment suitable for all ages. Despite the town's small population though, during the tourist season it's as lively and thriving as anywhere else, so get out there and explore it!
A visit to Las Dunas will provide a great night for all; its extremely popular with families, and houses pool tables, evening shows and even a small crazy golf course. If a romantic break is what you're after, then Costa Sur is a good choice. You'll be rewarded with fantastic views, as this elegant restaurant as an outdoor terrace perfect for a jug of Sangria at sunset.
Don't forget that the livelier resorts of Cala n Porter and Son Bou are a short drive up the west coast while Mahon is within easy reach. So whether you want a chilled out night watching the sun drop into the Mediterranean or a night partying on the town, it's all within easy access.
Book a Santo Tomas Holiday now!
Santo Tomas holidays are located in one of the most beautiful spots in Menorca, and it will please anyone who loves a gorgeous beach and the opportunity for cultural exploration in small Spanish towns.
Whatever your age, there's something for everyone on holidays to Santo Tomas, from bars to water sports to excursions, so customise your holiday now with On The Beach and those bargain flights and hotels will be yours in no time!