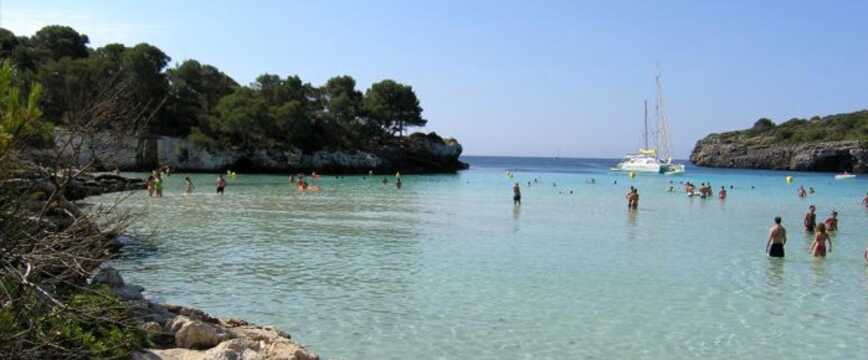 If you're after a break in sunnier climates and fancy visiting one of Menorca's best-loved tourist resorts, then a holiday in Son Bou would be a great choice. As it is situated on the central south coast, and only 20 kilometres from the island's capital Mahon, you can easily see why Son Bou holidays are so popular. Famous for its 3 kilometre long beach (the longest in all of Menorca!), it also possesses a thriving selection of bars and restaurants, as well as many stores featuring great gifts. It's also mentioning the thriving cultural calendar in Son Bou packed with events to attend.
With ancient sights to see and a water park nearby for youngsters too, Son Bou is an all-round resort perfect for visitors of any age. If this is what you're after in your Menorca holidays, you'll love your stay in Son Bou.
View destination on a map
Son Bou Weather
If fun in the sun sounds good to you, then you should think about taking your holidays in Son Bou between June and August. June is the coolest month of these three, with temperatures averaging 24° Celsius, but if you want to enjoy the very peak of a Mediterranean summer then July and August will certainly make that so! Temperatures in summer reach an average of 30° Celsius with 10 hours of sun a day, with virtually no rainfall.
Should you find the head a bit too much, or just aren't a sun-worshipper yourself, then Son Bou holidays in April or May are a great idea. Temperatures then are about 20° Celsius during the day, so still very warm, but with more southwesterly winds you'll find yourself much more comfortable. Whatever time you take your holidays to Son Bou, do be sure to look out for the Red and Green flags on the beaches, as the current can be strong.
Landscape
As Son Bou holidays are so popular, you might expect Son Bou's landscape to have been desecrated by over-development, but this is definitely not the case. Prepare to be amazed at the sight of its vast beach, which is the focal point of the town. Running a full 3 kilometres, the entire length of the town, Son Bou beach gazes out at the crystal waters and is an unbelievable sight. The town itself meanwhile is just as fantastic; clean and safe, its also very well maintained so anyone will find it easy to walk about town.
The architecture meanwhile is quaint and picturesque; the villagers homes are nestled into the low pine-clad hills that gently rise up from the beach. As the beach goes further west, it's much quieter, and more rugged too. With a fantastic ancient village set into a network of caves to witness as well, the landscape of Son Bou has an unusual edge over neighbouring Santo Tomas and Cala n Porter!
Things To Do on Son Bou Holidays
If it's relaxation you want, then Son Bou holidays are just what the doctor ordered! Because of its vast length, Son Bou's beach is never too busy or crowded in spite of its popularity, so lounging under the Mediterranean sun will be a pleasure. The beach offers watersports opportunities too if you want to try something out. Away from the beach there's always lots to do; kids will love the thrills and spills of Club San Jaime, which features swimming pools and slides, while adults can enjoy the landscaped gardens.
For a bit of adventuring, why not head to the east end of Son Bou to the Cap De Penyes? This cliff area is spotted with caves, which would have been villager's homes back then, and yes - still are today! Everyone will be amazed by the preserved ancient site of a village at the foot of the cliffs, as well as a Christian Basilica, so get down and get exploring!
Culture
Located in the municipality of Alaior, Son Bou holidays provide plenty of historical fun. For those staying inside Son Bou, the fortified village, discovered in 1952, is undoubtedly the best place to visit. The town was formerly known as Ses Canessies, and with it's Basilica, which would have been the focal point of the village back in the 5th Century, it makes for a truly marvellous site.
If you feel like exploring outside of Son Bou, a visit to Alaior is definitely worthwhile; the third largest town in Menorca, it was founded in 1304 by King Jaume, and features several amazing buildings, including the Gothic construction of the Parish Church and the magical Pati De Sa Lluna, or 'The Moon Patio'.
Prepare to be impressed, as Son Bou features one of the best cultural calendars in all of Menorca. For shopping, head to Alaior, which holds a small local market every Thursday of the year featuring handicrafts and delicious local delicacies. Running between 8am and 1pm before the heat sets in, you'll have to make sure to get there early to find your bargains!
If you're heading on holidays to Son Bou in August, make sure to head to Alaior again to watch the Fiesta of Sant Llorenc opn the 10th, which features a statue of the icon carried from Binixems to Allaior. With parades and music on Sunday, there are also horse races on the Monday - ideal for kids! If you're taking your Menorca holidays in February, why not view the Alaior Carnival? It's held after Ash Wednesday on the Thursday, and celebrates the life of a local man who went to seek his fortune in America.
Nightlife
Your hotel is guaranteed to offer quality entertainment, especially for families, but if you want to experience something more lively then Son Bou's array of bars and restaurants in the centre of town will certainly leave you happy. Traditional, quaint, and filled with lots of Spanish hospitality, they offer reasonably priced food and drinks, which is great if you're holidaying with kids or a large party.
If you'd like to dance the night away though, you'll be pleased to know Son Bou is home to one of Menorca's only discos, and is open until around 3 or 4. If you want to experience something a little wilder though, then head to Cala Santandria or Mahon for a much larger choice of clubs and bars.
Book a Son Bou Holiday now!
With fascinating historical sites, an amazing beach and plenty of shopping and watersports, a holiday in Son Bou with On The Beach will really make for a memorable break in the sun, so get booking now! With our convenient live booking system you'll find those bargain hotels and flights in no time!