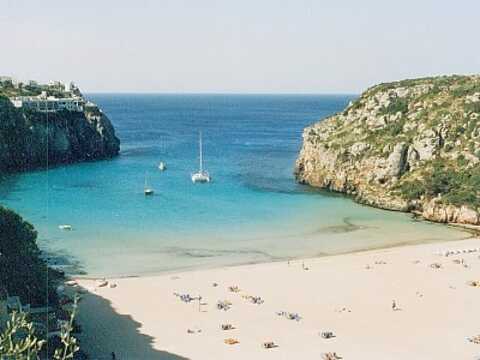 Read more about Cala N Porter
If you feel like enjoying a well-earned break with a difference, how about a holiday in Cala n Porter, which sits proudly on cliffs overlooking a beach and bay? Located on the south coast of the island in the municipality of Alaior, and only a convenient drive away from Menorca's main airport, Cala n Porter is a thriving destination with not only bucket-loads of natural beauty, but all the amenities you could possibly need for a great break including a fabulous beach with watersports galore, great opportunities for excursions, and stores selling everything from local food to gifts.
Add to that a great cultural calendar with plenty of events to attend, and an extremely welcoming Spanish hospitality, and you'll find Cala n Porter is one resort you'll just want to visit again and again on your Menorca holidays.
View destination on a map
Cala N Porter Weather
Remember that bottle of sun cream on your Cala n Porter holidays because it will be nice and hot in the popular months of July and August. With the Mediterranean summer reaching its peak about then, you can expect an average of around 30° Celsius in the daytime, with 10 hours of sun a day, which should provide more than enough time to top up that tan! The evenings, at around 24° Celsius, are very warm too.
If you're not a sun lover, or have kids who might find the heat a bit much, then going on holidays to Cala n Porter between March and June is a great idea. Temperatures then will reach on average 23° Celsius, with around 7 to 8 hours of sun a day, so you'll still be able to spend lots of time on the beach, while evening temperatures will be around 20° Celsius, providing a comfortable evening for all.
Landscape
Prepare to take plenty of photos on your holidays in Cala n Porter as the setting is one to compete with the very best landscapes you've seen. The focal point of the town is the beach, which is surrounded on three sides by cliffs, making it a wonderfully tranquil little cove perfect for relaxing. The sea is vivid blue, with tiny fishing boats bobbing gently upon it. From here, you can walk up some steps to get to the town. Once at the top, looking over the beach and into the sea provides a dramatic and breathtaking view, especially at sunset.
Cala n Porter has some enthralling architecture; perched atop the cliffs, the wonderful whitewashed homes and hotels, nestled among greenery, look as if they're about to delicately slip into the sea. To think, such a unique landscape, and this is without evening mentioning amazing Coves of Xoroi! With such an idyllic setting, it's no wonder Cala n Porter holidays are so popular!
Things To Do on Cala N Porter Holidays
If you've had your fill of the beach, you'll be pleased to know that there are plenty of things to see and do on Cala n Porter holidays. One of its best attractions is its amazing cliff-top setting, which provides fabulous views all over the bay, so you'll want to take as many photographs there as possible! After this, make sure to visit The Coves of Xoroi, a complex set of natural caves that even has a bar inside to quench your thirst after all that walking!
The town's selection of souvenir stores are also well worth a visit, as is the local market, for all your shopping needs. If you're with kids, the marshland behind the beach will be a great attraction, as it's home to lots of ducks. They'll also love a visit to the Fun House, a bar and restaurant home to bouncy castles, play areas and even Playstations. For a great day out, Cala n Porter has a reliable bus service to Mahon, so make sure to visit the Capital of the island to take a look at the best ancient sights Menorca has to offer!
Culture
Cala n Porter is actually the first tourist resort to be established on the entire island of Menorca, though it has legends to rival those of the ancient towns. One of the most fascinating aspects of Cala n Porter's town history is the story behind the Coves of Xoroi.
Allegedly, these caves are named after a mysterious man named Xoroi, a pirate who came from the sea and found refuge in the coves. After his arrival, the houses in the countryside were burgled, while later on a woman went missing. 10 years on, a blanket of snow meant that footprints could be seen leading to the coves, so local men went their and found Xoroi, the missing girl- and three children. Xoroi, on being found, threw himself into the sea, as did one of his sons. His wife and their remaining children were transported to Alaoir, deeply upset, where their descendants are rumoured to live until this day.
You'll want to explore the culture of Menorca as much as you can when you visit, and Cala n Porter certainly offers you the opportunities to do so. For great gifts and food, head to Calle Comera in the municipality of Alaoir, where there's a market, open from around 8am until 1pm every Thursday of the year selling food and handicrafts. Animal lovers will also want to visit British owned and run Stables Farm riding school, which is 7 kilometres outside of Cala n Porter in Sant Climent.
From Cala n Porter, you'll also be able to view Mount Toro, which at 354 metres high, is the highest point of the island, and home to the 17th Century Sanctuary of the Mare de Deu del Toro, which is well worth a visit. If you're planning a visit outside of summer, Cala n Porter holds its own festival to celebrate the town on the 19th to the 20th, featuring parades, music, good food and lots of drink!
Nightlife
Because the bus service stops to Mahon in the early evening, if you want a really wild night out you might want to stay over there, but if you're content to stay local then Cala n Porter has more than enough to entertain you. Your hotel will of course provide evening entertainment, but should you wish to venture out then it's well worth heading down to the beach, where restaurants and bars sit and face the open sea. With good traditional food and music on offer, this is a really great evening for families especially, though it should amuse those of all ages.
For those who want to enjoy something a bit more unusual, then head to the The Coves of Xoroi! As a bar by day, and a disco by night, this amazing and unusual venue, open until 1am, should provide partygoers with a great night out, and something to tell their friends about when they get home too! Nearby Son Bou is well worth a trip for a night out on the town.
Book a Cala N Porter Holiday now!
Breathtaking scenery, great activities, no shortage of things to do, and most of all, plenty of opportunities for relaxation! You can do as much as little as you like on Cala n Porter holidays, so book your bargain flights and hotels now with On The Beach, the site that lets you customise your holiday like nowhere else on the web!