What if we told you that you didn't need to endure a busy pool with kids jumping in and pool inflatables flying around the place? Yeah, that would be our reaction too. With a private pool hotel room at these magical hotels, your holiday will be elevated to a new level of peace and quiet, perfect for some well-earned relaxation time. These are some of the best hotel rooms with private pools on offer.
Mitsis Rinela Beach Resort & Spa
At the Mitsis Rinela Beach Resort, luxury is at its height. With their suites or villas, you can benefit from a lovely private pool to take a dip in whenever you feel like it without any other disturbances. In fact, the only distraction you should get from having your midday swim is when your other half asks if you want a refill on that beer. "Yes, please" should be your answer.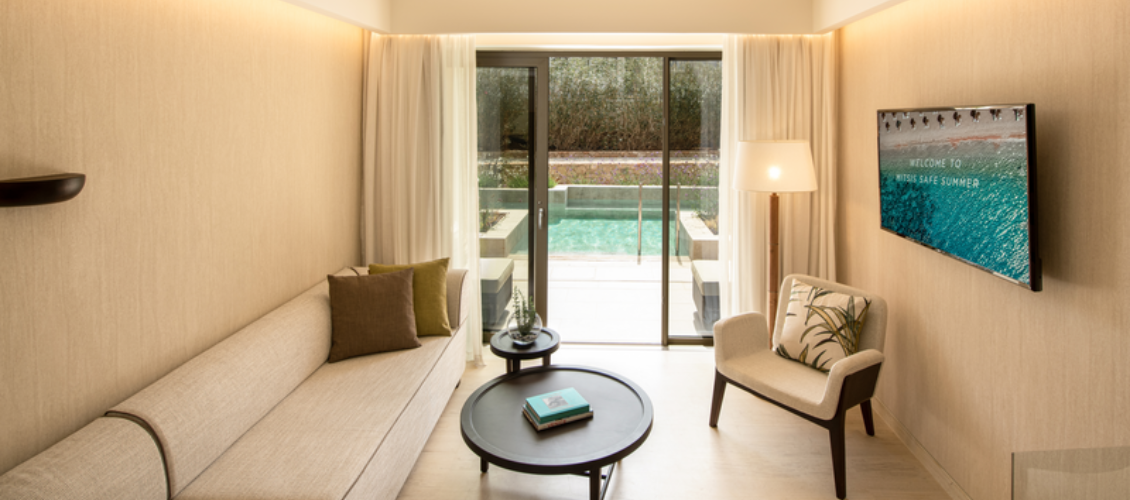 Constantinou Bros Athena Beach Hotel
With being located right on the beach and having rooms that come with their own private pool, this hotel is definitely one to stay at. Some of this hotel's rooms come with a delightful-looking private pool, perfect for a nice cooling dip throughout the day in between chilling on your own sun loungers just next to it. Other room amenities include a mini bar, espresso machine and complimentary pool and beach towels making the Constantinou Bros Athena Beach Hotel a candidate for your next jolly.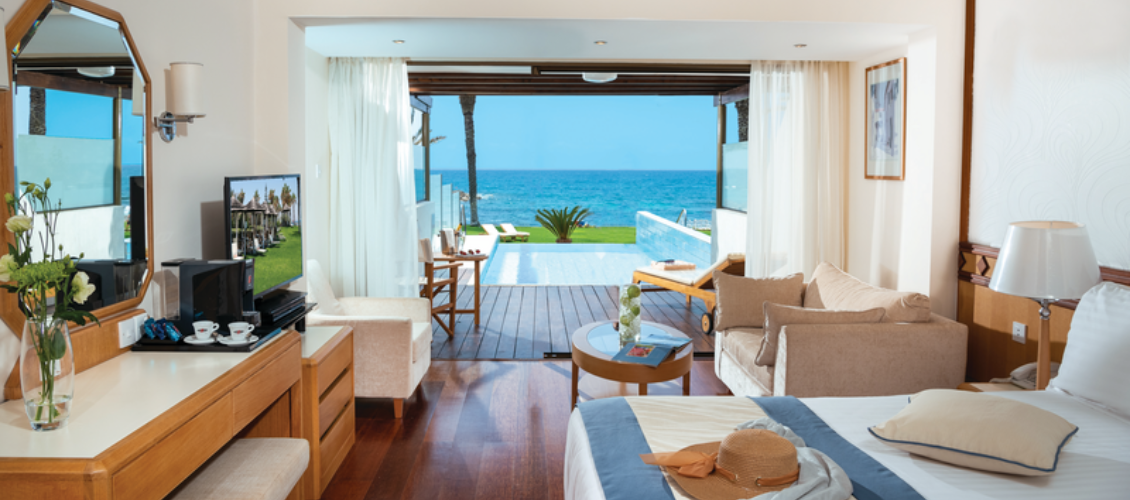 Sheraton Maldives Full Moon Resort & Spa
When putting Full Moon in the name of your resort, you need to deliver some form of luxury and relaxation. The Sheraton Maldives Full Moon Resort & Spa does exactly that and then some. To quench your private pool thirst, check out the bungalows and villas on offer and get ready to be blown away. Think tropical decor partnered with obscene luxury giving you the perfect island experience. Wowza.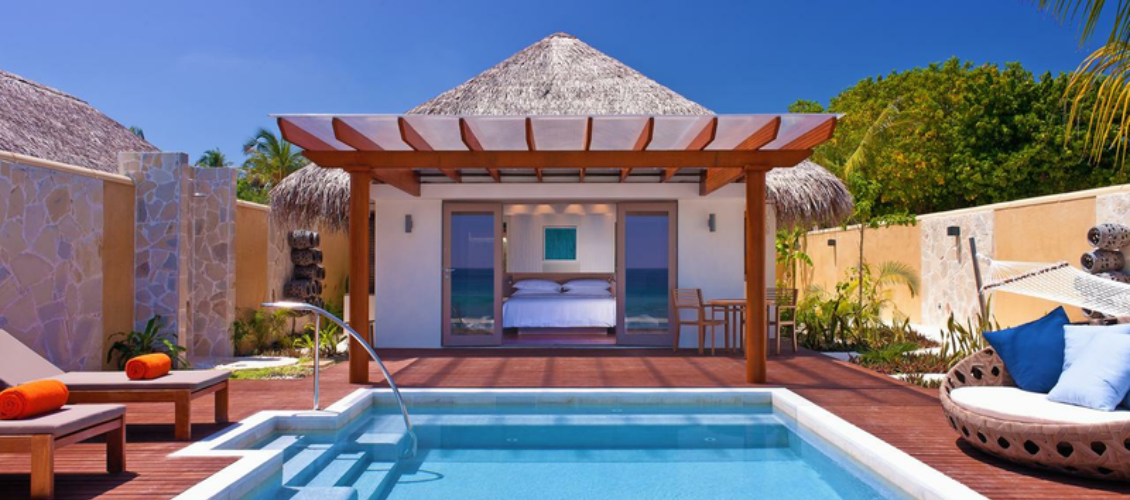 Ikos Dassia
The Ikos Dassia is a 5-star rated hotel with a 5/5 score on Trip Advisor. Why? Because it is blinkin' spectacular, that's why. When you look at all the facilities on offer from the eight restaurants, the downright outrageous amount of sports and a spa (!) and then throw in rooms with their very own private pools, you can't deny this is the creme de la creme of hotel resorts.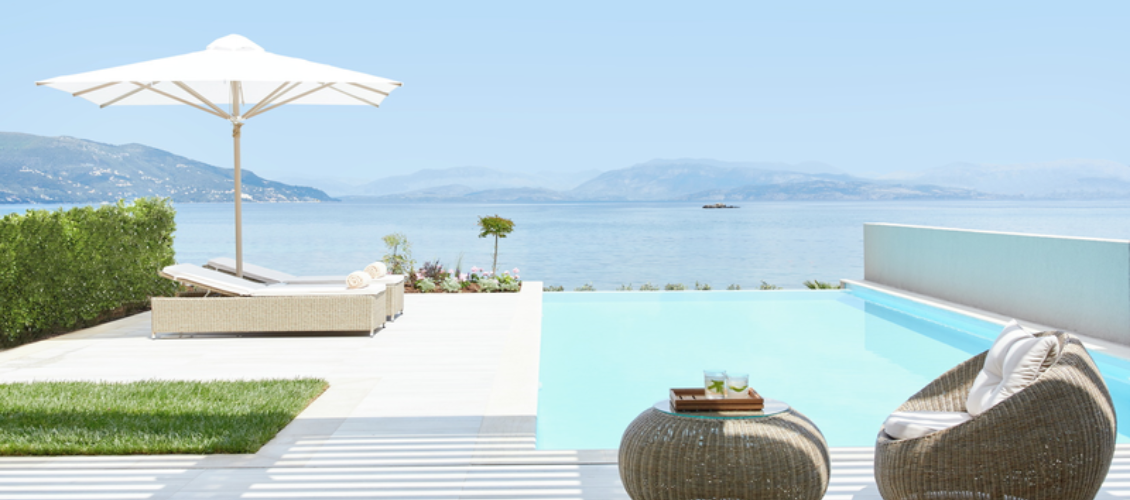 Five Jumeirah Village Dubai
This hotel is the definition of 'go big or go home'. With a (very, very) plush sky villa option, you can take advantage of living like royalty when in Dubai. In this room, you can bask in glorious views of Dubai whilst sitting in your very own pool. The Five Jumeirah Village is the pinnacle of luxury when holidaying in Dubai.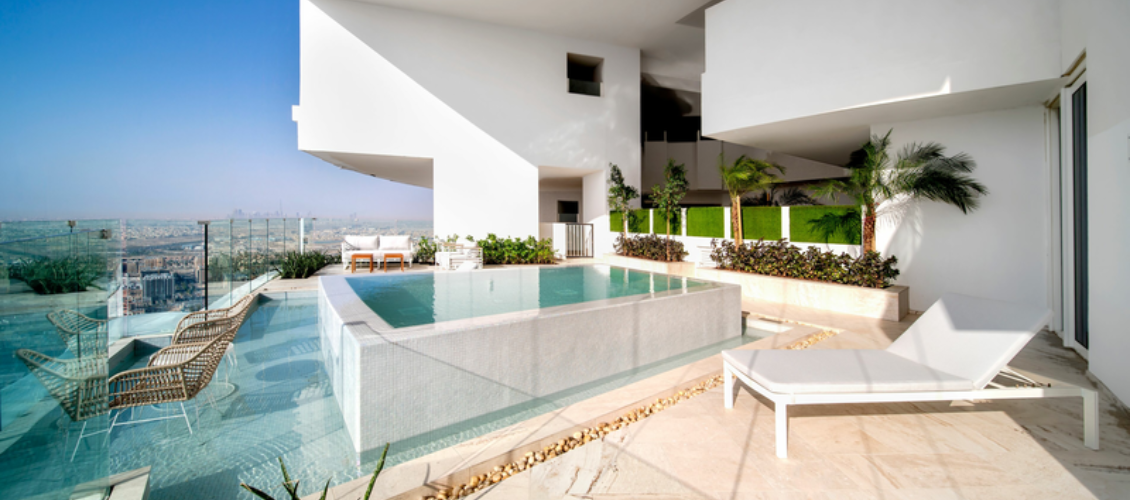 Whatever you look for from your hotel room, you cannot deny having a private pool isn't something you'd love and with these resorts and our great deals, there's no reason you couldn't get amongst it. We will leave you with this thought: Wake up. Pour yourself a delicious coffee. Grab breakfast. Get changed into your finest swimwear. Crack a beer. Sunbathe. Dip in the pool to cool off. Back out the pool for more topping up of that tan. A few more beers. Back in the pool for a dip. No busyness. No interruptions. Just you, whoever you bring with you and YOUR pool. Holidays never felt so good.

On a similar theme, how does the prospect of a swim up room holiday sound?!