Loving Lanzarote is easy 'cos it's beautiful. A land of sand, sea and sun, we're obsessed with its heavenly beaches, high-quality hotels and sunshine for all seasons. Eager to learn more? Our handy Lanzarote Travel Guide has all you need to know before you go, and spells out why this Canary Island is a favourite with everyone from families to couples. Read on for the lowdown on Lanzarote…
Important information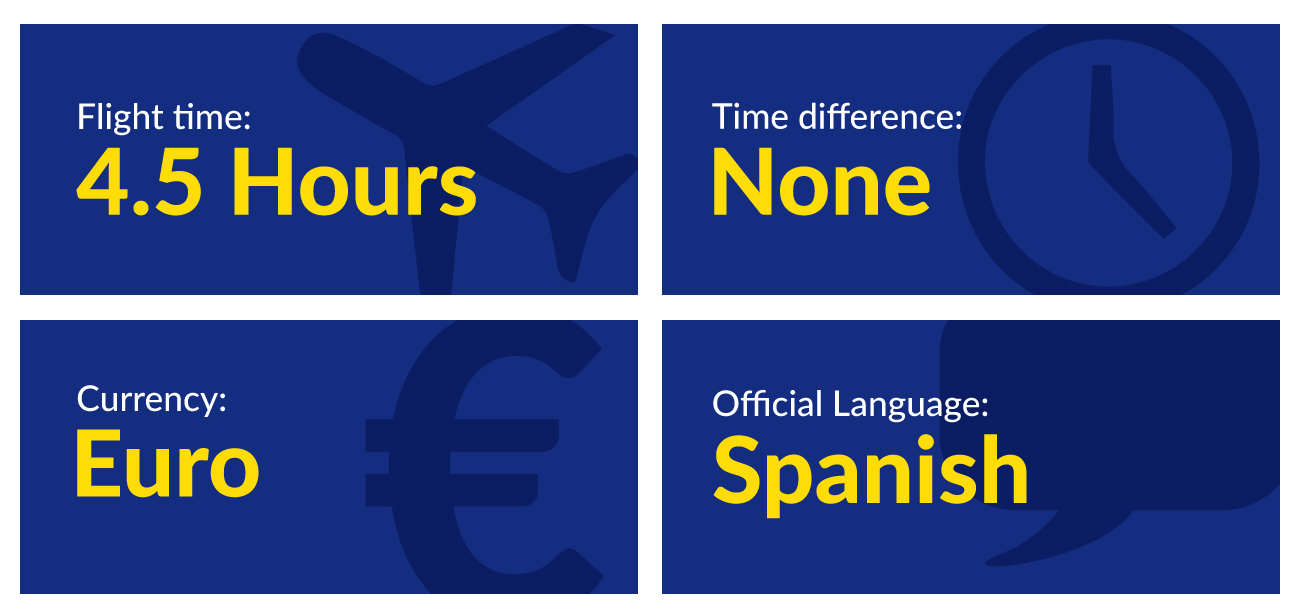 Resort guide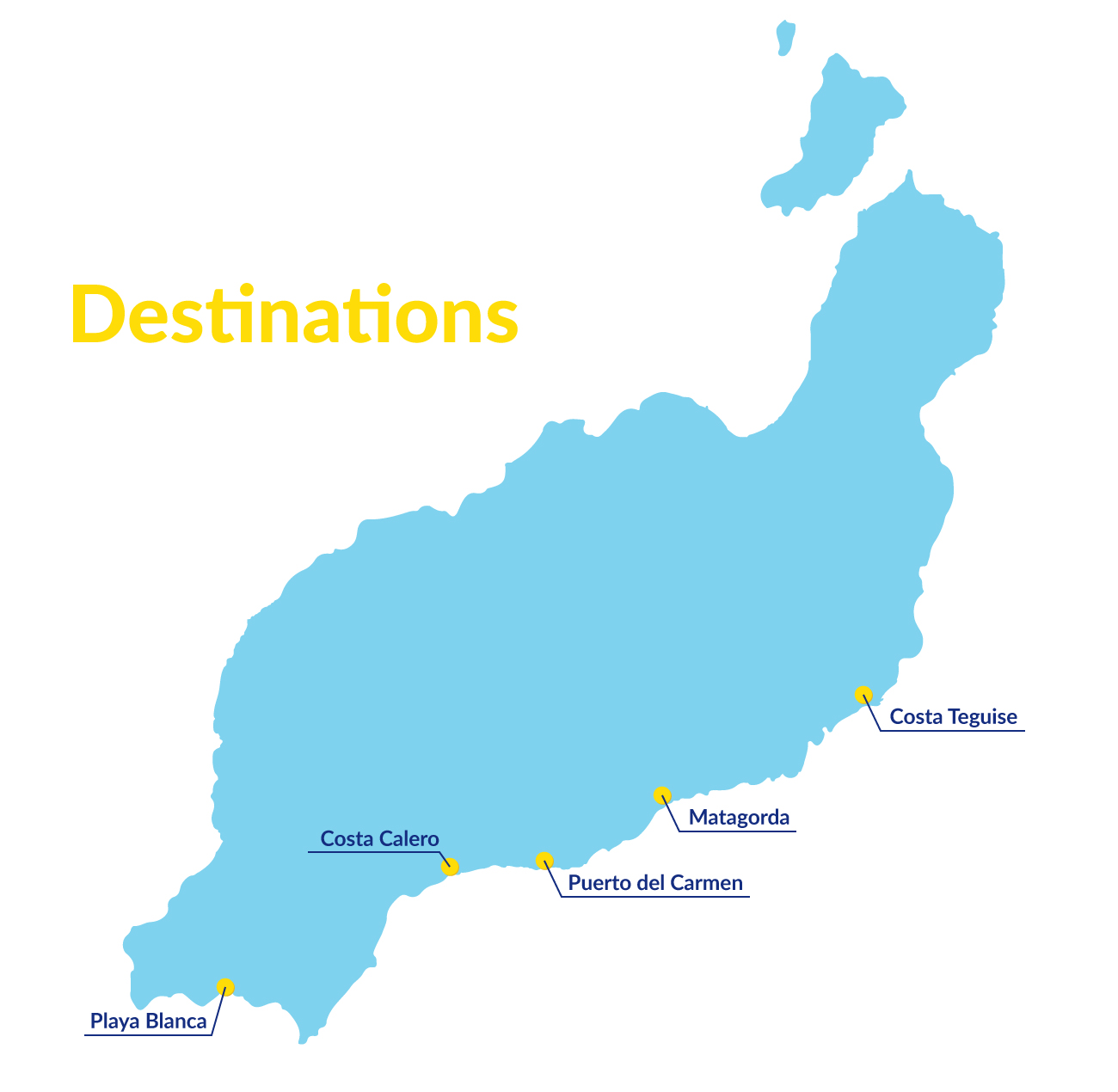 Costa Calero – A sophisticated harbourside resort with fine dining and boutique shops.
Costa Teguise – Family-friendly, with sandy beaches and the thrilling Costa Teguise Aquapark.
Matagorda – Beaches and bars – what more could you ask for?
Playa Blanca – One of Lanzarote's most popular resorts – lively and fun.
Puerto del Carmen – A waterside strip of bars and restaurants.
Beach guide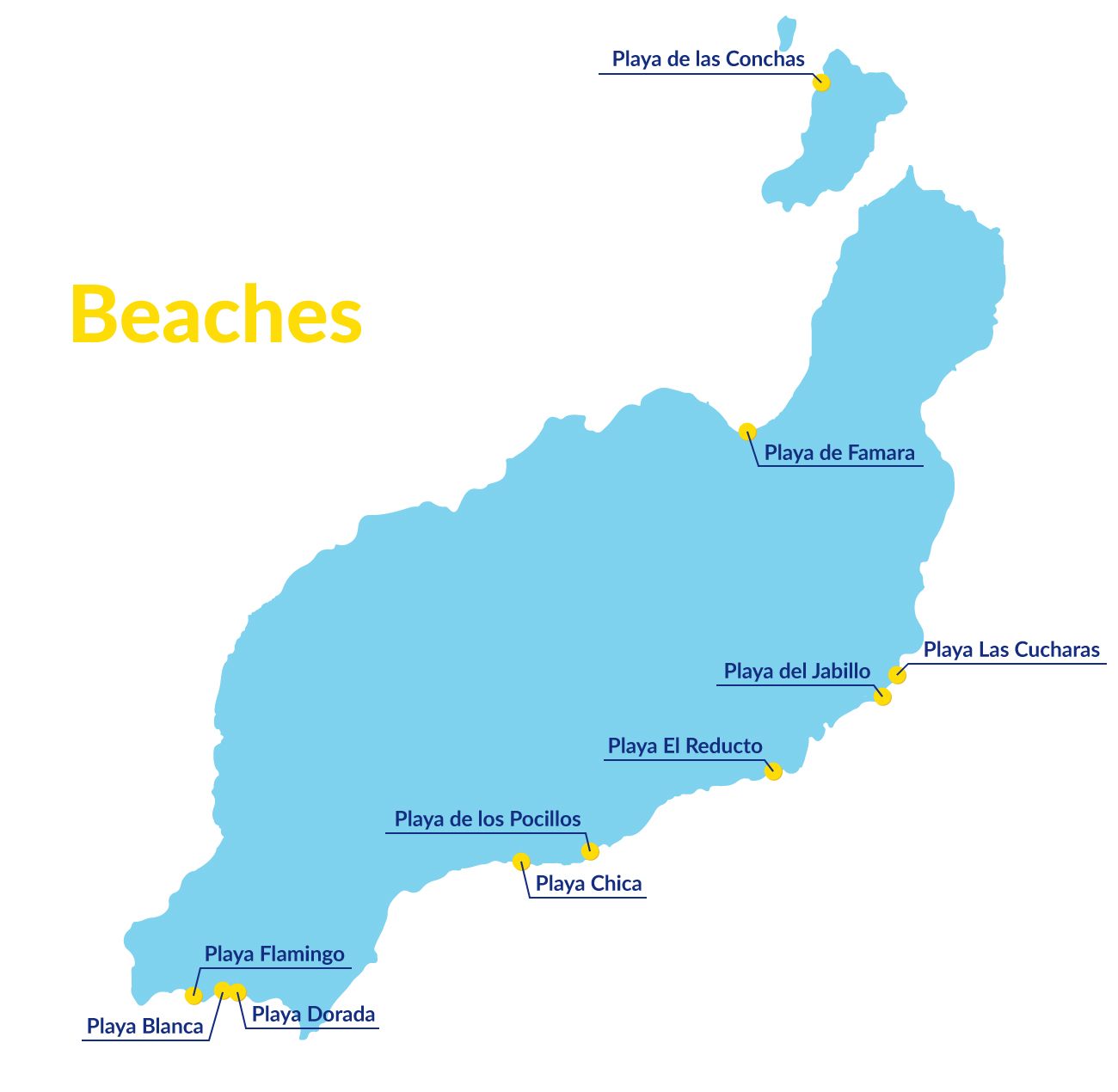 Playa Dorada – This family-friendly cove has calm, sheltered water and lots going on.
Playa Flamingo – You'll find clear, sparkling sea and a half-moon of golden sand here.
Playa El Reducto – Has everything you need for a relaxing beach day (or seven).
Playa Chica – Small but perfectly formed, this beach is great for sunbathing and snorkelling.
Playa del Jabillo – The sand here fringes a natural seawater lagoon surrounded by rocky outcrops.
Playa de los Pocillos – A large, sandy stretch with plenty of places to relax, shop, swim and eat.
Playa de Famara – Like long walks on the beach? This golden crescent offers stunning sea views.
Playa Blanca – Arrive early to get a good spot on this small, pretty beach.
Playa Las Cucharas – Lanzarote's longest beach, great for wind-surfing or unwinding on a sun lounger.
Playa de las Conchas – Remote. Unspoiled. Rent a car to discover this tranquil stretch of sand.
Climate

Lanzarote for families
With a kid-friendly flight time of about four hours, travelling to Lanzarote is a great choice for families. You'll find plenty of hotels with kids clubs, play parks and swimming pools, and your little ones will love attractions such as Aqualava Water Park or Lanzarote Aquarium. Look out for sandy Blue Flag beaches with lifeguards on duty, too – Playa Chica and Playa Grande fit the bill perfectly.
Lanzarote for couples
Lanzarote is for lovers – beach lovers, of course. With watercolour sunsets and stunning volcanic landscape, it's the perfect place for some holiday romance. Why not seek out an adults-only hotel in Costa Calero for some all-important peace and quiet? Or pick a spa hotel in Playa Blanca for some proper pampering? Wherever you choose to stay, you'll fall heads over heels for Lanzarote's Spanish charm.
Lanzarote for groups
Hen and stag parties. Birthday celebrations. Family reunions. Landing in Lanzarote for a group holiday is one of the best decisions you could make. Head to the main strip in Puerto del Carmen to dance till the sun comes up. There are also plenty of lively hotels in Playa Blanca where you can dance all night and recover by the pool all day.
What's on in Lanzarote
Lanzarote's cultural calendar kicks off in early spring, when the parades, contests and parties of Carnival fill the streets. Depending on the year, this colourful event may take place in February or March, but it's always an unmissable event. In May, athletes from all over the world flock to the northwest of the island to compete in the Ironman Triathlon Competition. Make sure you book early if you want to swim, bike and run your way to victory, as places are highly sought after. If a fiesta is more your style, there are plenty to choose from in summer, including Pride Festival in Puerto del Carmen and San Gines in Arrecife. For a family day out in the winter sun, attend the Atlantic Odyssey boat race in La Palma in November.
What to learn more about this Canary Island? Have a look at our list of 5 weird and wonderful things to do in Lanzarote…