Basking in year round sunshine and home to a huge selection of white, sandy beaches, Fuerteventura is the perfect destination for those looking to escape the miserable UK weather. The two main resorts on the island are Corralejo, a busy and lively place and Caleta De Fuste, a more sophisticated destination popular with those looking for a more relaxing holiday. Find out all you need to know about this beautiful island in our Fuerteventura travel guide…
Climate
You're guaranteed great weather whenever you visit this sunny island with average temperatures in January reaching 17°C and 25°C in August. You should also be aware of the sirocco, a seasonal wind that can bring sandstorms and raise temperatures considerably.
Beaches
One thing is guaranteed on your Fuerteventura holiday and that's an abundance of beaches. There are many beaches in the resort of Corralejo and you're bound to find plenty of bars and restaurants to keep you entertained as well as many watersports…
You could catch your lunch at Gran Tarajal beach as it's such a great fishing destination. The beach also has darker sand than some of the surrounding beaches.  If you visit Corralejo beach you should be able to spot Isle De Lobos which is located just a mile north of Fuerteventura.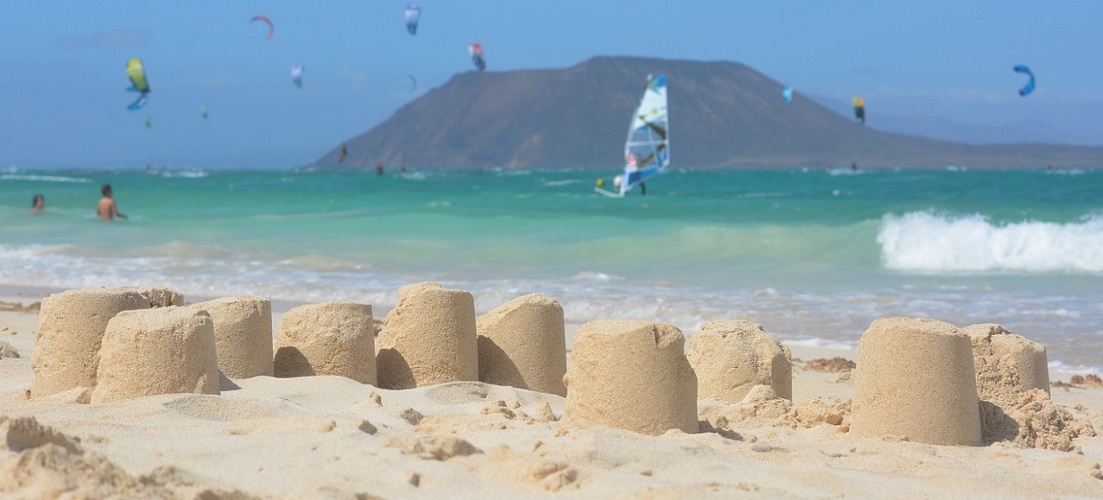 Places to visit
Casa Museo de Unamuno, in Puerto Del Rosario is a museum in the former home of Miguel de Unamuno, a 20th century philosopher. The museum provides a look into the history of the island and how it has changed over time.
Molino de Antigua is perfect for those who love exploring their holiday destination. The old windmill is located in the heart of the capital and also boasts manicured gardens, a bar and a shop selling handmade products.
Top activities
If you're looking for some adventure while on your holiday take a quad bike and explore the island from corner to corner as you drive through the sand dunes, volcanic craters and green valleys.
Fuerteventura is often referred to as the best surfing destination in the Canaries and attracts surfers of all levels, partially due to the large amount of surfing schools found in Corralejo and Caleta. Other water sports on offer include water-skiing and windsurfing and you'll find these at most beaches.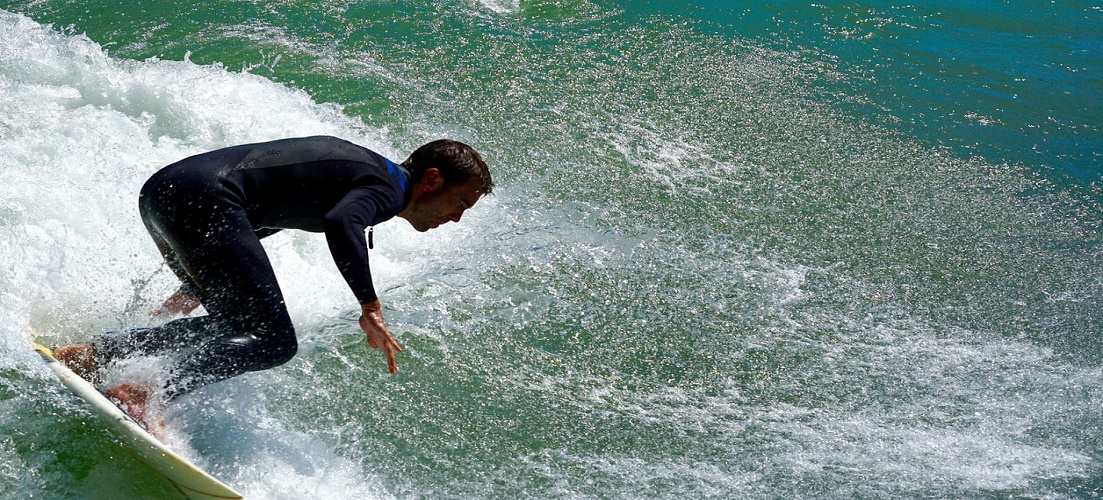 Nightlife
The majority of Fuerteventura's nightlife exists in Corralejo where you'll find bars, discos, live music venues and even British style pubs. The north end of the Avenida is more relaxed with open air bars and the chance to hear traditional Spanish music.
All resorts in Fuerteventura have bars and discos, although to a lesser extent than Corralejo. The southern town of Morro Jable is the only real rival to Corralejo and offers a cluster of pubs and bars along the beachfront.
Good for kids
Oasis Park is home to many animals including Hippo's, Giraffes and over 200 species of bird. Alongside the zoo is a botanical garden centre which was set up in order to protect and preserve the unique plant life of the Canary Islands.  Whilst here also make sure you check out the many shows that are on offer including a sea lion show, birds of prey show and a camel safari.
The newly opened Baku Water Park offers a great choice of water rides and facilities whilst also offering ten pin bowling, crazy golf, a driving range and an animal experience section including sharks, sea lions and stingrays meaning hours of endless fun…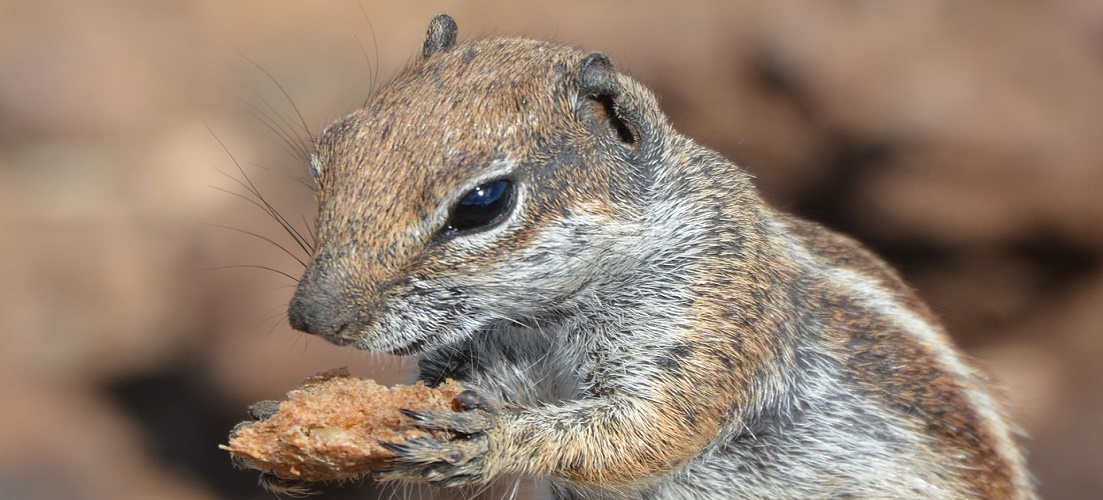 Good for couples
If it's a long, romantic walk you're looking for then visit Parque Natural de Corralejo. The nature park stretches along 10km of coastline, starting in Corralejo. Sun loungers and parasols are available to hire and it can get a little windy here so remember to bring a jumper along…
Did you know that there are more goats than people in Fuerteventura? One of the benefits of this is the amount of tasty cheese that is widely available on the island so why not head for a day of cheese tasting…
Recommended hotels
Pierre & Vacances Village Club, Origo Mare
Located on the Northern tip of Fuerteventura this luxury resort is located just 1km away from the sea and 2km from the beach. You can enjoy your meals in either the buffet restaurant or main restaurant and enjoy lighter meals in the two snack bars or sports bar.
The resort offers a variety of free entertainment options for children aged 3-18 and optional extras including sports tournaments, show cooking, disco nights and more. You'll also find 6 swimming pools at the resort along with a volcanic themed park, 'Craterpark'.
Elba Carlota Beach Hotel, Caleta De Fuste
The Elba Carlota Beach Hotel is a modern and comfortable resort that directly overlooks the beach.  Also within the vicinity are natural lakes in which you can enjoy a cooling swim and a host of bars, restaurants and great public transport links within 100m of the hotel.
The hotel boasts a swimming pool, children's pool, Jacuzzi, gym and sun terrace. For those looking for more activity, beach volleyball, multiple tennis courts and a shooting range are also available to guests. In terms of food you'll have a choice of the Tindaya Buffet Restaurant and 3 bars serving light snacks such as ice cream and pastries with entertainment taking place in The Sinatra Bar.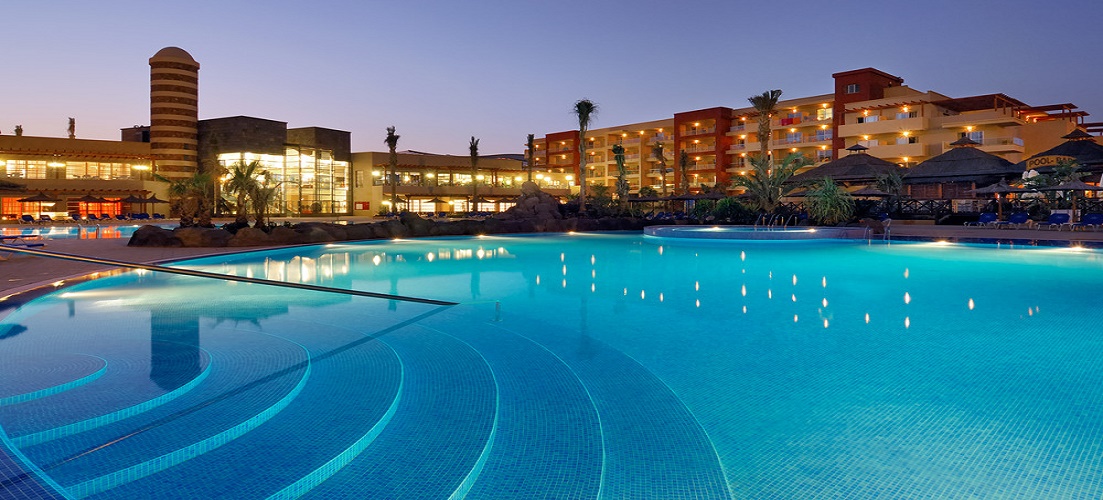 This resort is the ideal choice for a family holiday in Corralejo. Its central location means it's just 900m from an abundance of bars, restaurants and shops and Baku waterpark is a mere 50m away and bound to keep the kids happy.
You'll also be able to enjoy food in the buffet restaurant which hosts theme nights throughout the week or the poolside bar which serves snacks and refreshments and there are two large saltwater swimming pools as well as a children's swimming pool on site as well as tennis, table tennis, volleyball and a games room.