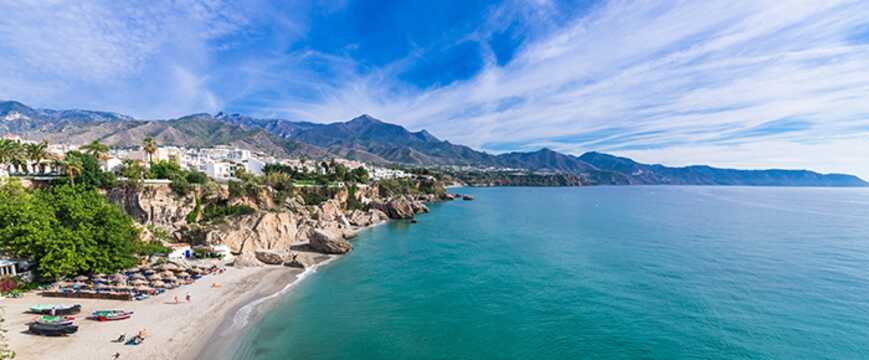 Nerja is a thriving tourist resort in the east of the Costa del Sol region, around thirty miles from Malaga airport – which itself a short flight from most UK airports and the perfect Spanish holiday destination.
Originally, Nerja was a sleepy fishing village but is now a bustling, popular destination for visitors from all over Europe. Nerja also boasts nearly 10 miles of powdery beaches including Playa Burriana and Playa el Salon, which is also one of the biggest draws for families, couples and groups travelling to Nerja on holiday.
People considering holidays to Spain favour its small-town charm whilst enjoying the myriad of things to do and see and excellent facilities around the small coastal area, including the many richly cultural attractions of the area such as Balcon de Europa offers amazing views of the Mediterranean.
When it comes to food, there are plenty of traditional tapas bars and restaurants set against the stunning backdrop of the Sierra de Almijara mountains.
Nerja holidays are renowned for their sublime mix of sunny weather, stunning architecture, fabulous nightlife and eclectic culture. For a lively evening head to Plaza Tutti Frutti, a pedestrianised area with dozens of pubs. There really is something for everyone on holidays to Nerja.
Nerja has many sights of major cultural significance, including the famous Caves of Nerja, which feature not only impressive natural stalagmites and stalactites, but also around twenty thousand caves paintings dating back to the Paleolithic era. Also worthy of a visit is the Moorish fortress, the Balcon de Europa, located in the heart of Nerja.
You can also take a horse and carriage tour of other local sights such as the 17th Century El Salvador church, the 16th Century Nuestra Senora de las Angustias and the gardens of Capistrano Playa.
View destination on a map
Nerja Weather
Whilst Nerja enjoys the same dry, warm climate as anywhere else on the Costa del Sol, its proximity to the Mediterranean offers respite from the worst of the arid summer sunshine. Temperatures average out at around 18° Celsius, with highs of 26° Celsius in August. If you want to come on holidays to Nerja and miss the crowds but still have good weather, then a holiday at Easter or late September would be ideal.
Landscape
The region, including the coastline, is quite rocky and offers a wealth of hiking trails to traverse, all offering superb views of the coastline and coves.
Culture
Nerja retains much of its small village authenticity, whilst offering superb facilities for visitors. The town feria is held annually in October, and the festival of San Isidro is celebrated with parades in mid-May.
Nightlife
The most vibrant Nerja nightspots are located in Tuti Fruti Square, with many establishments run by English-speakers, and all offering a great time and good music to dance the night away. For more subdued evenings, you can sample the local delicacies of the area's many fish restaurants, serving traditional tapas and pescaito frito, or fried fish.
For a night out on the town may we recommend a trip to Malaga, which is a short drive west from Nerja. Torremolinos is a little further on, but has a fantastically exuberant nightlife of world renown.
Book a Nerja Holiday now!
Nerja achieves the delicate balance of tourist resort and traditional Spanish village admirably, with something for everyone. Located in beautiful scenery, with friendly locals, fascinating culture and excellent dining, Nerja is the ideal choice for a varied, exciting and relaxing holiday to Spain.
On the Beach has outstanding offers on flights and accommodation, so book now to enjoy all that Nerja has to offer!