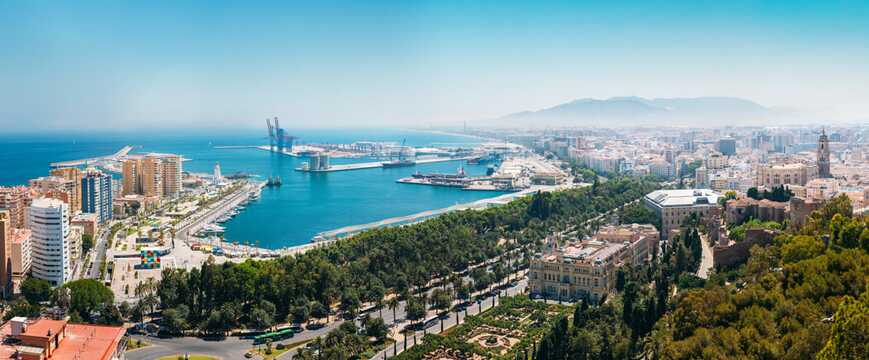 The largest city on the Costa del Sol, Malaga is a bustling city with a small town charm. From the busy cosmopolitan seaport to quaint little backstreets that have remained unchanged for decades, Malaga is packed full of personality and brimming with culture. A Malaga city break is magical. And, to paraphrase the city's most famous artist (Pablo Picasso), in this city 'everything you can imagine is real'.
Beaches
A Malaga city break is the perfect way to blend busy city life with laid-back sunny beach days. With seven sandy stretches to choose from, it's easy to find your perfect spot to soak up the Spanish sun. La Malagueta is the closest beach to the city. Accessed via the Pablo Picasso promenade, this lively beach is packed full of facilities, lined with restaurants and bars, and dotted with quirky chiringuitos (Spanish beach bars) selling ice-cold drinks and tasty tapas. For a fun-filled family day out head to the Blue Flag beach of Las Acacias-Pedralejo or if you're looking for a something a little different then try the nudist beach of San Julian Guadalmar.
Food & Drink
Sun, sea, sangria… and tapas. Is there anything better than a Spanish city break? From hearty albondigas (meatballs) in a rich tomato sauce to fresh seafood with plenty of aioli, you'll be spoilt for choice in this gorgeous part of Spain. For a true taste of Malaga, make sure to try the super-fresh espeto. Simply roasted over a barbeque pit and seasoned with a pinch of salt and a twist of lemon, these delicious sardines make for a great mid-afternoon snack. Top tip: you're likely not to find this dish in the city. Head to the beach and look for the small fishing boats in the sand –they're actually barbeques! Of course, no city break in Spain would be complete without a good jug of sangria. Why not try the tinto de verano? A sort of sangria shandy that is delicious enjoyed under the sun.
Culture
Starting its life in 770 BC, Malaga – now declared as one of the oldest cities in the world – has thrived through many periods including the Phoenician, Roman and Moorish times. And because of this rich history, the city is packed full of culture. This can be seen throughout the city in the architecture, art and traditions that the people here still uphold. The city is home to many churches and mosques with most people following the Christian faith. If you visit during the Easter week, you'll see the huge celebrations, processions and fiestas that celebrate the city's faith.
Nightlife
Young or old; reserved or lively, no matter who you are or what you're looking for, you'll find it here in Malaga. Enjoy chic and cosmopolitan bars in the El Palo Y Perdregalejo area, sip a cocktail whilst enjoying the sunset from a beach bar at La Malagueta or head to the centre of Malaga's nightlife scene at Plaza Uncibay. With cosy tavernas and wine cellars, modern and lively bars, and clubs to keep you dancing until dawn, it's easy to find your perfect night out in Malaga.
Important Information
Flight Time: 2hr 45minsTime Difference: +1 hourCurrency: EuroOfficial Language: Spanish
View destination on a map
Malaga Weather
With long hot summers and mild winters, Malaga is a great destination all year round. July is the city's warmest month with average temperatures sitting at 25C and highs of 31C. Winter temperature usually sit around 13C with November being the wettest month. If you love nothing better than a dip in the sea, then August is the month to visit with sea temperatures being around 24C.
Landscape
The city of Malaga sits amidst steep hills leading into gentle mountains, offering some spectacular views of the city and harbor. There are many places to admire the stunning views, and there are several immaculately kept municipal gardens that line the hillside, making it a beautifully picturesque city to visit.
Things To Do on Malaga Holidays
Picasso Museum
Birthplace of one of the most famous artists of the 20th century, a city break to Malaga wouldn't be complete without a trip to the Picasso Museum. Take a look around the exhibit showcasing Picasso's work in chronological order and see how this magnificent artist shaped the entire world of art.
La Alcazaba & Roman Theatre
Located just a short walk from the city's main beach, this medieval fortress is a prime example of Moorish design, dating back to the 11th century. Take a walk around the well-preserved buildings and stroll through the fountain gardens before heading down the hill to see the ancient Roman Theatre, built in the first century BC!
Catedral de Málaga
Affectionately nicknamed La Manquita or 'The One-Armed Lady', this huge cathedral was 200 years in the making before construction was halted due to the reallocation of funds. With a multitude of styles including Baroque, Gothic and Neoclassic, it's easy to spend hours walking around this wonderful cathedral.
Ataranazas market
Situated in the heart of Malaga City, this huge indoor market is definitely worth a visit. The market building boasts a large stained-glass window with intricate iron detailing which is worth a look, even without venturing inside! Inside you'll find plenty of fantastic fresh produce from meat to cheese; fish to wine. There's even a handful of tapas bars at the centre – perfect for a pit stop.
Culture
Despite its significant tourist trade and trendy, cosmopolitan atmosphere, Malaga retains much of its colorful Spanish heritage, and remains a functioning fishing port. Many traditional Spanish cultural and religious festivals and events take place at the Plaza de la Constitucion. Around Easter time during which the annual Semana Santa festival takes place, Malaga is taken over by elaborate, ornate religious parades with thousands of spectators.
Nightlife
One of the prime reasons people keep coming back on Malaga holidays is the buzzing nighlife. Malaga offers visitors an ideal blend of sophisticated restaurants, charming cafes and decadent nightclubs, meaning you'll never be short of options no matter if you prefer a quiet glass of wine on a terrace overlooking the city in El Palo, or dancing the night away to the latest sounds and DJs in La Malagueta.
The choice doesn't end there! The great thing about Malaga is that the bustling nightlife of Torremolinos is but a short drive away!
Book a Malaga Holiday now!
Malaga offers visitors to Spain one of the most vibrant, diverse holiday experiences in the entirety of the Costa del Sol. From its ancient ruins to fabulous shopping boulevards, Malaga has endless ways to see the beauty and rich cultural splendor of the city.
On The Beach has excellent deals on holidays to Malaga that won't be beaten anywhere online, so book now to sample the delights of the capital of the Costa del Sol!