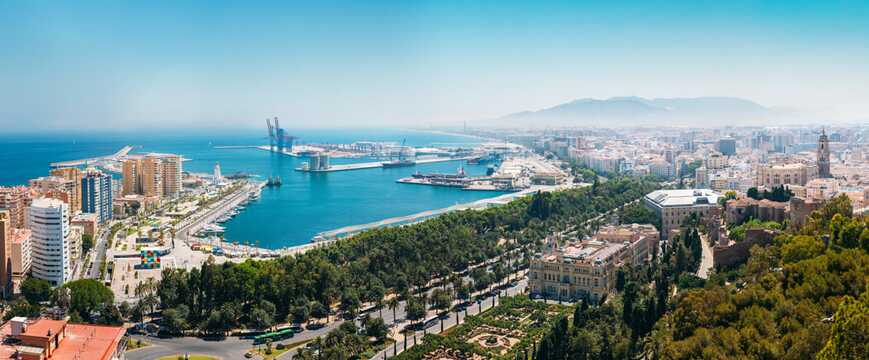 Destination Highlights
A beautiful city by the beach
Great for couples or friends
Plenty of culture
Nightlife options for everyone
Jump to...
Beaches | Hotels | Nightlife | Food | Events | Things to do | Weather | Important information | Reviews |
---
What are the best beaches in Malaga?
Malaga is home to seven sandy beaches, so you have plenty of choice when you want to escape the city streets and soak up the Spanish heat by the sea. La Malagueta is the closest beach to the city. Accessed via the Pablo Picasso promenade, this lively beach is packed full of facilities and is lined with restaurants and bars. Las Acacias-Pedralejo is a Blue Flag beach and so is perfect for a family day out in the sun. If you prefer to go to nudist beaches, then San Julian Guadalmar beach is the spot of shore that you're looking for!

What are the top hotels in Malaga?
Just a short walk from the historic centre of Malaga, the Barcelo Malaga is a four-star stylish hotel with a rooftop pool so you can enjoy a refreshing dip and a sunbathing session with stunning city views. Another four-star pick is the Malaga Centro hotel, which features traditional interiors, a rooftop pool and a central location – a perfect base for exploring the city.
If you're seeking a budget option for your holiday to Malaga, the Atarazanas Malaga Boutique hotel offers simple yet comfortable accommodation with an on-site café and Wi-Fi access. For a chic stay next to the famous Malaga Cathedral, the Molina Lario Hotel is a modern hotel which features a rooftop chill-out bar and pool, whilst within easy reach of Malaga's attractions.
Those who prefer to be by the beach can enjoy a comfortable stay at the MS Maestranza Hotel, only 200m from the beachfront. With bars and restaurants within walking distance and an on-site spa, this is a fantastic choice for couples or friends seeking a city break by the beach in Malaga.

What's the food like in Malaga?
Traditional Spanish food is some of the best in the world, and that's why dining in Malaga will never disappoint. Try out different tasty tapas dishes, some of our favourites include the local ham and cheese cuts, meatballs in a tomato sauce, hot chorizo, garlic prawns and of course, patatas bravas. If you want to try the unique dish of Malaga, head to the beach and find a barbeque that's serving delicious espeto, sardines roasted over a barbeque with a pinch of salt and a squeeze of lemon. Don't forget to grab a jug of sangria to share too, a fruity refreshment to enjoy under the Spanish sun.

Where's the best nightlife in Malaga?
Young or old; reserved or lively, no matter who you are or what you're looking for, you'll find it here in Malaga. Enjoy chic and cosmopolitan bars in the El Palo Y Perdregalejo area, sip a cocktail whilst enjoying the sunset from a beach bar at La Malagueta or head to the centre of Malaga's nightlife scene at Plaza Uncibay. With cosy tavernas and wine cellars, modern and lively bars, and clubs to keep you dancing until dawn, it's easy to find your perfect night out in Malaga.
What events can I go to in Malaga?
Malaga Carnival (February/March) – Taking place just before Christian Lent, Malaga Carnival is spread over a number of days and is where you can enjoy watching parades, street performances and take part in workshops. There's even a children's carnival too for the little ones to enjoy!
Noche en Blanco (May) – An incredible evening to be in Malaga. When the sun sets, people in the city come out to visit monuments, museums, art shows, concerts and so much more! With tons of free events across the city – it's definitely one to add to your calendar.
Malaga Gastronomy Festival (May/June) – Discover the taste of Malaga at the Gastronomy Festival. Experience show cooking, try out food tasting and indulge in the delicious street food at the festival. A perfect event for foodies.
Malaga Flamenco Festival (June/July) – If you want to dive into Spanish culture, visit Malaga's Flamenco Festival. Watch the amazing art of Flamenco dancing and listen to the traditional music. It's certainly a unique experience.
Malaga Fair (August) – Party all day and night at Malaga Fair. Located in the Old Quarter and Real de la Feria, you can explore the different huts, dance, watch the fireworks and listen to the music. It's the best party of the summer!

Things to do in Malaga
Port of Malaga
Modern and glamorous, this port is like no other. Sip cocktails at one of the bars, enjoy an outstanding meal at a restaurant or browse the boutique shops. Lined with palm trees and with yachts sat on the shore, the Port of Malaga has a unique atmosphere that everyone loves.
Picasso Museum
Whether you're an art fanatic or simply know of Picasso's work - a city break to Malaga wouldn't be complete without a trip to the Picasso Museum. Take a look around the exhibit showcasing Picasso's work in chronological order and see how he shaped the entire world of art.
Ataranazas Market
In the heart of Malaga City, this huge indoor market is definitely worth a visit. If you appreciate architecture, the building's large stained-glass window and iron detailing is worth the visit alone! Inside you'll find plenty of fantastic fresh produce from meat to cheese; fish to wine. There's even a handful of tapas bars at the centre – perfect for a pit stop.
Catedral de Málaga
This gigantic cathedral is one of the beautiful gems you must see when exploring Malaga. With a multitude of styles including Baroque, Gothic and Neoclassic, it's easy to spend hours walking around this amazing cathedral.
Chíllar River
If you love to be in nature, hike through the Chíllar River to the Caves of Nerja. This trek can take around 4-6 hours and is a must for those who love to hike. If you're up for the challenge you'll not regret it as you'll be met with outstanding views of the region along the way.
La Alcazaba & Roman Theatre
Located just a short walk from the city's main beach, this medieval fortress is a prime example of Moorish design, dating back to the 11th century. Take a walk around the well-preserved buildings and stroll through the fountain gardens before heading down the hill to see the ancient Roman Theatre, built in the first century BC!

What's the weather like in Malaga?
With long hot summers and mild winters, Malaga is a great destination all year round. July is the city's warmest month with average temperatures sitting at 25°c and highs of 31°c. Winter temperature usually sit around 13°c with November being the wettest month. If you love nothing better than a dip in the sea, then August is the month to visit with sea temperatures being around 24°c.
| | | | |
| --- | --- | --- | --- |
| Month | Average temp. | Sea temp. | Hours of sunshine per day |
| Jan | 13 °c | 16 °c | 5 h |
| Feb | 13 °c | 16 °c | 7 h |
| Mar | 15 °c | 16 °c | 8 h |
| Apr | 16 °c | 17 °c | 9 h |
| May | 19 °c | 18 °c | 8 h |
| Jun | 22 °c | 20 °c | 10 h |
| Jul | 25 °c | 23 °c | 11 h |
| Aug | 25 °c | 24 °c | 10 h |
| Sep | 24 °c | 23 °c | 8 h |
| Oct | 20 °c | 21 °c | 7 h |
| Nov | 16 °c | 18 °c | 6 h |
| Dec | 13 °c | 17 °c | 5 h |
Important Information about travelling to Malaga
How long does it take to fly to Malaga?
It takes around 2 hours and 45 minutes to fly to Malaga from the UK.
What's the time difference between the UK and Malaga?
Malaga is one hour ahead of the UK.
What currency do they use in Malaga?
The official currency of Malaga is the Euro.
What language do they speak in Malaga?
The official language spoken in Malaga is Spanish.
Do I need any vaccinations to visit Malaga?
Please check with your healthcare provider for all up to date vaccination advice before booking your holiday.
Do I need to pay tax on my holiday to Malaga?
There is no tourist tax in Malaga.
Will Covid-19 affect my holiday to Malaga?
We are currently closely following the Covid-19 situation and how it affects travel. You can find out the most up to date information about travel to Spain on the FCO website.
---
Customer reviews
At On the Beach, we've sent many satisfied customers to Malaga for a bit of sunshine. But don't just take our word for it, read some of their 5-star reviews below.
B Alden:
Easy to use, all charges clear and I got the same holiday for much cheaper than other sites I had looked at!
Simona Vilceanu:
Excellent customer service and very helpful every time
Jason Healy:
I've used On the beach for years and have never been let down by these guys....even during the lockdown they were excellent as always
View destination on a map
Malaga Weather
Malaga enjoys hot summers and a pleasantly warm year-round climate, making it ideal for a visit any time of the year. The average temperature year-round is 19° Celsius, with highs typically peaking around 30° Celsius in summer. Whether you want to take your Malaga holidays early in the year, in the peak season or when the crowds fade away, the weather should cooperate with your plans.
Landscape
The city of Malaga sits amidst steep hills leading into gentle mountains, offering some spectacular views of the city and harbor. There are many places to admire the stunning views, and there are several immaculately kept municipal gardens that line the hillside, making it a beautifully picturesque city to visit.
Things To Do on Malaga Holidays
Whether its ancient Roman ruins or Armani sales, you'll find it in the bustling streets of Malaga. The city is one of the most historically important areas of southern Spain, and is home to many fascinating sights such as the Gibralfaro Castle, which sits atop the steep hills that surround the city, offering dramatic views of the city and surrounding landscape.
There is also the Flavian Roman Theatre and Amphitheatre to see, offering a glimpse at Malaga's Roman beginnings, as well as the infamous La Manquita ('One Armed Lady') Baroque cathedral, and the imposing Alcazaba Arabic fortress. You won't be bored on holidays to Malaga, that's for sure!
Culture
Despite its significant tourist trade and trendy, cosmopolitan atmosphere, Malaga retains much of its colorful Spanish heritage, and remains a functioning fishing port. Many traditional Spanish cultural and religious festivals and events take place at the Plaza de la Constitucion. Around Easter time during which the annual Semana Santa festival takes place, Malaga is taken over by elaborate, ornate religious parades with thousands of spectators.
Nightlife
One of the prime reasons people keep coming back on Malaga holidays is the buzzing nighlife. Malaga offers visitors an ideal blend of sophisticated restaurants, charming cafes and decadent nightclubs, meaning you'll never be short of options no matter if you prefer a quiet glass of wine on a terrace overlooking the city in El Palo, or dancing the night away to the latest sounds and DJs in La Malagueta.
The choice doesn't end there! The great thing about Malaga is that the bustling nightlife of Torremolinos is but a short drive away!
Book a Malaga Holiday now!
Malaga offers visitors to Spain one of the most vibrant, diverse holiday experiences in the entirety of the Costa del Sol. From its ancient ruins to fabulous shopping boulevards, Malaga has endless ways to see the beauty and rich cultural splendor of the city.
On The Beach has excellent deals on holidays to Malaga that won't be beaten anywhere online, so book now to sample the delights of the capital of the Costa del Sol!