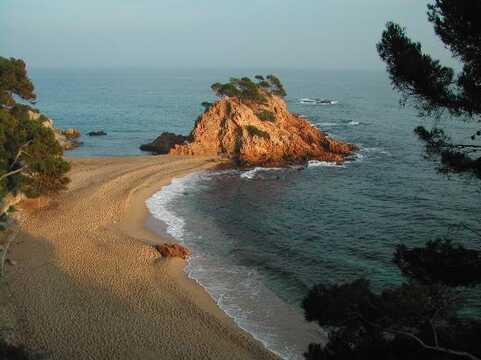 Read more about Platja D Aro
Lively, modern, cosmopolitan and bang in the heart of the sun-drenched Costa Brava, Platja d'Aro's unrivalled location near main transport routes make it perfect for your Costa Brava holidays.
Busy yet classy, Platja d'Aro sits alongside elegant S'Agaro, which skirts the peaceful streets of the old town, Castell d'Aro, bursting with medieval charm. The borough's three dynamic, attractive towns combine sport, culture and leisure in a natural setting, centred on the delightful seafront.
Think the Costa Brava is all fish and chips and English newspapers? Think again. Platja d'Aro holidays are a stylish and sophisticated destination with all the ingredients for your dream Spain holiday!
View destination on a map
Platja D Aro Weather
You don't get cold on a Costa Brava Holiday. The region's Mediterranean climate guarantees long hot summers, with average temperatures often reaching 30° Celsius, and frequently giving 12 daily hours of sunshine. But even July and August are tempered by coastal winds. For cooler weather, think about coming on holidays to Platja d'Aro in the spring or autumn – it'll still be pleasant.
Landscape
The seafront of Platja d'Aro is full of beaches and small coves. Chose from the well-served, urban Main Beach, or small corners like Cala dels Canyers where the water and the trees almost touch, leaving a narrow strip of sand.
Each of the seven beaches and coves is unique. The Main Beach has more than two kilometres of soft, golden sand, and is known to be one of the best in the region against stiff competition! Cala Rovira, to the north, is smaller. Further afield, Cala del Pi and Cala dels Canyers, are quieter and in less developed surroundings. Sa Conca combines a wide, uncrowded sandy beach with green spaces.
Beyond the bustling seafront, there is a whole natural world to be discovered with delights like the Gavarres mountain range, and other open spaces.
Things To Do on Platja D Aro Holidays
Visit the Doll Museum, stroll through exhibitions in the idyllic setting of Benedormiens Castle and discover special corners like the Roman Settlement of Pla de Palol or the Church of Fanals d'Amunt. There's even a Wrist Watch Museum in Platja d'Aro!
Culture
Platja d'Aro's packed year-round programme of events and festivals include Carnival in February, the October Beer Festival and the Medieval Market in Castell d'Aro. The Nights of Jazz Summer Festival is just as unmissable.
The arrival of high summer is heralded every June 23, on the magical night of Saint John, when Platja d'Aro illuminates the sky with a spectacular fireworks display which can be seen all along the Main Beach.
Nightlife
As you would expect from a seaside Spain holiday, this resort boasts attractive, modern and trend-setting night clubs. After watching the sun sink into the sparkling sea, enjoy the night in the extensive selection of pubs, bars and discotheques of Platja d'Aro, renowned for their buzzy atmosphere, where everyone can find the right place to unwind during the last hours of the day. Lloret de Mar is a short drive away and offers a nice selection on restaurants, pubs and cafes.
Book a Platja D Aro Holiday now!
Holidays in Platja d'Aro bring a touch of glamour and sophistication to your Costa Brava holiday. With gorgeous beaches, nightlife, restaurants and culture for every taste, you won't fail to be bowled over by holidays to Platja d'Aro. On The Beach has unbeatable offers on flights and accommodation in the area – right now! So what are you waiting for?