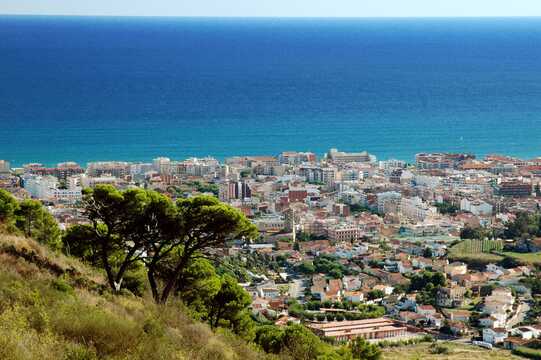 Read more about Pineda De Mar
At the southern end of the Costa Brava, between the mountains and the Mediterranean, just 10 miles south of Lloret de Mar, and less than 40 miles north of Barcelona, Pineda de Mar is popular with those who prefer a smaller resort and a more intimate atmosphere on their Costa Brava holiday. This straightforward Mediterranean town has an appealingly laid-back style, and, what it lacks in the noise of some of its neighbours, it more than makes up for in charm and character. You'll love its leafy squares, fishing harbour, fountains and gardens.
View destination on a map
Pineda De Mar Weather
The Mediterranean climate means long, hot summers, and mild winters that make Pineda de Mar holidays extremely attractive any time of year. Average temperature fluctuates around 17° Celsius, making Pineda a pleasant destination for a holiday in Spain any time of year. In July and August , the thermometer can nudge past 30° Celsius, while even in winter the temperature rarely drops below five; frost and snow are almost unheard of. The protection of the coastal mountain range stops the place from becoming too windswept.
Landscape
Holidays to Pineda de Mar centre on the well-maintained, coarse-sanded beach, which extends for nearly two miles and rarely feels crowded. This broad stretch has calm water, ideal for swimming and smaller children. There are plenty of cafes and bars but less seafront development than its busier neighbours. In recent years, the beach has won the coveted Blue Flag quality certificate, a resounding endorsement of the quality of its water, sand and services.
The Mediterranean woods of the nearby Montenegre National Park are another pleasure to be enjoyed along with the sand and the sea.
Things To Do on Pineda De Mar Holidays
Pineda goes back a couple of thousand years, and history buffs will lap up the remains of an important Roman village to be found here, including an aqueduct, four arches of which are still visible. It's just one of the many ancient sites to be found in the town. For the more active, if you can drag yourself away from the beach, the nearby national park offers plenty of opportunities for walking and biking on your holidays in Pineda de Mar.
Culture
There is a weekly market in the old town, and fiestas throughout the year, the main ones being the celebration at the Mare de Deu de Gracia sanctuary on the first Sunday in May, and the Sant Joan de Petit fiesta on 24 June. Art lovers will want to head for the Tharrats Foundation of Graphic Arts, home to displays from Joan Josep Tharrats, among others. The same building, Can Comas, also holds concerts and exhibitions throughout the year.
Off course you can't fail to mention nearby Barcelona, one of the most exciting and culturally diverse cities in all of Europe!
Nightlife
Pineda de Mar is quieter than some of its brassier regional neighbours, making for a more chilled out family holiday. However, there is a sea-front disco, along with a few bars, and hotel-based entertainment. There are plenty of middle-range restaurants, serving fish and local specialities. Should you want a livelier night out, head to Lloret de Mar or Calella.
Book a Pineda De Mar Holiday now!
Pineda de Mar does exactly what it says on the tin. It's a smaller, relaxed resort offering a straightforward Costa Brava beach holiday and the chance to soak up the relaxed pace of Spanish life. Despite its size, you'll find plenty to do here. With great offers on flights and accommodation available right now, On The Beach gives you the chance to bask under blue Mediterranean skies with just a few clicks of your mouse.