Read more about Montenegro
Say hello to Montenegro – the charming little country that is Croatia's lesser-known next door neighbour. Its name translates to 'black mountains', and with its rustic mountainscapes, climbing roads and poetic history, it's just as mysterious as it sounds. Perched on the Adriatic Sea and packing a mosaic of rugged coastline, history-steeped towns and plunging canyons into a country less than half the size of Wales, Montenegro is certainly an advocate for the phrase 'good things come in small packages'. In 1988 this nation captured Brad Pitt's heart during the filming of his first movie - The Dark Side of the Sun - so why not holiday in Montenegro this year and let it capture yours too?BeachesYou might think that the only decision to make regarding a beach is whether or not you wish to stay near one, but Montenegro takes things just that little step further. You can choose from a whole menu of options from pebbled coves and sandy coasts to hidden nooks and the magical rose-tinted sands of Svet Stefan – no filter needed. Home to the longest strip of beach on the Adriatic waters, fringing the coast in a feline-stretch, Montenegro is practically beach royalty. Jaz Beach in Budva will answer all of your surfing and waterskiing prayers, whilst Lucice Beach is a blissful sanctuary that oozes calm with endless blue skies and waters a vivid blue, all tucked in a picture frame of cresting mountains and thickets of oleander bushes.Food & DrinkThe sprawling blue seascapes might be a feast for the eyes, but Montenegro is a fruitful source of tempting dishes to satisfy your tastebuds too. Thanks to its prime coastal location, seafood is a staple dish on the Montenegrin menu, often sprinkled with olive oil and flavoured with the likes of bay leaves, parsley, lemon and garlic. You might also stumble across coils of grilled calamari and fluffy black risotto which gets its rich colour from squid or cuttlefish ink. Don't fret if seafood isn't your cup of tea, there are plenty other specialties for you to enjoy. Take börek for example - a flaky pastry filled with cheese and meat or spinach and potato, or duveč - tender-cooked vegetables that form a hearty ratatouille-like dish. Why not wash it all down with a glass of raki - a sweetened alcohol with hints of fragrant aniseed, or a classic tipple of full-bodied locally-produced wine?CultureFrom stories told over flickering firelight to ink-scrawled words on paper, poetry and literature are a huge part of Montenegrin culture. Njegoš, a critically acclaimed poet and respected leader in Montenegrin history, was celebrated after he wrote a poem about the coming together of the tribes. There is even a popular landmark in the form of Pierre Loti's house - a French sailor who lived along the shore in Baosici and wrote romantic short stories. This country may be small, but their pride when it comes to literature and art is huge, and hand in hand with this comes the art of living happily. 'Samo polako' which translates to 'take it easy' is a popular mantra in Montenegro, paying ode to the feeling of cosiness and wellness that comes with mountain air, quaint coffee shops and tranquil beaches.NightlifeWhether you're seeking cosy cocktails or blaring bass beats, Montenegro has something to suit night owls of all kinds. There's a generous sprinkling of dynamic venues across the country, but Budva – nicknamed the 'Miami of Montenegro' - is a hotspot for nightlife, where as the sky grows dark, the streets come alive with effulgent colour. Here you'll find Casper Bar which is an ideal spot for comforting craft beer, zesty cocktails, jazz gigs and a live DJ. For fruity drinks and an outdoor DJ on summer nights, Letrika in Kotor is the place to be, where you'll find clusters of people dancing on the cobbles with a cocktail in hand. If that wasn't enough, Montenegro even has its own Hard Rock Cafe in Podgorica, home to a VIP lounge, Rock Shop and live music.Important InformationFlight Time: Approximately 2 hours and 45 minutesTime Difference: +1hrCurrency: EuroOfficial Language: MontenegrinVaccinationsPlease check with your healthcare provider for all up to date vaccination advice before booking your holiday.VisaBritish Passport holders don't need a visa to visit Montenegro for short term stays of up to 90 days. Holders of other passports are advised to check with their national embassy for any visa requirements.
View destination on a map
Montenegro Weather
Montenegro is blessed with a typical Mediterranean climate with hot, dry summers along the coast and mild winters which are graced with cooler temperatures and occasional showers in more inland areas. Coastal temperatures between May and October average at 25°C, with highs of 27°C in July. The sea stays relatively warm during winter months, and is usually 24-25°C in summer - perfect for a relaxing dip.
Things To Do on Montenegro Holidays
The Bay of KotorThe Bay of Kotor, otherwise known as Boka, refers to the ridges and curves of the rocky coastline in the north of Montenegro, brushing shoulders with the Croatian border. This stunning bay, sometimes referred to as a fjord, is home to an unmissable strip of coastline with jutting mountainscapes dotted with terracotta pantile roofs and the water shining a brilliant cobalt, making this an idyllic spot to share with loved ones. Stara MaslinaLocated in the old town of Stari Bar and nestled among fairytale-esque olive groves with twisting branches, you'll find one of the oldest olive trees in the world. Sinking its roots into the verdant earth, this tree is said to be over 2000 years old. History buffs will love its wistful hollow trunk echoing tales of its past, and the nearby lookout is the perfect pit stop for sweeping views of the surrounding landscapes. Tara CanyonTara Canyon swoops to 1300m deep, making it the second deepest canyon in the world after the Grand Canyon. The bustling current brings you up close and personal with tumbling waterfalls, making for an unforgettable rafting ride that's perfect for families. You can also enjoy hiking adventures, waterside cuisine or simply sit back and admire the way the river cuts through the mountains in a perfect ribbon. CetinjeTucked at the base of Lovcen mountain, not only is Cetinje a historic jewel and the country's previous royal capital, but its petite dimensions make it a delight to explore simply by foot. Think intricate architecture, buildings painted in ice-cream colours and respected museums and art schools that were once quaint cottages and majestic mansions, and you'll have just a sliver of an image of this storybook city.
Montenegro Resorts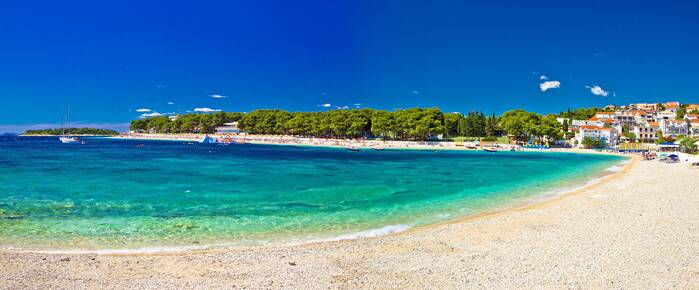 The meandering Montenegro coastline is mirrored by magical rolling mountain hills, hiding secret sheltered coves and small pebble bays along the glitt…