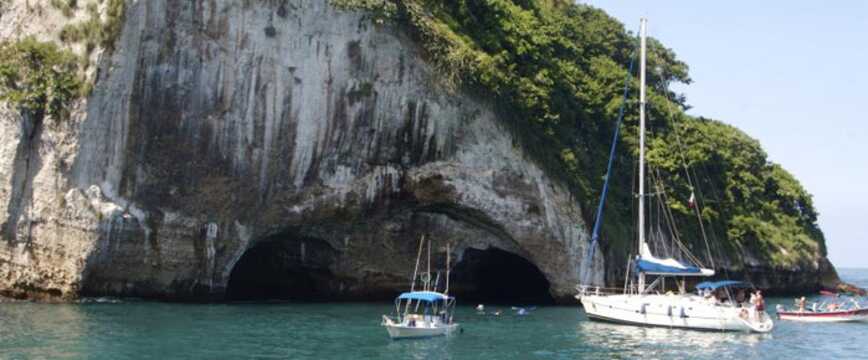 Read more about Puerto Vallarta
Often known as the San Francisco of Mexico, Puerto Vallarta is a colourful town on the country's western Pacific coast. It attracts holidaymakers from across the globe for its fabulous cultural events, tropical climate, pristine beaches and amazing food. Whether you're looking for a relaxing break in the sun with your partner or a fast-paced adrenaline-filled holiday with your family or mates, Puerto Vallarta is the ideal place to go.BeachesJust a stone's throw away from the bustling city centre lies beautiful sun-kissed beaches, sandy coves and calming blue waters. There's certainly plenty of choice when it comes to those golden sands – and whether you're after a relaxing day under the sun's rays or maybe fancy an action-packed afternoon banana boating around the coast, there's a beach for you. A beauty spot is Playa Los Muertos which is a beautiful sandy stretch on the southern coast. It's popular amongst Puerto Vallartans and attracts holidaymakers for its popularity in being the place for sunbathing and swimming. The beach is also the LGBT meeting point in Puerto Vallarta – mainly because the LGBT friendly beachfront hotels are in the area!Food & DrinkSeafood is a firm favourite amongst the locals – a delicacy of the town is pescado embarazado which is translated to pregnant fish – meaning fish roasted on a stick. Sounds weird, right? Despite the odd name, it's a delicious dish as the fish is marinated in lime and cooked over coals. It's typically served with Huichol salsa to add a bit of spice. In case you hadn't noticed yet – Mexico is the place to be if you enjoy hot and spicy foods! A must-try dish during your trip to Puerto Vallarta is birra, in other words, a burst of amazing flavours in just one mouthful. The main ingredients used include goat or lamb meat which has been boiled in a spicy sauce made up of cumin, oregano and ginger. It's served with a lime (Puerto Vallatrans call it a lemon), onions and tortillas – tasty! To finish a lovely spicy meal a cold glass of horchata is the perfect choice – the drink is made from rice water with a cinnamon and vanilla flavour. The sweet milk is very creamy and makes a refreshing drink during the day and night.CulturePuerto Vallarta and its surrounding villages are well-known for their appreciation and support of arts. The town is blooming with visual arts, theatre performances, music, international food and cultural events throughout the year. It's not hard to notice the creativity as every street you walk down has been perfectly decorated with a range of brightly coloured artwork to reflect the personality of the town. For decades it has been renowned as a popular LGBT destination and it's easy to see why as the town has a range of hotels, bars, nightclubs, beaches and even drinks, specifically for LGBT travellers. If you're after an incredible LGBT event experience, visit Puerto Vallarta in May as the town hosts its annual pride event – the atmosphere during the parade is incredible! NightlifeThere really isn't such thing as a dull evening in Puerto Vallarta. The town comes to life with live music and events for visitors of all ages. Every Thursday and Sunday evening there are public concerts which are held at the main plaza – these are ideal for families and those wanting a relaxing end to their day. For the night owls, Collage is the place to be once the sun sets. This is a club which doesn't fail to impress with its scenic location and three busy bars - each night has a different event which typically include an acrobatics show, cage dancers and arcade themes. Important InformationFlight Time: 12hr Time difference: -6hr Currency: Mexican Peso and USD Official Language: Spanish VaccinationsPlease check with your healthcare provider for all up to date vaccination advice before booking your holiday.Visa and Entry InformationPassport Requirements: All passengers must be in possession of a British E-passport with 6 months validity from the return date of travel, two clear pages inside and a valid return ticket. Visa Requirements: British citizens do not require a visa to enter Puerto Vallarta. Non-British passengers are advised to check with their local Embassy for advice on entry requirements before you travel.
View destination on a map
Puerto Vallarta Weather
If you like the heat, Puerto Vallarta is ideal for you. The town has a mild, hot and sunny climate for most of the year, during the summer months of August and September there are intense rain falls daily and this is hurricane season.
Things To Do on Puerto Vallarta Holidays
Jungle canopy tour
Puerto Vallarta is backed by palm-covered mountains which not only make the perfect photo opportunity, they also provide the perfect setting for jungle canopy tours. Each tour has a different level of difficulty for all ages including zip-lining, river rafting, kayaking and an animal sanctuary. The views from the mountains are incredible and worth a photo opportunity (or more)!
Snorkel the reefs
Puerto Vallartans say everyone visiting the town should snorkel at least once. The sea is deep blue and is home to some beautiful (and unusual) creatures including needlefish and giant lobsters. During the whale season, you can even hear the humpbacks singing under water which is an incredible experience!
Los Arcos National Marine Park
This protected marine preserve is an incredible thing to experience. The park consists of several small islands or granite rock formations which are home to amazing tropical marine life, including puffer fish, octopus, angel fish, clown fish and stingrays. Imagine swimming beside the beautiful marine life in the deep blue ocean - it looks like something straight out of Finding Nemo, just more surreal and breathtaking!
Old town
Puerto Vallarta's old town is something else. From the brightly coloured houses lining the cobbled streets to the picturesque vista looking out onto the Pacific Ocean, there's something very special about the old town. There's so much to do here including shopping in the markets, enjoying a bite to eat in the traditional restaurants and admiring the architecture in the Nuestra Senora de Guadalupe church.
Culture
Mexico has experienced a colourful political climate in the past few years, with a close fought presidential election and the left-wing losing rival setting himself up on his own TV show to mock the winning candidate.
Mexicans regard friendships as the most important thing in life apart from religion and are not afraid to show their emotions, so you may make a new friend or two.
As for religion, the majority are Roman Catholic at 89% with 5% protestant and 6% various other religions. Visitors should always respect local customs and traditions.
Service charges are rarely added to your bar, hotel or restaurant bills and many staff depend on tips for their livelihood. Aim to pay 15% normally or 20% if very impressed.
Nightlife
Viejo Vallarta is the hub of all entertainment so whether it's an all-night party you're looking for, or just a friendly place to cool off in during the day, you need to be there.
You can choose from all sorts of dance clubs, with those providing entertainment in the form of salsa, merengue and jazz being particularly popular venues. There is also a vibrant gay nightlife scene.
Local spirits are much cheaper than imports, but can be an acquired taste, stick to rum and tequila as they are relatively safer bets. For beer the familiar Sol and Corona with a slice of lime are the most popular.
Beans, corn and potatoes are the main staples of Mexican cuisine, with fish and chicken on most menus and a vegetarians are well catered for. Try the re-fried beans and guacamole with everything! You can even find good Mexican fast food take-aways.
For a huge variety of food, head back to Viejo Vallarta, home to Vallarta's famed 'Restaurant Row'. You'll find dozens of choices from simple and filling to "Incredible". Of course there is Mexican food, and in many different styles, but you'll find an loads of international dining choices here also.
The food is so well renowned here that they hold an annual Festival Gourmet International, so if you are lucky enough to visit during November, you may be in for a gastronomical treat.
You can easily walk around the downtown area, and to get you back to your hotel the taxis are plentiful with reasonable fares.
Book a Puerto Vallarta Holiday now!
Search now for our very best value flight and hotel deals to Puerto Vallarta, we pride ourselves on offering the best value beach holidays for our customers. Our online booking system is simple, easy and fast and there are some great deals available right now.