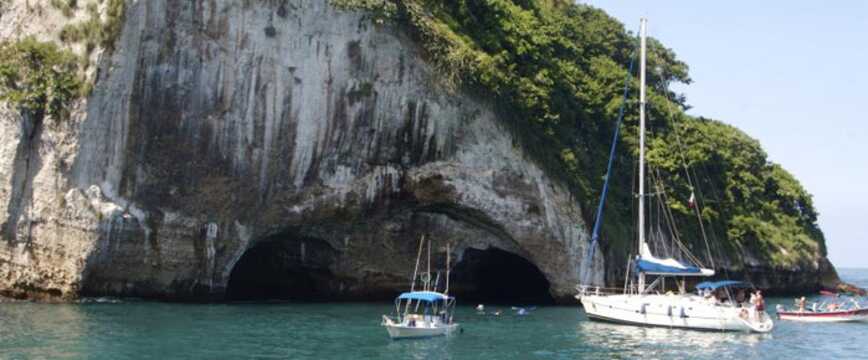 Read more about Puerto Vallarta
Beautiful Puerto Vallarta sits on the Western Pacific coast of Mexico, the white sandy beaches and the tropical climate began to attract tourists as long ago as the late 19th century. The amazing vista of mountains, jungle, quaint terracotta tiled roofs and the sea make Puerto Vallarta the most picturesque beach resort in all of Mexico.
With ample opportunities for activity, your adventurous side will never go unfulfilled, unless you want rest and relaxation. In that case, Puerto Vallarta is the ideal destination for lazing around in the sun.
Playa Los Muertos is the place for sunbathing and swimming, but it could get crowded with locals and travellers. For a treat you could head off on a boat to quieter and more serene destinations towards the South, these include Playa Las Animas, Majahuitas and Yelapa.
Many people visit Puerto Vallarta again and again, and it's a big attraction for North American and European visitors, many even have invested in second homes. You may even spot a celebrity or two in the Costalegre south of Puerto Vallarta.
View destination on a map
Puerto Vallarta Weather
Puerto Vallarta has a mild, hot and sunny climate for most of the year, but things change in the Summer months when intense rain falls virtually every day throughout August and September.
This is also hurricane season so it's probably best to avoid holidaying at this time. Although, the heavy rains can actually be quite refreshing after a hot and sunny day.
Arguably the best months to go are between November and May, with January to March being the coolest but still in the 70's. The central pacific coast can also be humid throughout the year, but the coast provides a more comfortable climate.
Things To Do on Puerto Vallarta Holidays
Kids are well catered for in the hotel resorts with kids clubs and water activities, but for a special adventure you could take them to Chico's Paradise, which boasts a jungle zip-line above the river and restaurant. You can also swim in the river and explore the jungle treks.
Regardless of whether you enjoy shopping, we recommend a stroll up to the Vallarta Viejo plaza and the Zona Romantica. There are loads of things to do and see. You will find sculptors building sand castles on the beach and street artists entertaining the crowds. It's a beautiful walk along cobblestone streets where you'll find casual and fine clothing, art galleries, native handicrafts and art, glassware, pottery, fabrics, jewellery, and anything and everything you'd want to take back home with you. Souvenirs can also be sought out from the vendors south of the plaza.
Booze cruises are very popular. The one thing that these great boat tours have in common is that they all feature that all-important Open Bar. Puerto Vallarta has several excellent booze cruises to choose from. Most of the booze cruises in Puerto Vallarta are daytime cruises, where you visit a beach, do some snorkeling, and then have drinks, music, and fun on the way back. However, there are a few options for night-time booze cruise trips as well. You can even catch a booze cruise to Mismaloya (where they filmed Night of the Iguana).
Try to attend a Mexican fiesta in a hotel at least once during your stay. Kristal Vallarta hotel holds a particularly good fiesta. Expect an open bar, Mexican buffet, folk dancing, music and fireworks. Sometimes you can even get involved in a mini do-it-yourself bullfight with small bulls, great fun but be careful!
Culture
Mexico has experienced a colourful political climate in the past few years, with a close fought presidential election and the left-wing losing rival setting himself up on his own TV show to mock the winning candidate.
Mexicans regard friendships as the most important thing in life apart from religion and are not afraid to show their emotions, so you may make a new friend or two.
As for religion, the majority are Roman Catholic at 89% with 5% protestant and 6% various other religions. Visitors should always respect local customs and traditions.
Service charges are rarely added to your bar, hotel or restaurant bills and many staff depend on tips for their livelihood. Aim to pay 15% normally or 20% if very impressed.
Nightlife
Viejo Vallarta is the hub of all entertainment so whether it's an all-night party you're looking for, or just a friendly place to cool off in during the day, you need to be there.
You can choose from all sorts of dance clubs, with those providing entertainment in the form of salsa, merengue and jazz being particularly popular venues. There is also a vibrant gay nightlife scene.
Local spirits are much cheaper than imports, but can be an acquired taste, stick to rum and tequila as they are relatively safer bets. For beer the familiar Sol and Corona with a slice of lime are the most popular.
Beans, corn and potatoes are the main staples of Mexican cuisine, with fish and chicken on most menus and a vegetarians are well catered for. Try the re-fried beans and guacamole with everything! You can even find good Mexican fast food take-aways.
For a huge variety of food, head back to Viejo Vallarta, home to Vallarta's famed 'Restaurant Row'. You'll find dozens of choices from simple and filling to "Incredible". Of course there is Mexican food, and in many different styles, but you'll find an loads of international dining choices here also.
The food is so well renowned here that they hold an annual Festival Gourmet International, so if you are lucky enough to visit during November, you may be in for a gastronomical treat.
You can easily walk around the downtown area, and to get you back to your hotel the taxis are plentiful with reasonable fares.
Book a Puerto Vallarta Holiday now!
Search now for our very best value flight and hotel deals to Puerto Vallarta, we pride ourselves on offering the best value beach holidays for our customers. Our online booking system is simple, easy and fast and there are some great deals available right now.