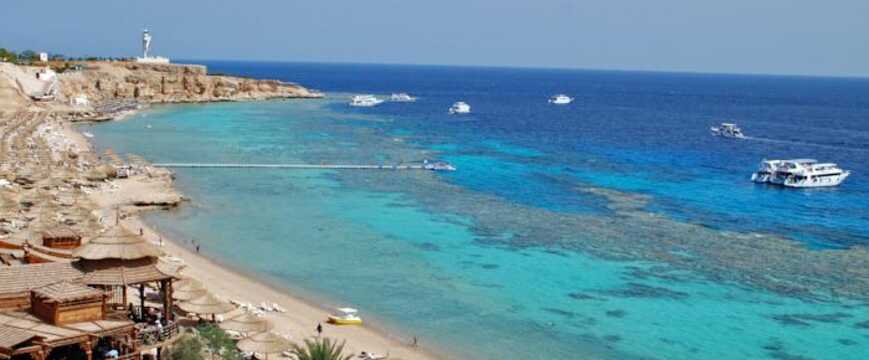 Read more about Ras Um Sid
Ras Um Sid holidays, at the bottom of the Sinai peninsula and surrounded by crystal-clear waters, are a jewel in the Red Sea Riviera's many-studded crown. The beach at Ras um Sid is the most popular in the whole of Sharm El Sheikh, outstripping even Naama Bay for it's unparalleled diving and snorkelling opportunities, watersports and seafront hikes.
Travel here and you'll redefine your ideas about what Egypt holidays should be! A few clicks and six hours later, you'll be ready to experience for yourself the gorgeous sands and warm waters of this peninsular paradise!
Ramadan
Please be aware that the Islamic holy month of Ramadan will take place between 12/04/2021 - 11/05/2021. During this time, many cafes and restaurants will close during the day, restrictions on alcohol sales may be in place, and hotel dining for non-Muslim guests may take place in private rooms. Playing music, dancing, and eating in public areas may also be restricted during this time.
View destination on a map
Ras Um Sid Weather
Whenever you come on holidays to Ras Um Sid, you'll find cloudless skies and sunny temps, from 20° Celsius in December to thirst-inducing highs of over 40° Celsius in August. Just leave your thermals behind and pack your Factor 30; and then chill by the pool or on that lovely beach!
Landscape
The beach here reposes under a long, winding wall of rock, jutting out like a promontory into the azure sea. The sea itself, with it's large islands, seams perfectly with the cloudless sky to form a wall of solid blue that is best appreciated from the yachts and ferries of the port down-coast, or right on the beach. Take a camel ride or jeep up to nearby Mount Sinai to see where Moses took his legendary exodus with the Ten Commandments, or the oldest church and Christian library in the world, St Catherine's, in the middle of the inclement canyons.
Things To Do on Ras Um Sid Holidays
Ras Um Sid holidays remain first and foremost a diver's experience, the multicoloured coral gardens and huge fan corals making up the reef are understandably vaunted as among the Red Sea's greatest aquatic sights. Those who elect to stay dry can travel to the Fun Land Theme Park with great rides for the kids, visit the Diving Museum or get to grips with local flora and fauna in the great reserves at Ras Mohammed National Park and Tiran Island.
Culture
The best thing about Sharm el Sheikh is that there is always something on. Just some of the things you can get up to on holidays to Ras Um Sid include fishing competitions, camel races, the feast at the end of Ramadan and the Coptic New Year. This is an ideal place to experience Egyptian culture with lots of traditional music and dance on show, as well as tasty local delicacies including fish stew, shish kebab and spiced okra. You can also sample some local cuisine, especially fish, if you take a trip down the bazaars at the Old Town, also selling all manners of jewels and rugs.
Nightlife
From Hard Rock Cafes to stellar nightclubs, casinos and cyber-discos, this place has it all! Sharm el Sheikh suburbs play host to quaint pubs and family run eateries, with Naama Bay being home to clubs open into the wee hours and beyond. Try the Fantasia park and shopping centre, about 10 minutes away, for some cosier bars.
Book a Ras Um Sid Holiday now!
There's 30 miles of uninterrupted seafront waiting for you to enjoy. Do fancy a break in the sun? Well, your Ras Um Sid holidays can be booked online right now at On The Beach! From summer buddy trips to Christmas breaks, the best deals are right here!