Egypt holidays are a true staple for tourists all year round - after all, where else in the world can you find millennia of history mixed with a modern cosmopolitan vibe, gorgeous beaches and city oases in the midst of golden sands, not to mention a climate that simply refuses to acknowledge winter? No wonder people of all descriptions and nationalities flock in droves to the Land of the Pharaohs - whether families, couples, honeymooners or groups.
Egypt may be miles away culturally, but it isn't that far - just six hours on a flight and you're in Hurghada International Airport, on the clear waters of the Red Sea Riviera! Holidays to Hurghada mean all the usual trappings of a sun-drenched break: watersports, windsurfing, restaurants, bars - but above all, it's renowned snorkelling and scuba diving clubs; the preserve of world-class divers, but also perfect for amateurs out to spot some exotic aquatic life.
In the space of a few short years, Hurghada has gone from being solely a diver's destination to the teeming hub of the Red Sea's nightlife. Even world-class resorts can't hold a candle to the sheer variety of entertainment on offer here, from Sekala's late-night clubs like Ministry of Sound and the Hard Rock Cafe to pleasant pubs and pool bars that might be your local on a very hot day! There's also plenty of barbecues and shacks on the beach, plus trendy cocktail bars from which to chill by the turquoise waters of the Red Sea and relax.
For a bite, head into downtown El Dahar, the Old Town, for some international cuisine that is a testament to Egypt's cosmopolitan life. Alternatively you could spend the night out in El Gouna and spend the night cruising the shops and cafes.
Ramadan
Please be aware that the Islamic holy month of Ramadan will take place between 05/05/2019 and 04/06/2019. During this time, many cafes and restaurants will close during the day, restrictions on alcohol sales may be in place, and hotel dining for non-Muslim guests may take place in private rooms. Playing music, dancing, and eating in public areas may also be restricted during this time.
View destination on a map
Hurghada Weather
In Hurghada, you'll soon discover why the Ancient Egyptians didn't wear polo necks - many things have changed in Egypt in it's 5,000 years plus history, but the gorgeous weather isn't among them! From scorching summer temperatures nearing 40° Celsius to salubrious winters rarely dipping below 20° Celsius, you're guaranteed sun on Hurghada holidays. So if you want to chill by the pool or on the beach, be sure to slap on the sunscreen!
Landscape
Hurghada's jaw dropping seascape includes twenty miles of beachfront paradise abutting the turquoise Red Sea, from where you can cruise out to the islands offshore for some of the usual diving and swimming, or trek inland on safari; around the breathtaking desert mountains and canyons by car or camel, or on foot. A walk up Anfish Mountain is perfect for sunset panoramas of this amazing region, the city below you dwarfed by the blue expanse of sea and sky beyond.
Culture
Like all Egypt, Hurghada (or Ghardaga to locals) has seen many civilisations come and go; from the New Kingdom to the Roman and later Islamic empires, not to mention the earliest Christian hermit monks. But until the 1980s Hurghada was a sleepy fishing backwater, home to none but local mariners and transient Bedouin nomads.
That all changed with the advent of tourism though: Hurghada's unrivalled beaches and aquatic sports brought in people on diving holidays to Hurghada, who in turn brought in the tourists. Today, the town is home to cuisine, entertainment and pleasures fit for a Pharaoh, and is one of the Red Sea's premier resorts.
Aside from a possible safari trip to Bedouin villages in the area, to see how these desert tribes-people knead bread and ride horses and camels, you can also get to grips with suburban life, especially in El Dahar, home to bazaars and jewellery stands in it's bustling streets. Stop at the street stalls also to sample some local delicacies of seafood and fruit confections, and roam through the lively roads by minibus. Surely the best time to catch some local partying is in February, for the fortnight-long mayhem of the International Festival with street gatherings, carnivals and marathons.
Adventure
Once you're on your Hurghada holidays, the Maritime Museum beckons, home to it's own fish tanks replete with turtles and coral reefs for viewing close up. There are more aquatic gardens and underwater reefs in Hurghada than you've ever seen, as well as diving cruises from where, under the temperate waters of the Red Sea amongst shoals of multicoloured fish, you can explore shipwrecks and subterranean caverns. (assuming you hold the correct PADI certification or are with a guide or instructor)
For more cultured disports, get above the water and check out the ancient, sun-baked monasteries of Saint Anthony and St Paul nearby, where monks oversee ancient libraries; or investigate the Roman ruins jutting silently out of the desert sands.
Book a Hurghada Holiday now!
Hurghada holidays are first for fun in the sun, and On the Beach is first for getting you there! Holidays to Hurghada have it all - guaranteed warmth, gorgeous beaches and a great nightlife. Don't delay - our online booking system is simple, easy and fast, and there are great deals available right now!
Hurghada Resorts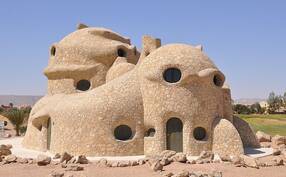 El Gouna holidays transport you to another world - not merely the Egypt we all know and love, with camels, palms and antiquities strewn about the gold…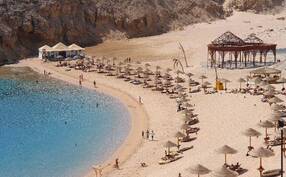 Holidays to Makadi Bay will find you taking in one of the Red Sea Riviera's most beautiful, secluded resorts just 22 miles from the teeming city of Hu…
Soma Bay holidays on the pristine, golden-silted Red Sea coast of Egypt will give you the chance to explore some of the world's finest diving sites, w…