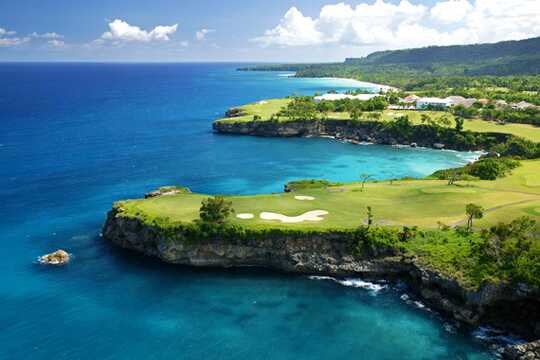 Read more about Rio San Juan
Situated on the Dominican Republic's northern coast, this once sleepy fishing village offers everything you might need for a relaxed, tranquil Caribbean holiday. A little quieter than some other resorts, the beautiful beaches and turquoise seas make for a perfect week of sunbathing for families and couples, and the breathtaking scenery makes it a photographers paradise.
Just 20 minutes from Puerto Plata, access from the UK is getting much easier, meaning a Rio San Juan holiday is hassle free. And like all holidays in the Dominican Republic, On The Beach offers the cheapest deals around, whether it be online or on the high street!
View destination on a map
Top Rio San Juan Hotels
Rio San Juan Weather
You don't need us to tell you that one of the biggest draws of the Caribbean is the gorgeous climate, and this is definitely true for the Dominican Republic. With January temperatures often rising above 30° Celsius, holidays in Rio San Juan are a great way to top up your tan all year round, avoiding the summer crush and providing the perfect anecdote to the bleak British winter. So remember to pack your sun cream!
Landscape
With its breathtaking lagoons, fresh white beaches, picture postcard mangrove trees and turquoise waters, Rio San Juan is a real Caribbean paradise. The town is very much geared towards the coast as a result of its original fishing roots, so the beaches and marinas are often the best place it see Rio San Juan at its authentic best, as well as being the perfect backdrop for your holiday snaps!
Things To Do on Rio San Juan Holidays
Rio San Juan's roots as a fishing village are still evident today as the marina is used as a base for diving, snorkelling and other watersports. Boat trips are popular as the scenery is renowned for its beauty, in particular the mangrove lined 'Gri Gri Lagoon' that boasts a clarity almost demanding to be swum in! The secluded coves and unique isolated beaches mean Rio San Juan holidays are perfect for exploration, and whether it be navigating through secret water tunnels or cliff diving, there's tonnes to do for the whole family!
Culture
Before Christopher Columbus's Spanish fleet took over in 1492, the island of Hispaniola (which the Dominican Republic shares with Haiti) was ruled by the Tainios. The Spanish left a lasting impression on the country's culture, most notably as Spanish remains the official language today. After a little interference from the French who threatened Spanish control, the Dominican Republic finally gained independence in 1884. Rio San Juan's favourable coastal location meant that over the years it provided work for its inhabitants as one of the country's most important sources of fish.
For a real slice of Rio San Juan culture on your holiday, head down to Calle Sanchez, the base for the fishermen's daily business. Barter with the pescaderos for some freshly caught fish, or head down to one of the local restaurants where seafood is always top of the menu. To see the Dominicans in their partying element, then keep your eye out for the Merengu' beat, a type of fast jazz music which is hugely popular throughout the region. As for sports, any holiday in Dominican Republic holiday would not be complete without a trip to watch the baseball, their other passion, which is worthwhile for the atmosphere alone.
Nightlife
While Rio San Juan holidays may not be renowned for their parties, there are enough fine restaurants and laid back bars for a relaxing few evenings out. However, the proximity to Puerto Plata means anyone looking for a slightly livelier experience is only a short taxi ride away!
Book a Rio San Juan Holiday now!
Rio San Juan is the perfect place for a taste of the Caribbean, and its handy location means that the white sands of the beaches are never far away. Proximity to Puerto Plata means that a lively night out is just as easy as a quiet drink with the family, and the winter sun makes Rio San Juan holidays perfect over Christmas. So take advantage of On The Beach's superb offers and book today, you're only a few clicks away!