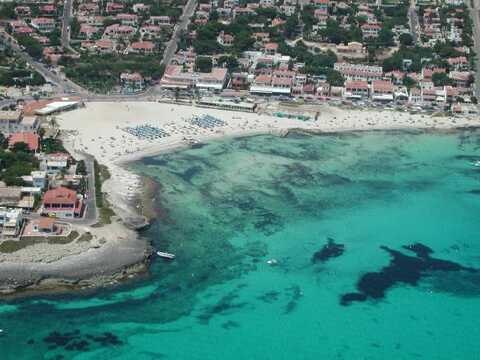 Read more about Punta Prima
If you'd like to take your break away in an up and coming resort with plenty of things to do, then a holiday to Punta Prima will be right up your street. Located in the southeast corner of Menorca in the municipality of Sant Luis, and only around 15 minutes from the main airport, Punta Prima mixes stunning natural beauty with great restaurants and bars. Add to that bus services to neighbouring towns, festivals to attend and a range of stores for all your shopping needs, and you can see why Punta Prima holdiays appeal to people of all ages.
So if you're a family looking for summer fun, or a couple looking for a romantic break, the stunning resort of Punta Prima will provide a Menorcan sunshine holiday you won't forget in a hurry!
View destination on a map
Punta Prima Weather
Sun-worshippers won't believe their luck, because in the summer months Punta Prima enjoys scorching temperatures of around 30° Celsius as the Mediterranean summer reaches its peak. Sunlight will average about 10 hours a day, while evening temperatures, at around 24° Celsius, are still very warm. However, as it lies on the extreme southeast coast of Menorca, Punta Prima is also subject to strong winds at times too, which will please those who enjoy respite from the sun. You might want to use the services of your Spanish hotel for swimming at these times, as the current can also get quite strong, and the sea much choppier, so watch out for the Red flag, which warns you not to swim at all.
If you're holidaying outside of summer, visiting in September or October is a good idea as the temperatures will be much cooler, but still very warm, though it is more windy with cooler evenings around 20° Celsius.
Landscape
Punta Prima's most celebrated feature is its landscape, which is said to feel very open and spacious - and, indeed, it is. The amazing beach is where most visitors on Punta Prima holidays spend their days; large and sweeping, it never seems to be too crowded, and is always clean, while the sea offers colours the likes of which you'll never have seen before, with luminous blues and deep navy hues.
The streets are well maintained, and very often lined with trees and patches of green, making an evening walk a joy. The local hotels and villas are similarly lovely; whitewashed and topped with terracotta roofs, they'll certainly tempt you into looking for a holiday property! Outside of town, though still flat, the landscape is much more desert-like, with parched earth and chunks of rock. Those who enjoy a lot of exertion will enjoy an evening walk here.
Things To Do on Punta Prima Holidays
Beach-lovers will have found their paradise, as the most celebrated attraction of Punta Prima holidays is the beach, which is around 2 kilometres long, and filled with wonderful golden white sands, and several bars and restaurants behind it for an enjoyable lunch. Across from the sea is the Illa Del Air, about 1 kilometre offshore. A small flat island, it hosts a lighthouse that has fallen into ruin, as well as a breed of lizard indigenous to Menorca only. Though there are no public boat trips here, the island has a small harbour perfect for pedal boats if you feel like exploring.
For great days out on holidays to Punta Prime take the bus to Mahon, the capital of the island, and home to some of its most ancient sights, as well as Binibeca, which is well worth a visit; artificially constructed to look like a fishing village, it is very unusual and extremely picturesque, making an ideal day out for families who'd like to see something unusual.
Culture
Punta Prima is one of the oldest tourist resorts in Menorca, though it still retains a lot of Spanish charm, which is evident in the architecture of the town. If you're looking to enjoy a great day out on holidays to Punta Prima, a visit to Mahon will be an excellent way to get to grips with the history of Menorca. The capital is only around 12 kilometres away, and easily reachable with Punta Prima's bus services.
Featuring an array of ancient sights, some dating back to the 4th Century, a Mahon will provide you with a view of Menorca's fascinating past. Look out for the commemoration of villagers taken into slavery by the invading Turks in around 1588! A visit to Binibeca will also pay dividends for inquisitive minds, as it features a wonderful local museum.
Because it is a relatively quiet town, you might want to visit another location for cultural exploration. Mahon itself features fantastic events all year; aside from shopping, it hosts many musical events, including regular operas, plays and films at the Teatro Principal theatre all year round, as well as an opera festival in August.
There are many things to attend in the municipality of Sant Luis too; head to Sant Luis town to attend the Feast of St. Luis at the end of august, which features parades and lots of music. There you can also visit the Folk Museum, open every day except Tuesday and housed in a wonderful old windmill!
Nightlife
Nightlife on Punta Prima holidays is all about relaxing and taking it easy, so if you're up for a really wild party then you might want to consider visiting Mahon using the town's bus services, though you should be prepared to party all night as this service stops in the evening. If you'd like to stay local though, the best place to go in Punta Prima is along the beachfront. Home to a good selection of local bars and restaurants serving traditional Spanish food like paella and calamari, they are lively and typically hospitable, especially to children, so families will enjoy a great night out.
This setting will also please couples, who will be treated to good food whilst overlooking a beautiful sea view. Remember that your hotel will also provide nightly entertainment too, so there is plenty of scope for an enjoyable evening.
Book a Punta Prima Holiday now!
Punta Prima holdiays are ideal for anyone who just wants to relax on their well-earned break, so if you want to visit a quiet town that is still regarded as an up and coming holiday destination, then Punta Prima is an ideal place to go. Best of all, with On The Beach you can customise your holiday to Punta Prima just the way you like it, so get looking for those bargain hotels and flights now with our convenient booking system!