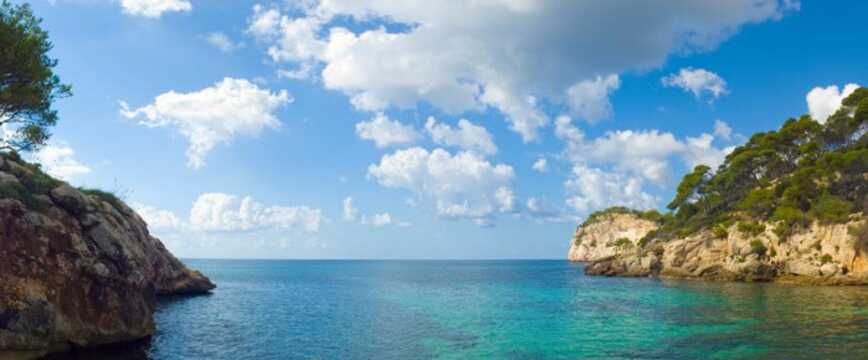 If you're looking for a relatively undiscovered resort to relax on your Balearics holidays, a trip to Binibeca will certainly have you smiling. Located on the south coast of Menorca, Binibeca has two distinguished parts of town; the Binibeca Vell area, with its picturesque buildings and narrow streets, and the Binibeca Nou part, which is mainly a peaceful residential area near the beach. The town is typically friendly, with a very welcoming atmosphere that'll make you feel at home in no time.
Binibeca holidays also has plenty of amenities, including a supermarket, restaurants and bars, and even a diving centre for watersports enthusiasts, meaning that everyone will find something to occupy them. If you thought you'd seen all Menorca holidays have to offer, a holiday in the sunny climes of Binibeca will certainly change your mind.
View destination on a map
Binibeca Weather
If you're after that perfect tan, you can be certain you'll get one on holidays to Binibeca! Menorca enjoys a wonderfully hot Mediterranean summer, with temperatures in the summer months of July and August reaching around 30° Celsius in the daytime, with around 9 hours of sun, and around 24° Celsius in the evening.
Best of all, temperatures in Binibeca remain relatively high all year round, so you'll be able to relax on holidays in Binibeca under the sun whatever time you head out; even in October the temperatures reach about 23° Celsius, so if you prefer a cooler climate then visiting in the autumn months might be just right for you.
Landscape
The landscape of Binibeca will please anyone who likes enjoys the pleasures of being surrounded by natural and architectural beauty. You'll find the landscape differs as you move between Binibecca Vell and Binibeca Nou, which will provide a refreshing change. Architect Antonio Sintes, who went to great lengths to make the area look spectacular, designed the former area in the 1970's. The mazes of narrow streets, quaint little houses and harbours are awesome sights well worth taking some snaps of!
The area of Binibeca Nou meanwhile is a lot more naturally rugged. It features a long, golden beach protected from the sea by jutting rocks, with sand dunes to the rear. Surrounded by low mountains that have vegetation on them, one glance at the landscape will make you glad you chose to come to Binibeca!
Things To Do on Binibeca Holidays
One of the main attractions of Binibeca holidays is the fantastic beach, which is calm and quiet, affording you the perfect place to relax all day. If you feel like exerting yourself a little though, why not head to the diving centre, from where you'll be able to explore the crystal waters for marine life? The commercial part of Cala Torret will also keep you busy, as it features a range of restaurants, supermarkets and souvenir stores.
You'll want to spend plenty of time in Binibeca Vell too; it's an idyllic fishing village with cobbled streets and a harbour - the perfect place to go walking, and is especially beautiful at sunset!
Culture
As a purposely-designed artificial village, you'll find more in depth examples of Menorcan history in towns like the capital Mahon, though the modern history of Binibeca, built only in 1972, is no less interesting. Though the town features a church steeple, you'll find its purely for decoration, as the town of Binibeca features no church at all- a feature that's very unusual for a small Menorcan village.
The pre-history of the town is also intriguing, with the name, Binibeca evidence of how the Roman invaders were succeeded in occupying Menorca by the Moors for hundreds of years.
In spite of its relatively short history, the culture of Binibeca is just as impressive as its neighbouring towns, with many locals making the effort to celebrate national holidays. If you're choosing to head out in July, ask locals about the celebration of the Dia De Virgin De Carmen, who is the patron saint of sailors. Held on the 15th and 16th, the locals will have feasts and a parade, with everyone welcome to participate. The birthday of Franciscan monk Junipero Serra is celebrated in November, with similar local celebrations on the 24th.
Try to visit other towns too to really explore the Menorcan culture; if you're planning a break in Binibeca in August, the annual festival of Saint Luis is held on the weekend closest to the 25th, and features a parade, music, concerts and feasts!
Nightlife
As a quiet and peaceful fishing village, Binibeca holidays nightlife is mainly centred around the restaurants and bars the town offers, so after enjoying your hotel's evening of entertainment, these will be the best places to go. Friendly and inviting, many restaurants serve delicacies like mussels, paella and calamari, which will please those who enjoy Spanish food greatly!
The nightlife on holidays to Binibeca is perhaps more suited to families and people looking for a quiet break, but the good news for younger people is that the capital of Menorca, Mahon, is only a short bus or train ride away, and features a great magnitude of places to party the night away.
Book a Binibeca Holiday now!
If you're looking for a break away that is relaxed, picturesque, and with a wonderfully unique history and architecture, you'll find holidays in Binibeca a real delight. With watersports, restaurants and excursions to neighbouring villages too, everyone will have memories of a great holiday!
With On The Beach you'll find bargain hotels in Binibeca and flights with our convenient live booking system. Customise your holiday to Binibeca today!