Read more about United Arab Emirates
For a country that was only formed in 1971, the UAE (or United Arab Emirates to give it its full name) hasn't half hogged the headlines with its overwhelming ambition and single minded pursuit of superlatives - the seven star hotel, the man made islands, the world's tallest tower.... Throw into the mix the three s's - that's sun, sea and shopping - and the fact that this dazzling desert kingdom is a none too arduous seven hour flight away, and it's easy to see why tourists are flocking to the UAE in their droves.
It hardly needs to be said that Dubai - a favourite with footballers and their wives - entertains the most tourists thanks to its sky scrapers, mega malls and world class restaurants, but away from the bling there are six other emirates that also have plenty to offer. The country's capital, Abu Dhabi, is only a short two hour drive south of Dubai. Closer still is Sharjah and Umm Al Quwain - two emirates offering a more traditional Arabian experience. Tucked away at the northern tip of the UAE lies Ras Al Khaimah where adventures seekers can scale the Hajar Mountains, while to the east is the emirate of Fujairah; here you'll find superb snorkelling and diving.
Even better, we have scores of exceptionally good value deals to the UAE meaning you can explore, enjoy and see for yourself the 'Cinderella story' of the travel industry - even if you don't boast the budget of a footballer's wife.
Ramadan
Please be aware that the Islamic holy month of Ramadan will take place between 12/04/2021 and 11/05/2021. During this time, many cafes and restaurants will close during the day, restrictions on alcohol sales may be in place, and hotel dining for non-Muslim guests may take place in private rooms. Playing music, dancing, and eating in public areas may also be restricted during this time.Want to see more? Check out our
All Inclusive Holidays in United Arab Emirates
.Thinking of going All Inclusive? Take a look at some of our top
All Inclusive properties in the United Arab Emirates
here!
---
View destination on a map
United Arab Emirates Weather
You might deepen your understanding of the word 'hot' during your holiday in Dubai; summer temperatures are above 40°C! It's never exactly cold in the winter either, rarely dropping below 20°C, even at night. Dubai gets most of it's rain in winter - but with an annual rainfall of just five inches, it's not exactly a lot! Bring light garments and do not forget your Factor 30.
Things To Do on United Arab Emirates Holidays
The sheer diversity of attractions on offer on holiday to Dubai reflect it's international status: from safaris into the palm-dotted desert to see the local flora and fauna, to the Grand Mosque with it's 50 minarets, you'll be at a loss to know where to start! For a taste of Dubai's history, visit the Al Fahidi Fort, with it's museum housing millennia-old artefacts from exquisitely designed pottery to Iron Age tools, or take a trip to the Bait Al Wakeel Maritime Museum.
If you're on a family holiday in Dubai and the kids are getting bored with the history lessons, then a day out at the giant theme parks of Wonderland and Magic Planet might be in order for some speed slides, watersports and even a fake jungle!
Culture
Not for nothing is Dubai known as the 'City of Gold' - you'll never have seen so much bullion unless you work in Fort Knox - and because of the abundance of precious metals sold at the many souks (or markets), you might come across some 24 carat bargains. Another brilliant market is Deira's fish souk, noted for the diversity of it's marine cuisine, from snapper and shellfish to tuna or hammour, all freshly caught by local fishermen.
For a taste of true Dubai culture, you can't pass on a visit to the village of Bastakiya with it's traditional Arabian houses and restaurants, and the nearby Bedouin hamlet, where you have a camel-riding lesson and buy some exotic wares and spices from the local market.
Nightlife
Dubai is intersected by the long Sheikh Zayed Road, home to bars, restaurants and clubs aplenty. Due to it's largely expatriate population, the City is littered with all manner of restaurants, Middle Eastern to McDonalds. Bear in mind that weekends here are Thursday and Friday, although every night is party night when you're on holidays in Dubai!
If dance is your scene, there are world-class DJs plying their tunes in clubs such as Kasbaa and Tropicana, or for a quieter night overlooking the crimson sunset, try the fountains and foliage of the Irish Village.
Book a United Arab Emirates Holiday now!
Search now for our very best flight and hotel deals to Dubai. Book with us today and save up to 50% on your hotel, plus, in many of our hotels, kids go free and we've low deposits, so don't miss out on the opportunity of a lifetime - book a trip to Dubai today.
United Arab Emirates Resorts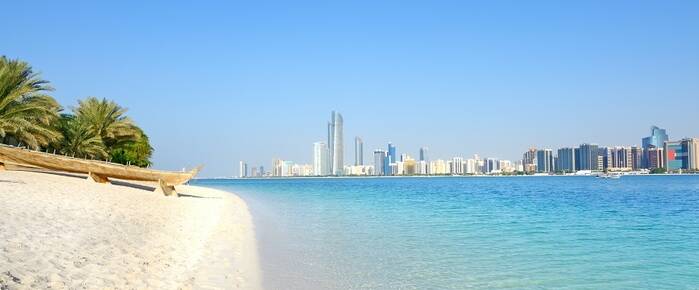 Bursting with history and culture, the capital of the United Arab Emirates, Abu Dhabi, is the perfect place to enjoy a beachside holiday for a week or…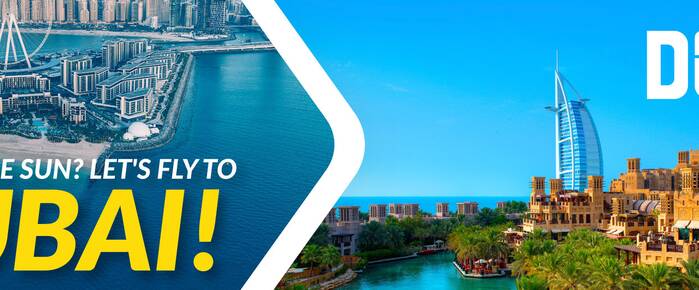 The desertous wonderland where dreams come true, Dubai holidays offer the best of both worlds, with a cosmopolitan cityscape and pristine beaches righ…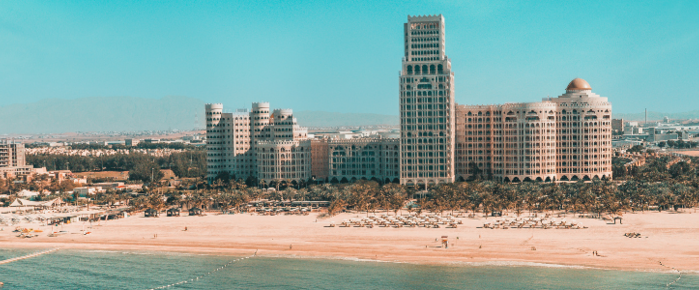 Nestled between the Arabian Gulf and the Hajar Mountains, Ras Al Khaimah is the up and coming holiday hotspot and the real jewel in the crown of the U…