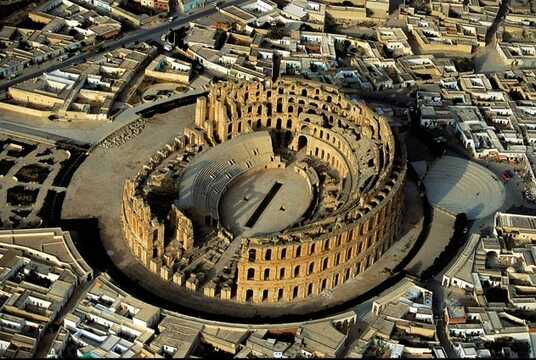 Mahdia is a pretty port in Tunisia, sitting on the coast between the resorts of Sousse and Sfax. Thriving markets, stunning scenery and plenty of history breathe life and love into this North African destination, where the clear waters of the Mediterranean Sea are perfect for dippers and divers alike.BeachesFor sunbathing and swimming the long stretch of Mahdia Beach is the place to go. You can relax on the fine sand or float in the calm Mediterranean currents and, if the sun gets too hot, you can even cool off in one of the many nearby bars and restaurants – it's the perfect place to sample the seafood at Restaurant Neptune. The port is also a great seafront alternative, with an attractive walkway and beautiful views of the water.Food & DrinkTunisian cooking is a mouth-watering mix of French, Italian and African flavours. Popular dishes tend to star eggs, seafood and meats garnished with spices, olive oil or nuts. For a true taste of Mahdia, try some locally-sourced tuna or order an 'asida', a wheat flour dough served with butter and honey. When you need a rest from the heat, order a cooling mint tea sprinkled with pine nuts – a refreshing local favourite.CultureThe atmospheric 'adhan', or call to prayer, is the cultural soundtrack to this Tunisian town. Arabic influences can also be seen as well as heard in Mahdia, with the Great Fatimid Mosque and the Mosque Sidi Mtir numbering amongst the city's most beautiful buildings. Music and art in this region tends to blend African and European elements, and you can visit a café or restaurant at the Place du Caire to experience authentic Tunisian hospitality.NightlifeIf you're looking for a night out in Mahdia, head to the beachside restaurants and bars with outdoor terraces – they stay open late into the evening. The nightclub scene in this low-key port is growing by the day, and the bars and clubs around Mahdia Beach are enough to get the party started for any occasion.Important InformationFlight Time: 4.5hrsTime Difference: +1hrCurrency: DinarOfficial Language: ArabicVaccinationsPlease check with your healthcare provider for all up to date vaccination advice before booking your holiday.VisaBritish passport holders can stay in Tunisia for up to three months without a visa. Holders of other passports are advised to check with their national embassy for any visa requirements.RamadanPlease be aware that the Islamic holy month of Ramadan will take place between 12/04/2021 and 11/05/2021. During this time, many cafes and restaurants will close during the day, restrictions on alcohol sales may be in place, and hotel dining for non-Muslim guests may take place in private rooms. Playing music, dancing, and eating in public areas may also be restricted during this time.
View destination on a map
Mahdia Weather
Tunisia's tropical climate means it's no stranger to the heat, and Mahdia sees average highs of 27°C in September – the hottest month of the year. June is the wettest month, with October blessed with the least rainfall. Make sure you pack the sun cream no matter the season though, as the yearly average temperature is a lovely 25°C.
Things To Do on Mahdia Holidays
Diving CentreTake advantage of Mahdia's warm, clear waters with an exciting scuba diving trip. With options from swimming pool practice to the big blue itself, divers of all abilities can get exploring underwater in no time. Discover an ancient shipwreck or meet the local marine life – who knows what you'll see under the sea.Mahdia MuseumDelve into the rich history of Tunisia at the Mahdia Museum, where artefacts from throughout the ages are just waiting to be found. This extensive treasure trove features everything from mesmerising mosaics to displays of traditional clothing – there is even an underwater archaeology section exploring a famous shipwreck dating back to 1st century BC.Old TownAn afternoon wandering through the Old Town is time well spent. Keep an eye out for the traditional arched doorways and blue windows of Mahdia's bazaars and restaurants, and you're bound to find a hidden gem or special souvenir.Fort Ottoman Borj El KebirAn impressive sixteenth century castle, Fort Ottoman Borj El Kebir was built to keep watch over the bustling port of Mahdia. These days it offers the best views of the surrounding landscape from its well-preserved walls. Instagram enthusiasts should make their way up to the top for a picture-perfect panorama of the Mediterranean Sea.
Book a Mahdia Holiday now!
If you are looking for Mahdia holidays you can search live online availability at unbeatable prices on our website. Our online travel agent lets you create your own Mahdia holidays by choosing the very best flights together with your choice of Mahdia hotels.
We believe we have created the best place on the internet to buy Mahdia holidays. Whether you are looking for a family summer holiday in Mahdia or a romantic couples break we offer the widest choice of cheap luxury Mahdia hotels for your Mahdia holidays.