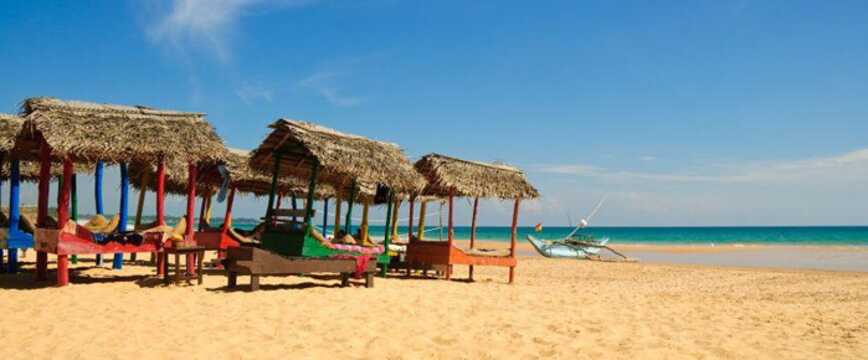 Read more about Sri Lanka
Do you want to do something different whilst on holiday? Do you want to sample some beautiful tropical beaches, elephant trekking and mystic Buddhist temple viewing, then Sri Lanka is the place for you. It is clear to see why Marco Polo proclaimed Sri Lanka to be one of the best islands in the world to visit.
A teardrop-shaped island cast adrift in the Indian Ocean, Sri Lanka is filled with cultural and natural treasures. Indians, Portuguese, Dutch and British have all left their marks here, making for a delightful mix of ancient cities, monuments and atmospheric colonial architecture. For a small island, Sri Lanka offers a truly amazing variety of attractions. The coasts are studded with palm-lined beaches, some with world-class surf breaks.
Sri Lanka's teardrop shape is not inappropriate and Sri Lanka has known it's fair share of political turmoil and natural disasters in recent decades. A Tamil-Sinhalese truce in 2001 spurred an unprecedented growth in tourism that was nearly halted by the December 2004 Indian Ocean tsunami. As resilient Sri Lanka bounces back from the tragedy, tourism is recovering quickly – so now is the time to go!
Fly into Colombo with ourselves where you can chose to go North up into the lakes and mountains of cultural Kandy, or South down to the beaches in and around beautiful Bentota.
View destination on a map
Sri Lanka Weather
Climatically speaking, the driest (and best) seasons in Sri Lanka are from December to March for the west coast, the south coast and the Hill Country, and from April to September for the ancient cities region and the east coast.
Things To Do on Sri Lanka Holidays
If you can only do one thing whilst in Sri Lanka then you must go and see the UNESCO-listed Sigiriya Rock Fortress. This stunning fifth century palace-fortress perches atop a towering rock outcrop above the plains in the country's centre. Steps lead up from water gardens below and past murals of heavenly nymphs. The view across the rain forest and ancient gardens from here is surely difficult to beat anywhere in the world.
If you are not heading up North then you could just ramble around the coastal ramparts, colonial villas and atmospheric streets in the magnificent Dutch fort of Galle another UNESCO world heritage site. Galle is also a centre for crafts that include lace-making, ebony-carving and gem-polishing.
If you are planning to head up North then after visiting The Sigiriya you could quite easily carry on up to Kandy. Kandy is situated on a magical lake and used to be compared favourably to the Italian Lakes in colonial times. It was the last stronghold of the Kandyan Kings and is now a cultural sanctuary where age old customs, arts, crafts, rituals and ways of life are well preserved.
If you want to buy expensive jewellery or gem stones at cheap rates then Kandy is your place. Kandy's fabulous UNESCO-listed Temple of the Tooth (Dalada Maligawa) is also a must visit which shelters the sacred tooth relic of the Buddha.
In Colombo, grab a bargain in the Pettah market, marvel at the blossoms in the Vihara Maha Devi Park between March and early May, and sample the offerings of some of the country's top restaurants.
Culture
Known as the smiling people through out the world Sri Lankans enjoy a unique life style that is humble, artistic, entertaining and touching. The intimate connection between society and buddhism as well as traditional forms of art, dance and music are the fusion of the Sri Lankan culture.
Immerse yourself in one of Sri Lanka's many wonderfully colourful festivals. Most involve long processions of glittering elephants, dancers and drummers. The best-known is Esala Perahera in Kandy; Vel Festival in Colombo is also spectacular.
Ingrained in the culture of Sri Lanka is cricket, people live and breath cricket in Sri Lanka. Make sure you join in a game of impromptu game of cricket on the beach where the cricket mad locals are always up for employing an extra pair of hands!
Nightlife
The nightlife in Sri Lanka is best in the capital Colombo but is really not much to write home about. It is mainly kept to a few Irish bars and bars within hotels like the Hilton and the Mount Lavinia.
It is pleasing to say that the European, Middle Eastern and South Indian influences have had a positive effect on the cuisine in Sri Lanka. Meaning that the Sri Lankan cuisine is very different from any other country in Asia. The Gallery Cafe in Colombo can be recommended to experience these East meet West fusion of tastes.
Book a Sri Lanka Holiday now!
Search now for our very best value flight and hotel deals to Sri Lanka, we pride ourselves on offering the best value beach and city holidays for our customers. Our online booking system is simple, easy and fast and there are some great deals available right now.