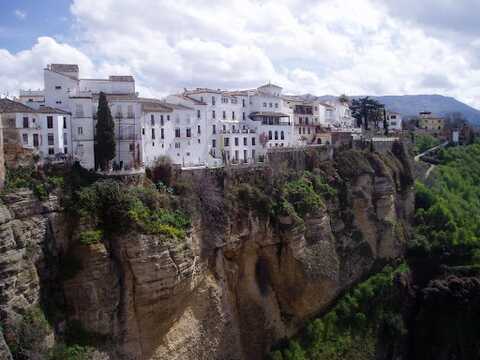 Famous for being the birthplace of modern bullfighting, the charming and historical town of Ronda lies about sixty miles from Malaga. Ronda is home to many historically important sites, some relics discovered here date to around 2,800 BC. Despite its rapid growth as a tourist destination, it offers people thinking of Spain holidays a beautiful, contemporary Spanish town surrounded by dramatic, stunning natural beauty.
There is much to see and do in Ronda, and everywhere you look you will find constantly surprising sights from the rocky landscape on which the town sits, to the uniquely Spanish architecture that makes up the town itself. With a warm, agreeable climate year round and some of the most breathtaking scenery in all of the Costa del Sol, a trip to Ronda will stay with you forever!
View destination on a map
Ronda Weather
Due to its elevation, Ronda enjoys a mild summer climate with cooling breezes from the mountains, making it ideal for those averse to overly hot weather. Temperatures typically peak at around 28° Celsius in the summer months, tailing off as the crowds leave towards the end of September.
Things To Do on Ronda Holidays
Ronda is richly cultural, and not only offers some outstanding examples of Moorish and Roman architecture, but is also home to several museums, notably the Bandolero Museum, the Museum of Hunting and Peinado's Museum, named after local painter Joaquin Peinado.
There are also a number of adventurous trails and hikes into the mountainous region surrounding the town for those that prefer to stay active. Also worth checking out is the Plaza de Toros, a Neoclassical bullfighting ring still used, albeit infrequently.
Culture
Ronda plays host to many festivals year-round, such as the Fiesta de Pedro Romero, famous for breaking free of tradition and developing what is now the most common form of bullfighting - previous to Romero, bullfighters were mounted when fighting. Holy Week celebrations also figure prominently in the town's festivities.
Nightlife
The nightlife in Ronda is subdued and relaxed, much like its atmosphere and locals. There are many great restaurants in the area, serving a wide variety of local cuisine and a wider variety of locally produced wines - perfect for romantic evenings overlooking the mountains.
For a night out you can't go wrong with a visit to Malaga or Torremolinos a little further away.
Book a Ronda Holiday now!
Ronda is an ideal getaway for a chance to relax in stunning scenery, or to spend a romantic trip to this oft-overlooked gem of the Costa del Sol. With friendly locals, gorgeous scenery and excellent dining, Ronda is a wonderful destination.
On The Beach has some outstanding deals on flights and accommodations, so book now and run for the hills!