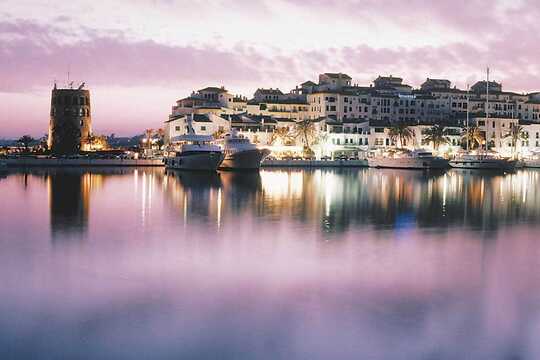 Read more about Puerto Banus
Known locally as 'The Port', Puerto Banus is one of the most exclusive resorts in the entirety of the Costa del Sol. A short distance away from the glamour of Marbella, the focal point of Puerto Banus is the marina. Equipped with berths for nine hundred and fifteen boats, including that of the King of Saudi Arabia, Puerto Banus remains popular with the celebrity jet set and super rich.
Beyond the marina, the area offers many exclusive nightclubs, eateries and shopping areas. Many designer brands have retail premises here, so shoppers will enjoy the wide variety of outlets on offer. Just three hours from the UK, Puerto Banus offers visitors considering holidays to Spain a slice of the high life!
Puerto Banus holidays offer a myriad of places to eat, drink and dance, many of which are quite expensive given the exclusive nature of the resort. Certain bars are more popular with holidaymakers, such as Sinatra's Bar, ranging to the trendy Pangea restaurant. The Port's nightlife scene is altogether rather sophisticated; think trendy cocktail and wine bars with tasteful decor as opposed to happy hour.
However, given the wealth of its residents and many of its visitors, many clubs offer raucously decadent all-night parties with many continuing until sunrise, so if you like to dance the night away, you'll have a great time! Don't forget that Marbella is also a party hot spot and is only a few minutes away!
If you ever do get tired of the glitz and glamour of Puerto Banus holidays you can head to the smaller and tamer resort of Guadalmina for a more relaxed night out.
Puerto Banus holidays were the region's best-kept secret until a few years ago, having grown from a tiny fishing port and marina to an exclusive, glamorous international resort. Offering outstanding beaches, beautiful surroundings and the glitz and glamour of nearby Marbella, Puerto Banus has grown to become a top Costa del Sol destination.
On the Beach has incredible offers on flights and accommodations to this superb resort, so book now and taste the high life in Puerto Banus!
View destination on a map
Puerto Banus Weather
Puerto Banus experiences a mild year round climate with highs of 28° Celsius in the summer, perfect for relaxing next to the beautiful azure waters of the marina, or some al fresco dining at any one of the excellent restaurants in the area. The great weather makes Puerto Banus holidays ideal at any time of the year, whether you are coming with your family or for a romantic break away!
Things To Do on Puerto Banus Holidays
The beautifully equipped marina remains popular with visitors and is the focal point for holidays in Puerto Banus. However, those with a taste for shopping are equally well catered for with the El Corte Ingles department store and Marina Banus complex offering a wide variety of designer brands such as Jimmy Choo, Gucci and Louis Vuitton.
The beaches in Puerto Banus are famous throughout Spain as being a premier hangout in the summer time. The beaches are clean, with golden sands and populated by glamorous people - donŐt forget your designer bikini! Nikki Beach, Mistral Beach and Soul Beach are consistently popular, many playing host to all-night beach parties organised by local promoters KinkyMalinki and Sintilatte.
Culture
As a relatively new resort, Puerto Banus has only been open to mainstream tourism for around ten years, and as such the atmosphere is most definitely contemporary chic. Many tourists making their holidays to Puerto Banus are extremely wealthy individuals and families, predominantly from northern Europe, including the UK. Don't be surprised to see the paparazzi on the tail of a footballer or pop star!