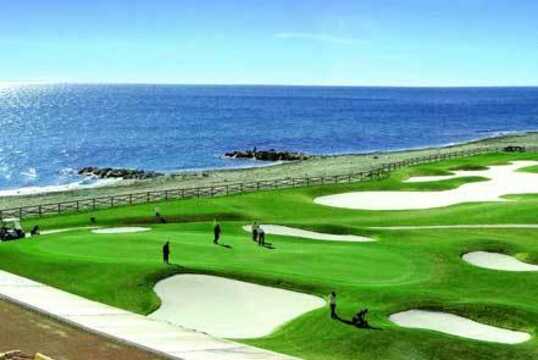 Read more about Guadalmina
Guadalmina is a small, beachside community located just ten minutes from Marbella's Puerto Banus and the nearby city of Estepona. Considered by many to be the Costa del Sol's golfing paradise, Guadalmina is just over two hours away from most UK airports, the area boasts a thirty-six hole golf course and is a short drive away from three additional courses; El Paraiso, Atalaya Golf and Monte Mayor. If you love golf and are considering a holiday to Spain, Guadalmina will not disappoint.
If golfing isn't your thing, head to the beach and grab some sunshine in the gorgeous Mediterranean climate – the waters are clean, and there is a wide variety of watersports on offer.
View destination on a map
Top Guadalmina Hotels
Guadalmina Weather
Guadalmina holidays enjoy the same sun-drenched Mediterranean climate that defines this region of Andalucia, with highs reaching 30° Celsius in the height of summer – pack extra sunscreen if you're heading out to the green! Weather conditions remain favourable, even for holidays to Guadalmina in off peak months.
Landscape
Much of the area's landscape is predominantly flat, with the region's gently rolling hills sloping down towards the crystal-clear waters of the beachfront. There are a number of walks and trails that snake through these hills, offering outstanding views of the beautiful surrounding countryside.
Things To Do on Guadalmina Holidays
Whilst Guadalmina enjoys many of the features you'd expect in the Costa del Sol, the primary attraction of Guadalmina holidays for many is the proximity and quality of the golfing. Golfers, both amateur and professional, travel from all over Europe to try their hand at the area's many courses. With weather conditions being so good throughout the year, it isn't difficult to see why.
Culture
Guadalmina is most definitely a tourist development, with excellent facilities and friendly locals – however, if you're looking to sample a taste of authentic Spain, head into nearby Marbella or Estepona.
Nightlife
The resort caters for both locals and tourists, with many great bars and restaurants within easy reach of the many excellent hotels in the area – perfect for sangria after a hard day on the fairway! However, if you like to party until dawn, you might want to take a short taxi ride to nearby Marbella or Puerto Banus – the atmosphere in Guadalmina is a little more subdued.
Book a Guadalmina Holiday now!
If the idea of a round of golf on some of Europe's best courses in gorgeous weather sounds likes heaven to you, Guadalmina holidays will satisfy on every level. The locals are friendly, the facilities are superb and the golfing outstanding. On The Beach have amazing deals of flights and accommodation, so book now and grab your clubs!