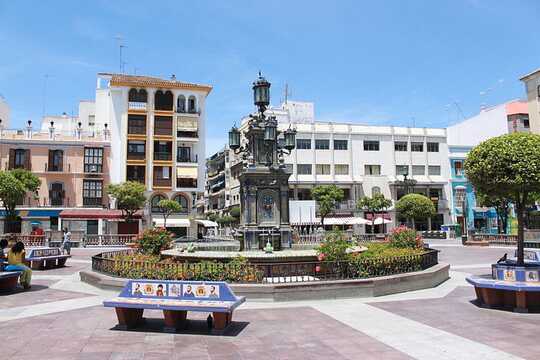 Read more about Algeciras
Located on the southern coast of Spain, Algeciras is the largest urban area on the Bay of Gibraltar, and is steeped in history. A richly cultural area with many historical attractions, Algeciras sits nestled against the beautiful Moroccan mountains, and enjoys a mild, temperate climate all year round with especially pleasant winters. A short two-and-a-half hour flight from most UK airports, Algeciras holidays offer a unique experience of relaxation and fun.
As the second-busiest port in southern Europe, Algeciras has an abundant energy unlike anywhere else in southern Spain, and offers the added bonuses of the beaches of Getares, Rinconcillo and Chorrillo, as well as beautiful views of Africa across the strait and the island of Gibraltar is only a short ferry ride away. Algeciras holidays offer a uniquely bohemian experience, rich in historical and cultural diversity.
View destination on a map
Algeciras Weather
As Algeciras is located on the southern Andalusian coast, it enjoys warm, pleasant weather all year round with temperate summers and comfortable winters. Take your holidays at any time of the year, but as you would expect the summer months are best for sun tanning.
Things To Do on Algeciras Holidays
The main attractions of Algecrias is its proximity to other more popular tourist destinations such as Tangiers and Morocco, and other destinations popular with people considering Costa del Sol holidays – whilst there is a richly historical side to the city, much of Algeciras' charm comes from its authenticity as a bustling port. Many fine examples of traditional Spanish architecture can be found in the charming San Isidro quarter, dating back to the 18th Century, whilst the Plaza Alta offers many cafes and bazaars.
Culture
Algeciras enjoys a bustling energy that few other cities on the Costa del Sol can offer. Uniquely authentic as a busy Spanish port, people looking for an alternative to traditional Costa del Sol holidays will find much to interest them, including several fiestas such as the Carnival of Algeciras and the Feria Real de Algeciras.
Nightlife
Many of Algeciras' nightspots are quite rowdy, due to the large number of sailors and travelers passing through the port, so be warned! There are also many restaurants and cafes offering affordable cuisine lining the Avenida de la Marina, with most remaining open until late.
Book a Algeciras Holiday now!
For a uniquely bohemian and authentic Spanish holiday, look no further than Algeciras. Offering a richly diverse mix of cultures, history and atmosphere, Algeciras has everything you need for a truly memorable slice of life in a busy southern Spanish port. On The Beach have great deals on flights and accommodation, so why not try us out and see how much you could save on this unique destination!