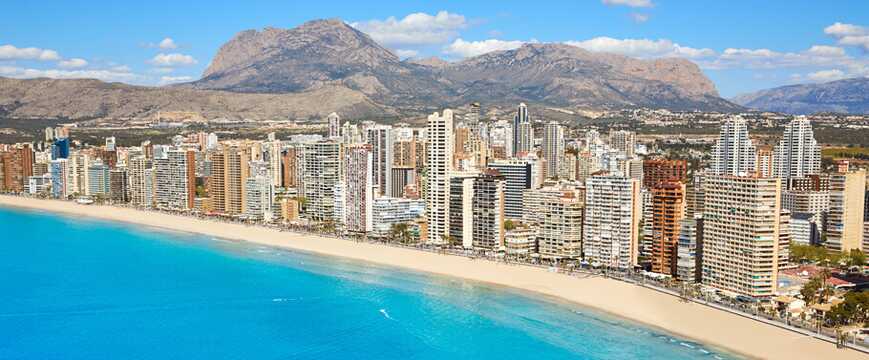 If you're going on a holiday to Spain, look no further than the Costa Blanca for sun, fun and lot's to do. The exquisite seafront of Levante, situated near Benidorm, is perfect as a quieter spot away from the hustle and bustle of Spain's biggest resort, though one laden with shops, restaurants and the usual tourist trappings.
With gorgeous palms lining the white-shingled coast, you'll be glad you chose Levante holidays.
Levante Beach is situated right next to Benidorm's infamous nightlife, so if a relaxing time on the beach or in the eclectic pubs around the coast isn't your cup of tea, then simply dance the night away at the discos and clubs! You can also take in some great cabaret acts, dinner and a show at the Benidorm Palace, with flamenco dancers and chorus line singalongs giving you a night to remember.
If you want a night of peaceful walks and great food then head out to nearby Calpe for a relaxing evening.
View destination on a map
Levante Weather
With summer highs of over 30° Celsius, you can forget the thermals and bring your Factor 30 - lots of it! Whether you're on the beaches, jet skiing on the coast or chilling by the pool, be cautious - you'll tan quicker than you think.
Landscape
Despite all the sunbeds, restaurants and watersports on offer, it's the beauty of the beach that draws droves of tourists on holidays to Levante year after year. Three miles of white-shingled sands connect Levante to Benidorm's other blue-flag beaches at Poniente and Pal Mas, from where you can take a cruise out to the Peacock Island Nature Reserve and admire the coastline. Alternatively, travel down to the picturesque port to watch the yachts and ships disappearing into the Mediterranean sunset.
Things To Do on Levante Holidays
From Levante, Benidorm is at your command: take the kids to the theme parks at Terra Mitica and the Aqualandia waterslides, or visit the Terra Natura Zoo with it's elephants, peacocks and tigers. Fun days out can be had at the Canelobre Caves, with subterranean caverns illuminated for you to explore, or on jeep safaris into the surrounding hinterland to spot all manner of exotic wildlife. Your holidays to Levante won't be complete without taking some time out to visit the Wax Museum, Spain's answer to Madame Tussaud's.
Culture
Benidorm has about 55 fiestas per year, from New Year and Christmas celebrations to street parades and fishing competitions in November for the feast of the patron saint El Virgen del Suffrage; in fact it's only August that doesn't have a festival!
This is balanced however by the outdoor concerts and cultural events the Council runs in August, and if you're looking for noise and mayhem you can always visit the street market on Wednesday and Sunday to haggle for some exotic baubles!