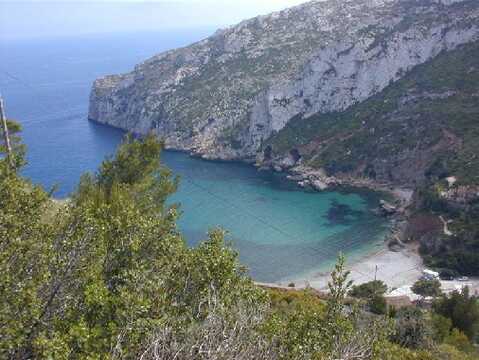 Your sunny Spain holidays can centre on no more beauteous backdrop than the Costa Blanca! Spain's White Coast has it all, beautiful beaches, gorgeous sunsets and clear skies; but what makes the area so famous is it's irresistible climate - hotter than the northern Golden Coast and less humid than the Costa del Sol, this is a clement, lush environment conducive to good health.
Costa Blanca holidays also entail a modicum of peace and quiet, and the resort of La Cala de Finestrat, just outside Benidorm, gives pensioners and party peeps alike a quiet milieu on the doorstep of a bustling tourist resort! And with On The Beach, your La Cala holidays are just a few minutes away from booking!
View destination on a map
La Cala Weather
Temperatures here in La Cala de Finestrat, or simply La Cala, are permanently hot, from 30° Celsius plus in the summer to lows around 10° Celsius at New Year. Even if you're just relaxing by the pool, be sure to slap on the sunscreen, you'll tan quicker than you think on your La Cala holidays!
Landscape
From La Cala, Benidorm's world-class beaches are at your command! Poniente is the nearest beach, of which La Cala is the quieter western end. From here you can go up to the nearby blue-flag beaches of Pal Mas, for a cruise to the Peacock Island Nature Reserve complete with exotic fauna and a seascape view of the coast. Alternatively, head out to the promontory jutting into the Med for sunset views of the little fishing port that serves as Benidorm's harbour.
Things To Do on La Cala Holidays
You can't hang your hat in La Cala without experiencing the theme parks of Benidorm! The amazing Terra Mitica is nearby, giving kids and adults a chance to roam through areas dedicated to ancient Roman, Greek and Spanish culture. The Terra Natura Zoo and Water Park is also minutes away, featuring elephants, tigers and waterslides! For a more cultural experience, visit the Old Town's Wax Museum and medieval churches, or take a jeep safari to the surrounding forests and waterfalls. As you can see there's plenty to keep even the most restless entertained on La Cala holidays.
Culture
There's over 50 festivals a year here, from the mayhem of March's Fallas fireworks displays, in which three huge figurines are incinerated above the revelling crowds, to the four-day frolics of the Moros Y Christianos, September's re-enactment of medieval Moorish battles.
While on holidays in La Cala, be sure to check out Benidorm's Wednesday and Sunday outdoor market for some clothes, or an antique to go on your mantelpiece back home.
Nightlife
La Cala serves as a quiet, peaceful locale to base yourself from while exploring, which makes it popular amongst families. This means plenty of beachfront bars and restaurants with everything from continental to Oriental food, and English and Irish pubs inland. Of course, Benidorm is just up the road, so party animals can go out at night and dance till breakfast time!
Book a La Cala Holiday now!
Costa Blanca holidays needn't be a dream with On The Beach - a few clicks and you're on your way to La Cala's quiet shores, and your stay in a pick of the resort's hotels! Our online booking system is easy and quick too, so don't delay - you don't want to miss some great deals!