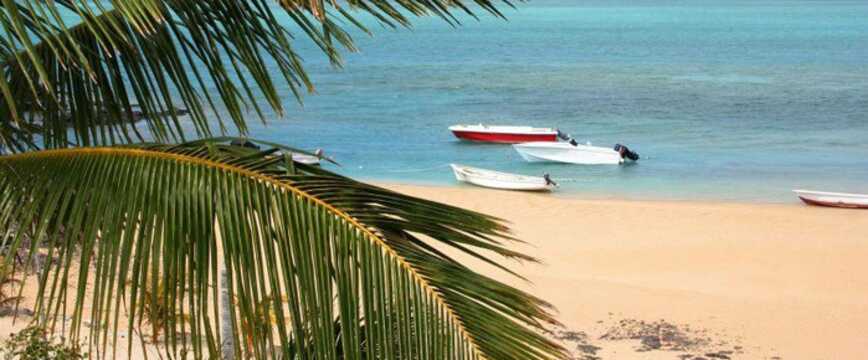 Read more about Mauritius
Lovingly dubbed The Star of the Indian Ocean, Mauritius has been enticing visitors for years with its breath-taking beauty, sparkling crystal waters and year-round warm temperatures. Whether you're looking for a romantic retreat, fun with the family, or you're just in need of a break from your everyday life, Mauritius is the perfect place to enjoy an island escape in the sun.BeachesMauritius is blessed with 330km of shoreline, offering some of the best beaches in the world. In the north, you'll find the lively Grand-Baie, picture-perfect Le Morne to the southwest, and the laid-back Belle Mare to the East.Food & DrinkFrom the unofficial national dish Dholl Pori, an Indian-inspired flatbread served with curry, chutney and atchar, to the French-Creole Rougaille stew, Mauritian cuisine is a reflection of the diverse people who make up the island's population. If you're feeling a bit thirsty in the tropical heat, try a sip of locally produced Mauritian rum or a spot of the local Phoenix beer.CultureWith influences from France, Africa, China, and India, the island of Mauritius boasts a rich and diverse population. A warm welcoming community, the Mauritian people always have a smile and a helping hand for friends and visitors alike.NightlifeLoved by all for over 20 years, the Banana Beach Club is the hottest place to spend a night on the island. If you're looking for something a little bit more chilled out, check out the C Beach Club's Chill bar, located right on the beachfront, for a selection of cocktails and weekend DJ sets.Important InformationFlight Time: 12 hours (direct)Time Difference: +5hrCurrency: Mauritian rupeeOfficial Language: EnglishVaccinationsPlease check with your healthcare provider for all up to date vaccination advice before booking your holiday.Visa and Entry InformationPassport Requirements: All passengers must be in possession of a British E-Passport with 6 months validity from the return date of travel, two clear pages inside, and a valid return ticket.Visa Requirements: British citizens do not require a visa to enter Mauritius. Non-British passengers are advised to check with their local Embassy for advice on entry requirements before you travel.
View destination on a map
Mauritius Weather
Mauritius enjoys a year-round sunny tropical climate made up of two distinctive seasons: a warm summer, between November and April and a cool dry winter between June and September. With an average temperature of 24°C throughout the year, Mauritius is a great choice for a tropical beach break no matter the time of year.
Things To Do on Mauritius Holidays
Splash the cashWith an eye-popping 170 stores, shopaholics and bargain hunters alike will not want to miss out on a visit to the Caudan Waterfont in Port Louis harbour. From designer boutiques to crafts and textiles stalls, this buzzing shopping area is the perfect place to bag a bargain during your stay in Mauritius.Colours of the sandbowA visit to Mauritius isn't complete without seeing the Seven Coloured Earths sand dunes. Formed by the unique volcanic activity on the island years ago, these beautiful sands dazzle thousands of visitors each year with their seven distinct colours. Walkin' under waterIf you love a spot of snorkelling and it's all about the ocean for you, then definitely try out one of Mauritius' most unique experiences: an underwater sea walk. Catch the boat out to the island's best lagoons and don your breathing equipment before plunging down to the seabed for a truly unforgettable experience.A walk in the parkNature lovers should take the time to visit the Pamplemousses Botanical Gardens, lovingly cultivated since the 1700s. Take in the surroundings as you walk through groves filled with baobab trees, lotus flowers, giant water lilies and more than 80 varieties of palm trees.